The people have voted, and the results of the avatar outfitter survey are in.
More than 50 destinations were submitted, and the top ten are the following.
Clutterfly
Linda Kellie's new grid easily earned its first place.
Located at clutterfly.world:8002, this is a huge collection of CC0-licensed content — clothing, avatars, mesh objects, furniture and a whole lot more.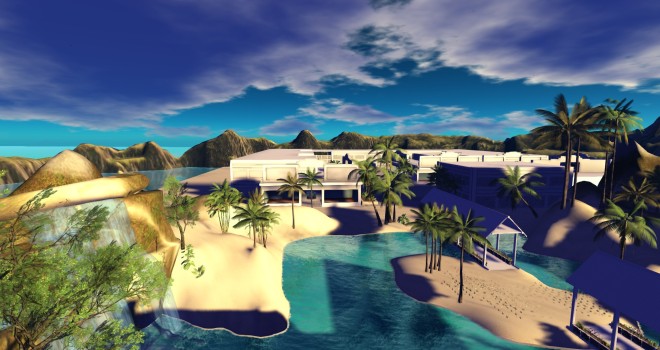 The license terms are the friendliest on the hypergrid. This content can be used in any way, on any grid. It can even be resold, or modified to create new commercial content. In fact, there are kits available on this region to make it even easier for content creators to get started!
Fantastic resource for any new hypergridding avatar, for any content creator, and, in fact, for any grid.
"Linda Kellie is legendary for all her wonderful items she shares with OpenSim," wrote one voter.
"A great place for excellent quality and free accessories for you avatar and your world," said another, while a third reminded visitors to check out the mesh shoes and feet in the Merci store.
Aqua Dark
Aqua Dark on Metropolis grid tied for second place with La Baronnie on the Bubblesz grid.
"I've lost track of the amount of compliments I've received wearing Aqua Dark outfits," wrote one reader. "I've been able to find fantasy clothes for fae, elf, mermaid, and satyr as well as modern clothes. There are fat packs of skins and great hair, too."
This region is located on the Metropolis grid, at hypergrid.org:8002:Aqua Dark.
When you teleport in, you should arrive right in front of the big Aqualand store. If not, it's coordinates are 137, 127, 4011.
Other Metropolis regions mentioned by voters included *CenterWorld*, Odds Playground and Savvy.
La Baronnie
Bubblesz grid owner Taarna Welles is rapidly making a name for herself as a major hypergrid freebies designer.
"Taarna Welles is well known for her shoes as well as other very nice content she creates and gives away for free," wrote a voter.
Visit it  at bubblesz.nl:8002:La Baronnie.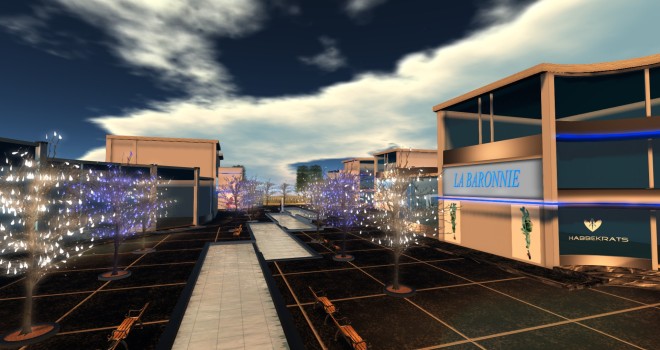 Avatar
FrancoGrid's Avatar region tied for fourth place with La Isla Bonita on DigiWorldz.
"You may find at Avatar region a large collection of amazing full avatars," wrote one reader. "They are gently offered by the community of creators in OpenSim under creative commons licence at the annual event Fest'Avi at FrancoGrid. The next Fest'Avi will be on June 4, 2016."
"If you want exotic and artistic avatars and clothing, this is the place to be," wrote another. "Top creators give away great items here."
Stunning and unusual, this is the place to go to get an avatar that stands out from the crowd. Visit it at hg.francogrid.org:80:Avatar.
Another FrancoGrid region mentioned by voters was HGSafari.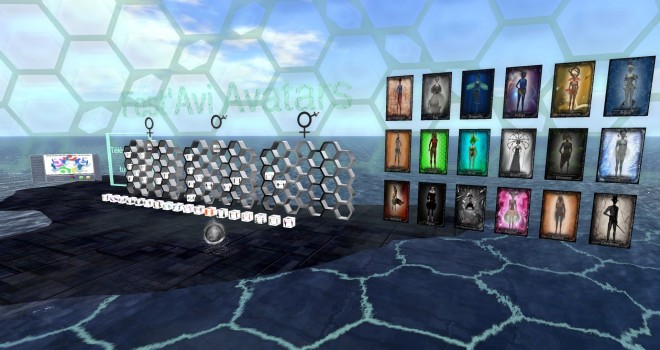 La Isla Bonita
A freebie and shopping region on the DigiWorldz, the stores currently accept only local payments, but some of the content is also available to buy online. Visit it at login.digiworldz.com:8002:La Isla Bonita.
"Really nice clothes," wrote one voter. "IÂ especially like the high-waisted pants!"
For example, Chrisje's Creationz store is also on the Kitely Market, and its content can be purchased for instant delivery to over 100 different grids.
Voters also recommended that visitors stop by the Concepts & More store on the same region.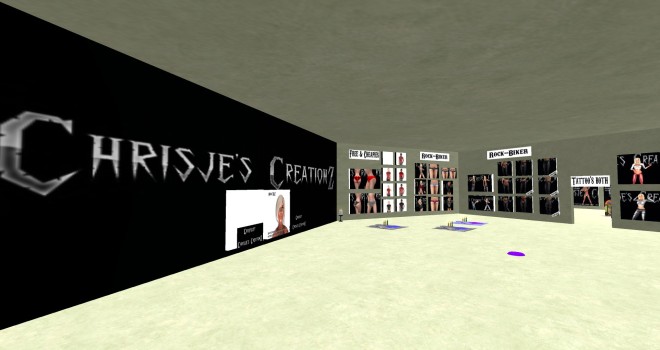 Paradise
Paradise is the shopping region for Nara's Nook grid.
"You will find both system and mesh clothing, shapes and skins, male and female clothing items, lingerie, full avatars, and various other items new avatars will find useful," said a voter.
Shops include content from Thirza Ember, Neo Cortex, Avia Bonne, Shannan Albright, Endora Twinklens, Sunbeam Magic and Nara Malone.
In addition, since the Greyville region is currently undergoing a makeover, the Crate and Barrel shop is being relocated from the old Greyville landing zone to the Paradise shopping region.
"Nara's Nook, for the more romantic, some awesome outfits!" wrote another reader.
Visit it at world.narasnook.com:8900:Paradise.
Wright Plaza
One of the oldest and most diverse freebie shopping malls on the hypergrid. Be prepared to wait for everything to load — this place has a lot.
Visit it at hg.osgrid.org:80:Wright Plaza.
Lani
Lani is home to a huge freebie mall featuring mostly science fiction-related content, many stores with hypergrid links to creators' home regions.
Visit it at hg.osgrid.org:80:Lani.
Other OSgrid regions mentioned include Absolutely Bodacious Confusion, Art Gallery Store, Big City, LBSA Plaza, and Melodies Garden.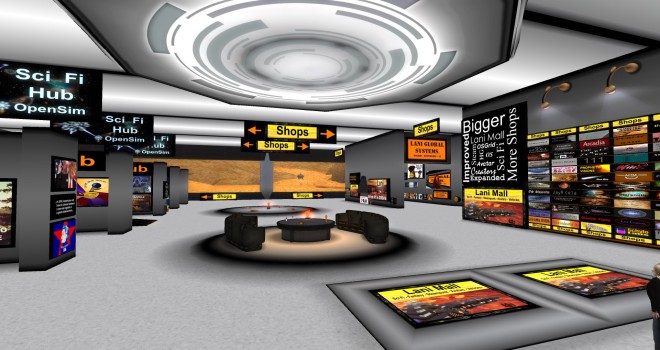 Lakeview Park Mall
This region, on the Great Canadian Grid, has a wide variety of free content in a rustic setting.
Visit it at login.greatcanadiangrid.ca:8002:Lakeview Park Mall.
Other Great Canadian Grid regions mentioned include Dreamland Estate, Lookout Mountain and Mystery Illusions.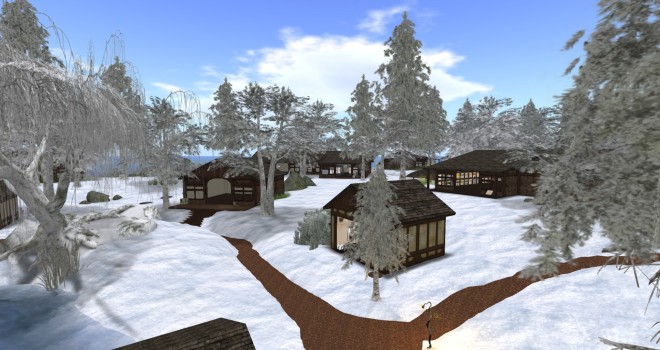 Welcome
The Welcome region on the Italian CloneLife grid has an eclectic collection of free content, but also most of the appearance basics that new avatars need. The content is licensed for personal use, and can be taken to any other grid but not resold.
Visit it at login.clonelife.eu:8002.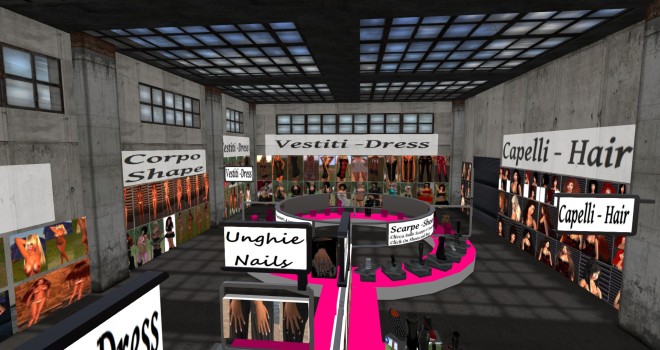 Honorable mention
Kitely came up a few times in the voting, though the grid's welcome center has only a small selection of multi-ethnic but otherwise very standard starting avatars. The grid also has a copy of Linda Kellie's Freebie Mall 2.0 region, but folks intersted in Linda Kellie content can find much more of it on Clutterfly. One voter also recommended grid.kitely.com:8002:Lumos.
However, the Kitely Market, which is probably what the voters meant, has more than 12,000 different listings, the majority of which can be instantly delivered to more than 100 different grids.
Visit the Kitely Welcome Center at grid.kitely.com:8002 or go directly to the Kitely Market on the web.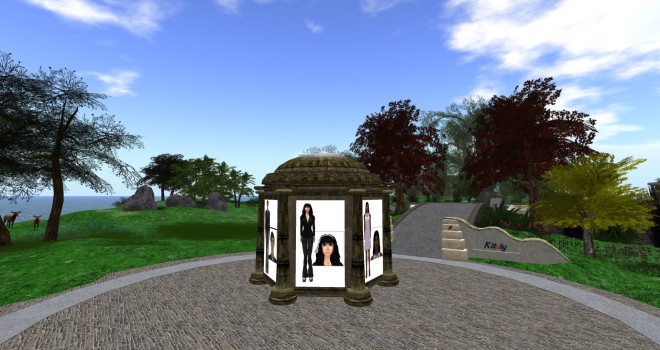 Island Oasis also deserves a mention here, since the grid just opened up to hypergrid travelers.
Nice selection of starting freebies located in the best-looking welcome area I've seen yet. Also keep an eye out for the "Free Land" kiosk and pick up a landmark to where you can get a free residential parcel. You don't have to be a grid resident to get your free land here, either, and the grid has set aside 32 regions for the purpose.
Visit it at islandoasisgrid.biz:8002.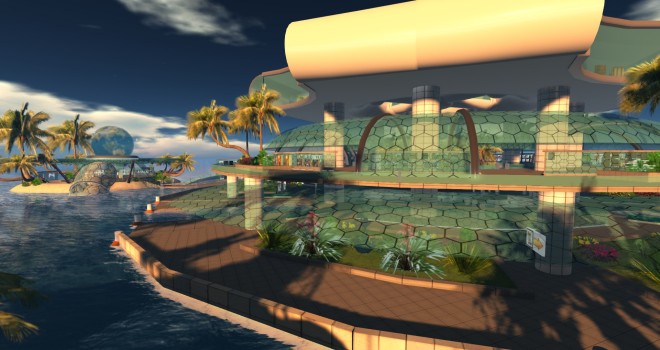 A few other places came up as well, including arcana.hopto.org:9021, awesimworlds.com:8002:Dragon's Wyck, craft-world.org:8002, craft-world.org:8002:Rainbow, craft-world.org:8002:Riverford, craft-world.org:8002:Sinus, dereos.org:80:PSSMG Mall, grid.immersiverealitygrid.com:8002:Freebie Mall, italvybezjourney.com:8002:Ital Vybez Journey Welcome Center, jogrid.net:8002, lpgrid.com:8002, outworldz.com:9000, refugegrid.com:8002:Paramour Shopping, seleacore.com:8002:Selea Core Collections, and svc.jokaydiagrid.net:8002:Pixel.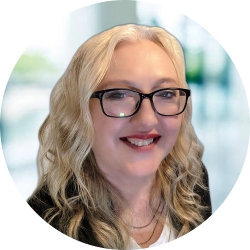 Latest posts by Maria Korolov
(see all)