AltspaceVR, a virtual reality social platform previously only available for the Oculus Rift and HTC Vive, arrived in the Gear VR app store today.
Users can choose from a handful of pre-built virtual scenes, where they can interact with other users, attend events, play multi-players games, or watching streaming videos together on YouTube, Twitch or Periscope.
Visit the AltspaceVR events page for a listing of scheduled live music performances, open mic nights, meditation classes, movie showings, and more.
"Our focus at AltspaceVR is creating the most natural and fulfilling communication experience possible online, and we're thrilled to bring it to Gear VR," said AltspaceVR Founder and CEO Eric Romo in a statement. "AltspaceVR on Gear VR brings nearly all the features of our PC experience, but with the ease of use of mobile."
Despite the fact that the experience is delivered via a mobile phone, there was no lag, and the spacial voice was convincing and immersive. An audio headset is required to use voice.
The environment is mesh-based, and does not allow for user creation of content. However, there is a software development kit for developers that allows the creation and import of simple virtual reality apps such as, for example, a chess game or a Dungeons & Dragons game.
With the appropriate input devices, AltspaceVR does support in-world gestures. For example, it supports the use of Kinect and Leap Motion in combination with the Oculus Rift.
Today, on the first day of the release of the Gear VR app, I found a couple of problems my first time in-world. For example, the app would occasionally crash, the button that was supposed to allow me to customize my avatar did not work, and I was required to type in my email and password each time I logged in — which was awkward, since you had to use a floating virtual keyboard to do this. All of these problems went away the second time I logged in — the system remembered my login and allowed me to replace my default robot with a human avatar.
In addition, the click-to-teleport feature that I liked very much when I tested AltspaceVR on an Oculus Rift last spring is still there. At that time, I spent about an hour inside the environment with no queasiness at all. Being able to teleport, instead of moving from place to place, dramatically reduces my sense of motion sickness.
AltspaceVR was founded in 2013, and investors include Tencent, Dolby Family Ventures, Raine Ventures, Lux Capital, Western Technology Investments, Maven Ventures, Promus Ventures, Streamlined Ventures, Rothenberg Ventures, Comcast Ventures, Â Formation 8, Google Ventures, Foundation Capital, SV Angel, Haystack Fund, and Startcaps.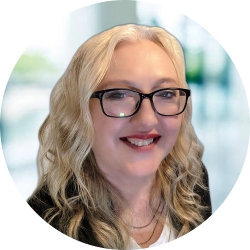 Latest posts by Maria Korolov
(see all)