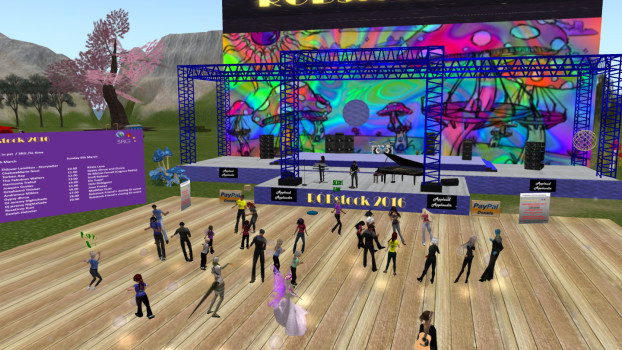 3rd Rock Grid program director Zinnia Frenzy shares lessons learned
3RD ROCK GRID — As soon as the holiday festivities are over and the New Year is welcomed in, a single word pops up on 3rd Rock Grid, and that word is ROBstock, the yearly charity event for Doctors Without Borders, says program director Zinnia Frenzy.
That familiar feeling of excitement and dread as you put your reputations on the line as a grid, technicians and event organisers, to pull off one of the biggest live music charity events of the year. 3rd Rock Grid has had nine years' experience in ROBstock. From the original start in ROBs Rock Island in Second Life, and moving on into 3rd Rock Grid. There we exploited new technology of our own, such as chatterbox, a cross grid chat which linked up three separate grids and big screen technology. With the assistance of excellent technical staff, the event moved from a one-grid event to two and then a three-grid extravaganza of music.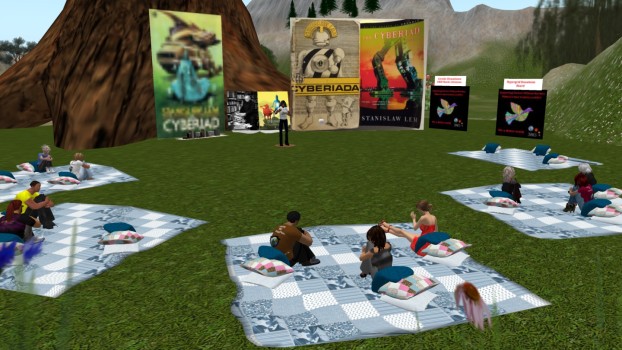 2013 was the last multigrid event for 3rd Rock Grid. In 2014 we joined the hypergrid family, and those final tenuous ties to Second Life faded away. That year we decided that we didn't need a Second Life stage anymore as the majority of musicians were already in OpenSim. We were truly coming of age, and heading towards the not-for-profit Foundation we are today.
So how do we make it happen?
ROBstock is a huge event needing meticulous planning, with the intention of raising money for a cause very close to 3rd Rock Grid: our chosen charity Doctors without Borders. This apolitical organisation gives emergency treatment and healthcare to people in some of the most dangerous and inhospitable countries in the world. With worldwide conflict spreading at a pace, their help has never been needed so much as it is now. We want to make as much money as we can—to make a small difference in a huge worldwide catastrophe that is happening today. To show that a virtual world is also concerned about the real world is our intention. Written into the Foundation's statutes is the stipulation to help make a better world.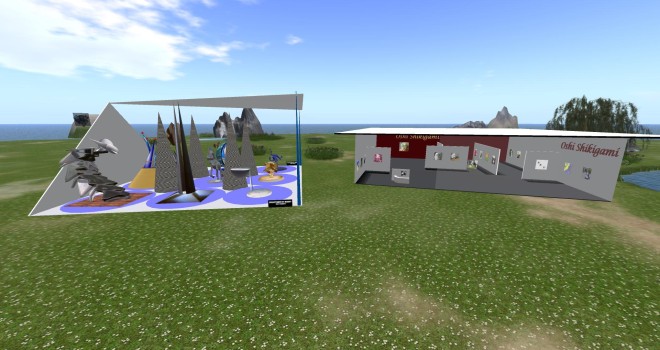 So how do we make it work? It's over twenty live acts, over two days—and planning is everything. I had the honor of being asked to take over the organisational side four years ago, and since then we have developed a well oiled machine that makes ROBstock work, says Frenzy.
So this is the 3rd Rock Grid guide to successful events, according to Zinnia Frenzy.
1. Is your grid ready?
The first thing you need to look at is your grid, and your technology. It's never wise to go into an event on the back of an upgrade. The last thing you need is a sim crash and that means you have technical staff ready at a moment's notice to fix anything that can go wrong. A grid restart is always a good plan.
2. Check for other virtual world events
Before you set a date you need to check that you don't clash with anything that will affect audience numbers. This year I thought I had covered everything. I didn't think 'International Frozen Food Week' or a meeting of the Cardinals in the Vatican would have an impact. But two weeks before the event Island Oasis announced their weekend birthday party, as did Digiworldz on the same date. I had already checked Second Life, but I am booking so far ahead I can't do much about that. It just makes us work harder with publicity.
3. Decide your stage area
We have tried a number of configurations. From a single sim, to the 4 sim crossing disaster in 2014; this caused so much extra work. Sim boundaries caused havoc and it was almost impossible to manage. We were changing streams on 4 sims at a time when the central stream failed. Since then I have insisted that I have the last say. From that day on we have used a var region.
Once you have this you need to make sure you can make the stage easy to get to. Put in direct gates from Welcome and other areas. Simple things like that make life so much easier.
4. Project management
One person needs to be in total control of the event—especially booking. Since 2014 I have taken total responsibility for managing everything: from the land, to the booking, the tee shirts, the website, and the other events we have going on during the festival. It's a thing that has to run in an orderly manner with no overlaps. I have some great people who I can ask and they will just do what is required and improve on some aspects I may have overlooked. It's a team event, but also a very solitary event, as if it goes wrong, its down to me as a project manager.
5. Booking
I start booking in January for a March event. I do it in stages because I know our musicians very well. They don't just play and move on to the next gig.
We are very much family on 3rd Rock Grid, and these artists are my friends. I know who can play, who's just become a grandma, who's in hospital or works weekends. From there I try to help people find the spot that fits for them.
I start with Australia, move on to Europe and the USA—plus all time zones in-between. I can have it booked in a week to ten days.
As soon as the word goes out I have people contacting me to play. We have people like Kitzie Lane, RoseDrop Rust and Madmax Huet who have played every ROBstock. The nature of the charity brings out the best in everybody.
We provide everything the musicians' need. If they are coming in from Second Life we make sure they have an avatar, clothing and instruments and any animations they may need at no cost. We also make sure they get to the stage and understand how OpenSim works. We help with a sound check and with settings.
Anybody is welcome to perform on 3rd Rock Grid, whatever their ability. So many artists have come to me and say "I sing a bit, can I play?" Of course you can, and they have become part of 3rd Rock Grid life.
6. Publicity
This is the lifeblood of any event and you need to use every contact and every publication you can. We are very lucky in 3rd Rock Grid as we have got such good contacts. We have never been isolated, even when we were a closed grid. We have always had friends on many grids, and part of getting people to your events is how you treat them.
You can't expect people to support you if you don't support them. I try to go to as many events as I can on other grids and support live music wherever it is played.
7. Cancellations and 'no shows' and illness
It's inevitable this will happen. So you have plan 'B'. On 3rd Rock Grid we have a really great set of DJ's who are ready to jump in at the last minute. If I get a hard spot to fill they will do that, but are also happy to be bumped if I get a live act at the last minute.
The musicians' themselves help out. In 2014 "Rusty" RoseDrop did an extra gig. This year Gypsy dhrua grabbed some of my poetry, and read some of her own. Greybeard Thinker and Gypsy had a go at double streaming and we had our first sim crash in the history of ROBstock—we were just too full!
Kered Owl, my real life husband, met Joao Frazo on the Mal Burns show, and Joao offered to play. I had already heard Joao but had not met him, and so he was a late addition, which was amazing.
Eldovar Lamilton and I both enjoy reading short stories, and so we always have a spare one ready.
Of course Oshi Shikigami is always there for us, retired or not!
It's quite overwhelming to have such great friends. I never ask a musician to fill. I feel you need to respect their talent and if you don't ask them to play the event, you don't use them as fillers unless they offer.
8. Donations
This is possibly the biggest problem in hypergrid, as so many grids have no currency or conflicting currency, and so you end up with multiple methods of payment, which is not ideal. We use the recommended site 'Just Giving'. But we are in the U.K and it sometimes won't take USA PayPal and so we have three methods of payment. This is going to be reviewed before the next event. We have to keep converting Geodes and British Pounds into Dollars so we know how much we are making.
One thing I must say here is that people who can't donate because of their circumstances mustn't stay away. I always worry that people don't come to our events because of tipping. That is something you needn't worry about. The citizens of 3rd Rock Grid tip as generously as they can and if you haven't our currency—well that's our problem, not yours.
I know the artists who play for us would be very upset if they thought that was the situation. As one told me, "I would rather play on 3rd Rock Grid for nine people than forty in Second Life who don't even care, and don't listen."
9. Stamina
ROBstock used to be a three-day event but as a project manager you need to be there and aware of everything that's going on. I am getting a bit older and three days is a lot to ask. We need stage managers, greeters and people around to host. Technicians getting people to the stage and streams in, fixing anything that goes wrong. I send out explicit instructions so that people are aware of their place in the event, and time. With respect to booking everything we do is in grid time. Start messing with 3 time zones results in disaster.
10. Enjoy yourself!
You have planned for three months. The night before—you are wired and can't sleep. Will you pull it off, will anybody come, and will the grid hold up, can you fill any holes. Have you done all you can to make it work? Well yes and no… there is always something you can do or should have done but that's life in general.
So on a weekend in March ROBstock happens, just like it always has for nine years, and as long as the grid is live it will happen again. We made our total, just over $1,000 US, and a lot of friends. How many people came—I have no idea but we had 100 unique 3rd Rock Grid people on Sunday. And with hypergrid, well, we didn't drop below 35 people on the site. I honestly have no idea, we don't count them up. But we had people from the biggest grids in the metaverse, to people from standalone grids, all there to celebrate live music and donate to charity.
So planning a big event? Its all down to good project management, good technical staff, some amazing musicians and the goodwill of all the grids in the metaverse.
We all have our own unique style of grid and competition is fierce. But we don't worry about that, because on 3rd Rock Grid we don't see it that way. It doesn't matter how big or small we are. It's the people on our grid who matter—our loyal citizens and volunteers. We look at ourselves as part of a family of grids, who can come together and support each other.
In that way we can make a small difference in the real world and that's what makes ROBstock so special.

Latest posts by Press Release
(see all)