It took about a month, but I finally received my VR Fold headset, and I like it, especially the fact that the lenses can be adjusted in three different directions. This isn't a review copy of the viewer — I paid for it with my own money.
Most folding headsets only allow you to move the lenses closer or further apart, or offer no adjustments at all. The VR Fold allows you to adjust both the distance between the lenses, the distance from the lenses to the screen of the phone, and also lets you move the lenses up and down.
The VR Fold is decently though not particularly beautifully packaged in a plain cardboard box with a second cardboard inset inside to keep it in place. Mine came with a small English-language manual and two cleaning kits.
The headset itself was inside a bubble-wrap pouch.
There was no protective case for the headset, which means that the lenses could get scratched. I plan to keep mine inside the bubble-wrap, if I can't find a better bag to put it in.
In addition to the three-way lens adjustments, the other distinguishing feature of this viewer is the flaps on the side, which help reduce some of the outside light.
The other problem with this headset — as with many Chinese-made headsets — is that it does not come with a QR Code. However, a reader has just created a QR Code specifically for this headset. Here it is:
With the Galaxy S6, the viewer seems to have an extremely wide field of view — I'd estimate it at roughly 95 degrees.
This headset seems like a great alternative to a cardboard viewer for a promotional giveaway. There's plenty of room for corporate branding on the side flaps. My suggestions would be to also include a carry pouch for the headset, and create a QR Code for it.
In addition to purple, the headset also comes in red and black.
Shopping links
Disclosure: Some of the shopping links may be affiliate links, when available.
Get it for $10.99 on Amazon in black, red, or purple. Get it from GearBest for $5.98 in black or $5.44 in red or purple. Get it for $4.99 from AliExpress in black.
Some sites also bundle it with a remote controller, but this viewer allows full access to the phone screen, and tapping the screen is equivalent to pressing a button on Google Cardboard. Plus, you'll need both hands to hold the viewer up to your face. You won't have a hand to spare to hold a controller with.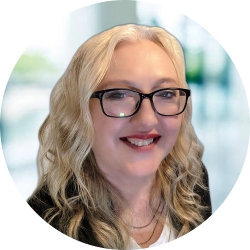 Latest posts by Maria Korolov
(see all)