Press Release: Seanchai Library Announces new EXPLORE in Kitely
EXPLORE, Kitely – Seanchai Library pleased to announce the next phase of its EXPLORE program in the OpenSim metaverse, and its real world-virtual world partnership with Tacoma Little Theatre. After the great success of last year'sEXPLORE The Great Gatsby, the partners will open EXPLORE Anton Chekov and the Absurd on April 8, at noon Pacific in the newly expanded EXPLORE world on the Kitely grid. This phase of the program is funded, in part, by a grant from the Tacoma Arts Commission.
EXPLORE Anton Chekhov and the Absurd will use a mirror image environment to juxtapose a classic country dacha to house information on the Russian dramatist, against the present day Bucks County, Pennsylvania farm setting of Durang's play.
Seanchai Library will present readings from the Chekhov's short stories as well as host tours and visitors from Tacoma Little Theatre's audience and supporters. EXPLORE will be on a large wall display screen in the lobby during performances, with a computer station, inviting patrons to take a spin through the virtual environment during preshow, intermission, and after the curtain has come down.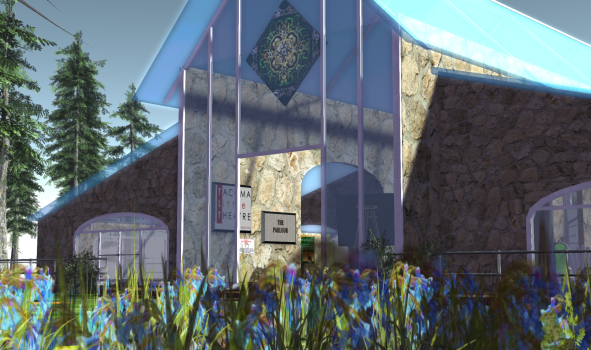 Vanya and Sonia and Masha and Spike won the 2013 Tony Award for Best Play, the Drama Desk Award for Outstanding Play.  In ten public performances, beginning April 8 and closing April 24, 2016, Puget Sound audiences will be invited into the absurdist world of playwright Christopher Durang as he draws inspiration from works of Russian dramatist Anton Chekhov, "puts them into a blender," and re-imagines them in present-day rural Pennsylvania.  Durang presents a "sunny new play about gloomy people" where they discuss their lives, loves, argue, and wrestle with the condition of their existences. Durang finds humor in the struggle of the characters to find meaning in their seemingly meaningless lives, and pokes fun at their individual follies while acknowledging that the pursuit of meaning is part of the human condition.  Vanya and Sonia and Masha and Spike combines excellence in playwriting through the reinterpretation of classic works, with a modern philosophical twist.
Anton Chekhov (1860-1904) was a Russian playwright and short story writer who is considered to be among the greatest writers of short fiction in history. His career as a playwright produced four classics and his best short stories are held in high esteem by writers and critics. Along with Henrik Ibsen and August Strindberg, Chekhov is often referred to as one of the three seminal figures in the birth of early modernism in the theater. Chekhov, a medical doctor by profession, wrote over 200 short stories and 14 plays. "Medicine is my lawful wife," he once said, "and literature is my mistress."
Information on EXPLORE Anton Chekov and the Absurd including "Getting Started" and "Avatar Guide" pages can be found at http://exploreseanchai.blogspot.com/
Specific times and dates of readings, as well as background information on Christopher Durang's play Vanya, and Sonya, an Masha and Spike will also be available on the website beginning Monday, April 4th.  EXPLORE can be found on the hypergrid at grid.kitely.com:8002:EXPLORESeanchai.
Information on Seanchai Library schedules and programs, as well as links to Seanchai's social media presence can be found online at http://irelandslstory.blogspot.com/
Seanchai Library (Shanna-key, which means "Storyteller" in Irish) was founded in March, 2008 in Second Life. Thousands of stories, and hundreds of authors later, the program remains dedicated to promoting the power of stories to transform and inspire through live voice presentations.

Latest posts by Press Release
(see all)