Dan Banner was appointed president of OSgrid at the end of March, following a previous term as treasurer.
Former president James Stallings, who is also known as Hiro Protagonist in-world, has stepped down from that position, but will remain a board member.
"I have gone back to working full time on art, and that I hope to return actively to the grid at some time in the future to build a virtual gallery," he said in an announcement.
Banner said that his goals include being more responsive to resident needs and making an effort to have more administrators in-world.
"The need for a stronger community is important to us," he told Hypergrid Business.
Another priority for the grid is to improve fundraising, he added.
"There will be a little more emphasis placed on getting that message out this year," he said.
Sarah Kline was named vice president, Jim Jackson as secretary, and Albertlr Landar as treasurer.
"Sarah Kline has been an active resident in the grid for many years and shes been an admin for quite a while now, mostly handling the stores and shops at Wright Plaza and the free homestead parcels we provide," said Banner.
The grid held a open meeting for the membership on Sunday, April 10, and posted the transcript.
At the meeting, Landar said that the grid currently had a PayPal balance of $2,048, but needs to maintain a balance of around $3,000 in order to meet ongoing expenses. The grid has also posted its financial summaries for the previous three years. Last year, it took a little over $14,000 to keep the grid running, but it only received around $13,000 in donations.
OSgrid is a registered non-profit organization in the U.S., and supporters can write donations off their taxes. The donation page is here — any donation is welcome, but regular monthly contributions are most appreciated.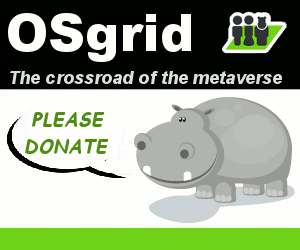 The banner is above is my own creation and is free for anyone to edit and use, either on a website or on an in-world donation box.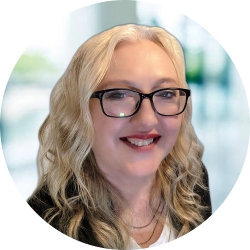 Latest posts by Maria Korolov
(see all)