Disclosure: The folks at GeekBuying just sent me a free review copy of the DeePoon V3 headset. Thanks, guys! The purchase links at the bottom of this article are to all the major sites I know that carry it, with affiliate links where available.
Bottom line:Â Right now, this headset is giving my current top choice, the FiiT VR, a strong run for its money. The DeePoon is much smaller and lighter and is slightly easier to use because of the way the phone just drops in. It does have a slightly smaller field of view, and costs a little more, but I expect prices to drop quickly. Meanwhile, I haven't tested the BoboVR Z4 yet — it's scheduled to arrive within a few days.
1. Field of view
The field of view is officially listed as 96 degrees, which is the same as the Gear VR.
The lenses are a funky teardrop design, pointed inwards, and are supposed to fit better over the nose. I personally couldn't tell the difference.
2. Weight
It weighs just 249 grams, or just under 9 ounces. By comparison, the Gear VR weighs 12 ounces and the Noton, which has a similar shape, weighs 6 ounces.
It feels extremely lightweight when you're wearing it.
3. Straps
Usual straps that go around the sides and over the top of the head. No complains, but nothing particularly great about them, either.
4. Fits over glasses
My glasses fit, but just barely. This is a very small headset.
5. Adjustable lenses
The interpupillary distance is adjustable, which is the distance between the lenses, individually for each lens. In addition, the focal distance of the lenses is adjustable, but not individually.
6. Ready for augmented reality
The spring-loaded holder that keeps the phone in place is pretty compact, leaving plenty of room on both sides for the smartphone's rear-facing camera.
That means that all augmented reality applications work work just fine.
7. Fits over audio and power cables
Plenty of space for cables.
8. Controller
Mine came with a cute matching remote controller, but this could depend on the bundle you get. If you use applications that require a controller — most currently don't — then make sure to get an external one.
9. Ease of use
You can't get much simpler than this headset. The smartphone drops right in, and a panel of rubbery grips keeps it firmly in place. Fits easily over protective cables.
If your headset did not come with a QR Code, here it is:

10. Price
As I mentioned above, mine was free, but I probably won't be keeping it. I'll be giving it away to my readers who take a survey. However, if I were to keep it, I have a feeling it would become my go-to headset because it's so easy to use.
It's available for $39 from GeekBuying,  $39 from GearBest, $40 from Amazon, and $32 from AliExpress with a controller. However, it only came out recently, so expect prices to drop quickly.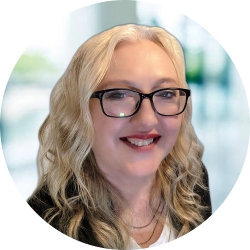 Latest posts by Maria Korolov
(see all)