Disclosure: I bought this headset with my own money, and the purchase links at the bottom of this article are to all the major sites I know that carry it, with affiliate links where available.
Bottom line: This headset does not make my best-buy list. It is heavy in comparison to other viewers that have come out recently, and the outside faceplace seems a little too dark for augmented reality applications.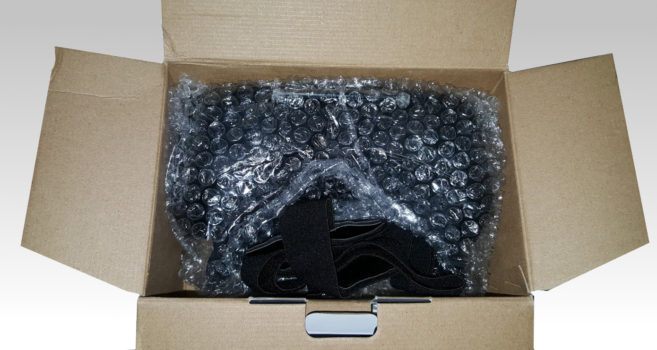 The headset came with a little user guide, in both English and Chinese, and the QR Code for the company's own app. As I've come to expect with Chinese-made headsets, there was no Google Cardboard QR Code, and I've contacted the manufacturer to request one.
Update: Several months later, and I still haven't been able to find an official QR Code, but this Shinecon code seems to work:
The packaging was adequate, and the headset arrived without any scratches or other damage. In addition to the bubble wrap, there was also protective plastic film on the outside cover and the lenses.
1. Field of view
The field of view is officially listed as 98 degrees, which is just a smidgen more than the Gear VR. I have no complaints on this score. The view was sharp, clear and very immersive.
2. Weight
Without straps, this headset weighed in at 13.5 ounces, or about 380 grams. That a little heavier than my favorite headsets are, but not too bad overall, if its adjusted to sit on your head well.
3. Straps
Usual straps that go around the sides and over the top of the head. No complains, but nothing particularly great about them, either.
4. Fits over glasses
My glasses fit very easily. The area around the eyes is pretty wide.
5. Adjustable lenses
The interpupillary distance is adjustable, which is the distance between the lenses. In addition, the focal distance of the lenses is adjustable, but not individually. I found no problems adjusting the focus on this headset.
6. Ready for augmented reality
The outside cover is translucent, but seems too dark and full of distortion to work for augmented reality. It's one solid piece, so you can't create an opening, and the cover doesn't come off or fold out enough to create a clear view. Unless you're willing to take a hacksaw to the cover, it's not going to work with augmented reality, and for this reason alone I'd pass on the headset.
Yes, there are only a few augmented reality apps on the market right now, but there are some, and the demos are cool, and more are likely to come out in the future.
7. Fits over audio and power cables
Gaps on the sides allow for power and audio cables.
8. Controller
Mine did not come with a controller, but you will need one if you use apps that require you to use a button.
9. Ease of use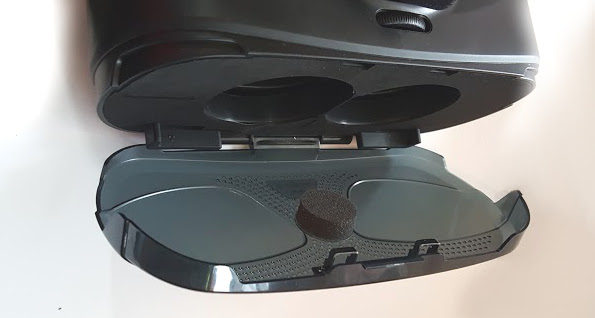 The mechanism to hold the phone in place now seems to be quickly becoming the industry standard — a simple shelf that you drop the phone onto, with a little sponge on the back to keep it from sliding around. Fits easily over my smartphone case. The cover opens and closes easily and firmly as well. Nice job there.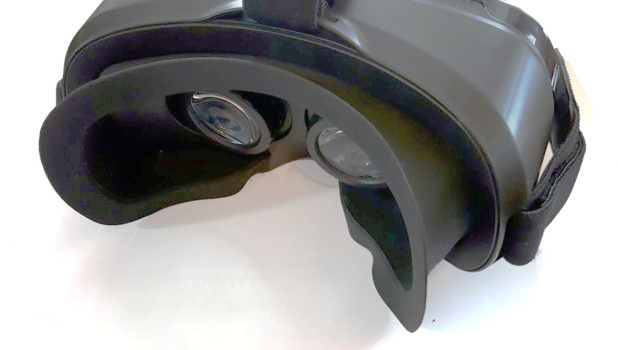 Where I found it to be a little less appealing was the comfort factor. The Vethien doesn't have padding around the eye area, just a soft silicon mask. To me, that felt a lot less comfortable than foam padding. Also, unless I had the straps adjusted just right, it would sit painfully on top of my nose. On the other hand, the silicon is probably a lot easier to clean.
10. Price
If you want to get this headset for free, I'm giving one away to my readers who take a survey.
It's available for $47 from EverBuying, $28 from GeekBuying,  $38 from GearBest, and $25 from AliExpress. It doesn't seem to be available from Amazon yet — it just came out — but will probably be showing up soon.
Bottom line: For me, the headset felt uncomfortable, I want something that will work with augmented reality, and the looks kind of creep me out. It reminds me of something a cartoon villain would wear. Maybe a pair of googly stick-on eyes would help.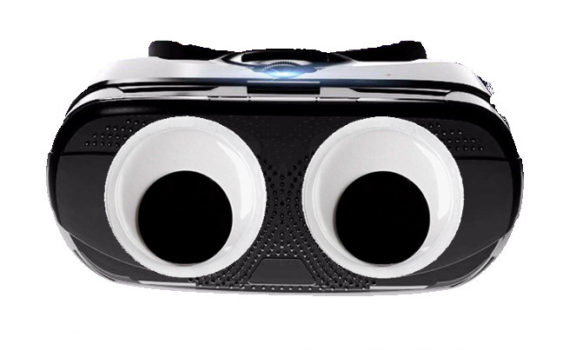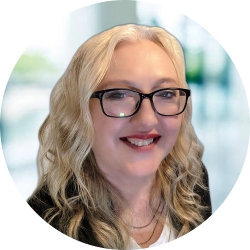 Latest posts by Maria Korolov
(see all)