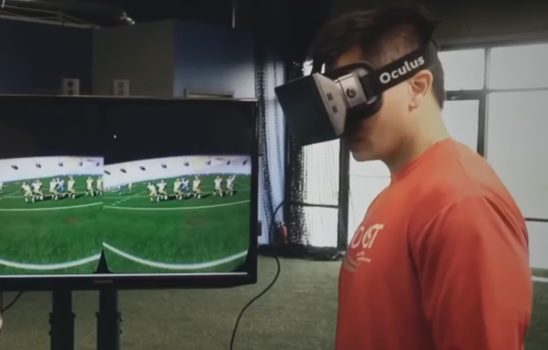 No one can deny the global popularity of sports.
Whatever nation you find yourself in is guaranteed to have teams competing in some sport and fans who will consistently tune in to watch them.
Virtual reality has been making a lot of waves with all the recent developments it's seen, but what your average consumer needs to realize is this technology is not just for the gamers, but for anyone who likes to watch sports and go to games.
Several companies are already working on replicating the experience of being courtside at a game where your favorite team is playing – and the beauty is that you'll be able to experience the game from your couch.
No more getting raked over the coals paying for parking and the expensive concessions, just put on your VR headset and enjoy.
NextVR
NextVR is the big name in the world of virtual reality sports at the moment.
They're the ones who have been working to produce content with some little known organizations including, The NBA, NASCAR, The NHL, and FOX Sports.
Furthermore, NextVR just finished raising $30.5 million in funding, with Comcast and Time Warner as some of the more notable investors.
NextVR has a large collection of content available and recently has been tinkering with live VR streaming, covering events such as the US Open, a presidential debate, a Golden State Warriors game, and more. The perspective of the live streams for all of these events was far better than you would get from watching in HD on your TV.
Imagine being courtside watching Steph Curry in action, or being close enough to see the ball go in the cup as Jordan Spieth sinks a crucial putt in the US Open.
You could argue that you might not get such an optimal perspective even if you were actually at these events.
Responses to these VR live streams have been overwhelmingly positive and it's not hard to imagine this as the future of watching sports.
VokeVR
VokeVR, much like NextVR, is working to let you experience a courtside game from your couch.
What's unique about VokeVR's approach is that they have 360 cameras mounted at key points at various stadiums which users can view the event through. Another unique aspect of this approach is the ability to watch their content on any smart phone.
While watching in VR enhances the experience, users can watch the 360 videos on their smartphones without headsets, but I assure you that anyone who has watched a sporting event in VR would never opt to only watch it on their 7 inch smartphone.
The accessibility of VokeVR's content is what sets them apart. People who are on the fence about VR can watch a game from their smartphone, and then when they feel the need to experience the full immersion of VR they can enjoy the same content and be floored by the difference in experience.
EON Sports
EON Sports is also a pioneer in the world of VR sports, but not in in terms of bringing you things you would normally see on ESPN.
EON Sports is creating training simulations for athletes, including things like being in a quarterback's perspective during a football game, or a batting simulator for baseball.
EON Sports has a Madden-esque mode where you can get an overhead view of a sporting event for more strategic planning and a more unique perspective which may lend some previously unavailable insights to athletes and coaches.
Seeing EON Sports explore some of the practical applications of virtual reality in sports shows a lot of promise for how virtual reality can shape the world of sports, both on screen and off screen.
Beyond Sports
Beyond Sports is another organization whose focus isn't on the big screen, but on improving the performance of sports teams on the field.
Beyond Sports' main focus for now is on soccer, where they can produce simulations of games and various scenarios for training purposes.
You can relive a soccer match from the perspective of any player, or enjoy a bird's eye view for a more tactical perspective. It's important for the world of virtual reality that people do not view this technology as simply a medium for entertainment; the potential applications for virtual reality are truly limitless and organizations like Beyond Sports are encouraging us to think beyond entertainment.
Sports Illustrated
In 2015 Sports Illustrated surprised everyone when they announced that content from the infamous swimsuit issue would be available in virtual reality.
Not so surprisingly, people were very receptive to this move and it raised a lot of awareness about virtual reality for sports fans all over. A well-known organization like Sports Illustrated making content in VR is huge for the industry. It's the household names that are going to attract the masses, and once they give VR a try they won't want to go back.
Virtually Live
Virtually Live, like so many others in the space, is bringing sports into virtual reality in an attempt to bring your favorite games and events to you.
Virtually Live places the user in a virtual world, in a stadium. The difference here is the potential for several people to be in the same instance at once and the ability to interact with other users.
Furthermore, unlike other VR streams or 360 videos where the user is restricted to one seat, in Virtually Live the user can switch between several different perspectives in the stadium, including a VIP lounge. This is possible because the world Virtually Live places you in has the sporting event simulated in virtual reality — but make no mistake, you are watching the same game as someone tuned in to ESPN, the only difference is a mere six-second delay.
A big part of going to a game is the tailgate. The social aspect is something which could be missed if you were watching a VR stream alone.
The social aspect is a bit of a missing component in the world of VR sports right now. Organizations like Virtually Live have the potential to bring social integration into VR sports which would be a major benefit to the industry and could be the first step for more socialization in watching VR sports.
https://vimeo.com/159386558
People have been enjoying sports for as long as they've been around. At first it was just everyone gathered around a radio listening to a game, then everyone started watching on TV – and now people are going to start watching in Virtual Reality.
Going to games has always been a unique experience, and the content being produced today is very close to replicating that experience.
At the rate which VR technology is evolving you can only imagine how the world of sports is going to be changed in a few years from now. It wouldn't be difficult to imagine virtual reality becoming commonplace for fans and athletes alike.
Article reprinted with permission from Touchstone Research.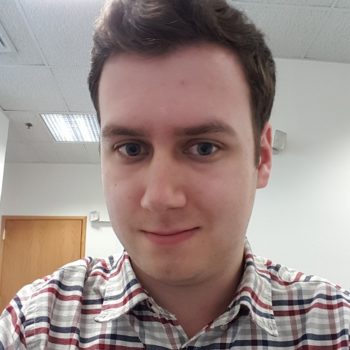 Latest posts by Andrew Lewis
(see all)