Disclosure: This headset was provided free by GeekBuying.
I like the idea of using all-in-one headsets for things like real estate and auto show rooms, trade shows or roller coaster rides. There's no point of using an expensive headset or a high-end mobile phone if all you're doing is showing is a 360-degree video or running a simple marketing app.
Unfortunately, the VR Sky headset is not — yet — that headset.
I received the headset a month ago and have spent a solid month trying to get it to work, and have failed repeatedly.
The basic idea of this headset is that it has a built-in screen, and a built-in Android operating system. You don't need to plug it into a computer, or put a smartphone in it.
So say, for example, you are currently using a Samsung Gear VR and a Galaxy smartphone to do your virtual reality demos. You're spending a few hundreds dollars on the phone, and another $100 on the headset.
Spending just $106 on the VR Sky sounds like a great deal. You can pre-load your apps or videos, and put a bunch of these headsets around for your customers to use.
It has a field of view of 100 degrees, which is better than the Gear VR, and weighs 15 ounces. The Gear VR weighs 12 ounces, but the smartphone adds another 5 ounces, so the VR Sky is actually a little better on both those counts.
And the VR Sky, like the Gear VR, has an immersive virtual interface where you can download and launch virtual reality applications. Plus, VR Sky can run all the Google Cardboard VR apps — of which there are more than a thousand.
It supports WiFi and Bluetooth, and has a slot for a micro TF card. There's a plug for your headphones, and a USB connector for the power supply. The screen resolution is about 400 pixels per inch, which is a little lower than the Samsung Galaxy S6's 577, but the same as the iPhone 6's 401 pixels per inch.
So, on paper, this sounds like a great headset.
In practice, however, I found it almost impossible to use, because it actually has three types of interfaces, only one of which works.
The immersive interface
The first interface you see when you turn on the headset is a nice immersive screen, very similar to that of Gear VR. There's a dot in space in front of you, and when you turn your head, the dot moves, letting you point to different in-world objects. There's also a trackpad on the side of the headset and a back button, and a volume button.
This is a nice, easy-to-navigate interface, and it works reasonably well. It's not perfect, but I'm not going to go into the details because the other interfaces are so horrible.
The interface extends to some of the apps that came with the headset, such as the Pano app for downloading and watching 360-degree videos. The videos were very slow to download, and the app did not indicate how big the videos were, so you couldn't tell ahead of time which would be longer or shorter.
The screen-hanging-in-space interface
The VR Sky headset is designed to play existing virtual reality apps. Unfortunately, most of the apps currently out there have some screens that are traditional full mobile screens, not the split screens you need for virtual reality.
For example, the Google Play app is all traditional, and you need it to download virtual reality apps.
VR Sky handles this really really badly. The app is shown as if it is hanging on a giant screen in front of your face. But there's no dot to use as a pointer — after all, Google Play and other mobile apps are designed to work with a touch interface. Instead, you have to use the trackpad to move around the buttons on the screen. This is just awful. It took multiple tries — probably more than a couple of hours of effort altogether — to download just two apps.
When you need to type in text, a virtual keyboard pops up, which is extremely difficult to use. The Gear VR also has a difficult to use virtual keyboard, but it is far ahead of the VR Sky one. Plus, the Gear VR also allows for voice input, which helps make up for some of the keyboard problems.
There is a pre-installed YouTube app, but again this is the non-VR version of the application — the only one there is right now. In VR Sky, it is all but impossible to use. I have not actually been able to play any videos in it.
The VR apps interface
Finally, when you are able to launch a virtual reality app, and are able to get it switched to virtual reality mode, it only works some of the time. I was only able to get one app to work as intended. Others did not display correctly. For example, some would show the split-screen view, a giant screen hanging in front of view with the two side-by-side pictures on it. Others would show something somewhere halfway between a true virtual view and a screen split view, creating a headache-inducing out-of-focus double-vision effect.
There is a settings button on the left side of the headset, next to the power button, that offers the option of switching in and out of VR view. It did not help.
Performance
The one app I was able to download that worked, the Fibrum Roller Coaster, was jittery laggy. It was not a pleasant virtual reality experience. If you are using this to run apps, it will not make for a great marketing experience.
Watching videos was a little better. Ignoring the fact that everything was out of focus because of the whole not-fitting-over-glasses thing, I had to turn my head slowly to keep the display from lagging too much behind.
The operating system is  Nibiru, which is based on Android 4.4.2. The current Android platforms are typically Android 5 Lollipop or Android 6 Marshmallow, so the VR Sky is a bit behind. I would recommend putting off buying any VR headset until Android 7 Nougat is out, which will be in the few weeks, with much improved support for virtual reality.
Usability
The headset itself was easy to wear, with nice leather-like dotted padding, but it did not fit over my glasses, and there was no way to adjust the focus. So it was not at all pleasant to use. Plus, there was no ventilation, so that didn't help with the comfort problems.
Plus, most headsets that run virtual reality apps use a Google Cardboard QR Code to calibrate the apps. This headset has no QR Code and, even if it did — or if I made one from scratch — there would be no way to use it because this headset does not have a built-in camera.
Bottom line: Wait for the interface to improve until it is actually usable, or for the Google Daydream platform to come out.
Still interested in buying one? Get it for $110 from GeekBuying, $130 from GearBest, $133 from AliExpress, or $150 from Amazon.
Watch GeekBuying's unboxing and review below: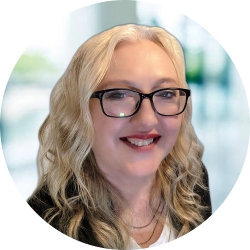 Latest posts by Maria Korolov
(see all)