The social virtual reality platform AltspaceVR is doubling down on the social aspect, with interface changes designed to make it easier for people to get together.
Previously, AltspaceVR — like many virtual environments — was organized around the idea of virtual locations. That doesn't work well because when people show up, the odds are that any particular location would be empty. The same is true of the physical world — if you get randomly dropped onto the planet, there's a good chance that you'll be far from anyone else.
In practice, when we move around in real life, we tend to go to where our families are, where our friends are, where our colleagues and customers are, and where events are happening.
Giving new users a choice of random locations to visit is not a good strategy for social virtual environments.
"This is not the way we usually connect and socialize in the real world," AltspaceVR CEO Eric Romo told Hypergrid Business.
So, in August, the company released a new user interface. When you first log in, you now see where you friends are, and what public events are currently happening.
"The new user interface is built around the premise that most of our human interaction is with people we know, and for a specific purpose," Romo said. "Instead of going to a virtual reality space, and seeing what might happen, now you see activities that are already going on, can find your friends and join them, or start an activity and invite others. It gives users more control and is much more natural."
Since then, the company has continued to improve the design.
"With the new user interface, for example, we missed an important feature," Romo said. "Users still desired a space that is simply available for them to just go and hang out."
And they made this clear soon after the new interface was launched, he added. The company began to address this concern within the next few hours.
"Now we have the Lobby, which is a really cool space for just this purpose," he said.
The new user interface has other social improvements as well.
"You can mute someone so that you do not hear them, if they are next to you and are too loud at a comedy event, for example," said Romo.
I personally saw this as a problem when I attended a Leap Motion presentation in AltspaceVR in July — the people around me were louder than the speaker, drowning him out.
In addition to being able to mute people, AltspaceVR offers the ability to block another, to completely remove them from your experience. This is particularly useful for people concerned about harrassment in-world.
"We also have a bubble feature that protects your personal space, keeping others at an arm's length," Romo said. "And users that are hosting their own activities get special moderator powers, including the ability to immediately eject users if needed."
Watch a video about AltspaceVR below:
A new way of interacting
The whole idea of social virtual reality is brand new. Most existing applications of virtual reality are either 360-degree videos or single-player games and marketing applications.
In fact, many people assumed that social virtual reality is still a long way off because it requires too much bandwidth, and because there aren't enough users. Plus, the Oculus Rift and the HTC Vive cost hundreds of dollars to get started.
But AltspaceVR is also available for the $99 Samsung Gear VR headset, which already has more than a million users.
That makes it a lot more accessible to a wide variety of people.
Plus, Playstation VR is coming in October.
"It will expand the potential market by multiple times," Romo said. "Other mobile VR options expected in the next year will provide an even broader audience, vastly larger than what we see today. Like telephones, television, and computers before it, VR will grow beyond the domain of the technology enthusiast and become a utility communication platform—people will use it commonly to meet with others, do things, and feel as if they are together."
And the performance is decent. I have a Gear VR, and I've attended events in AltspaceVR, and the platform — though still in its infancy — is already pretty good.
AltspaceVR is one of the leading such platforms, with vTime and Oculus Social its two major competitors.
Virtual world platforms like Second Life and OpenSim also have limited support for virtual reality headsets, and there are other platforms currently under development, but aren't yet at a point where mobile VR users can interact virtually in a easy way that's not nausea-inducing.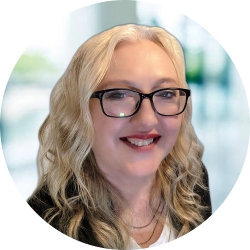 Latest posts by Maria Korolov
(see all)