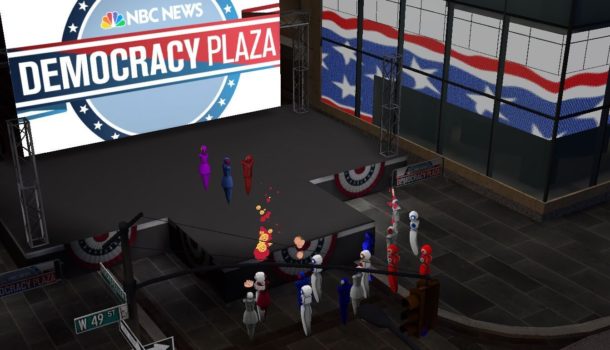 This year's presidential election will be conducted, in part, in virtual reality.
A partnership between NBC News and AltspaceVR is transforming a virtual recreation of New York's Rockefeller Center Plaza into Democracy Plaza, where AltspaceVR users can attend debate watch parties, live discussions with political experts and political comedy events.
The event can be accessed in virtual reality with an Oculus Rift, HTC Vive or Samsung Gear VR headset, as well as with a desktop application on a Mac or PC.
NBC News is the first major network to invest in creating a series of live events to cover the US election for an audience inside of virtual reality, the company said.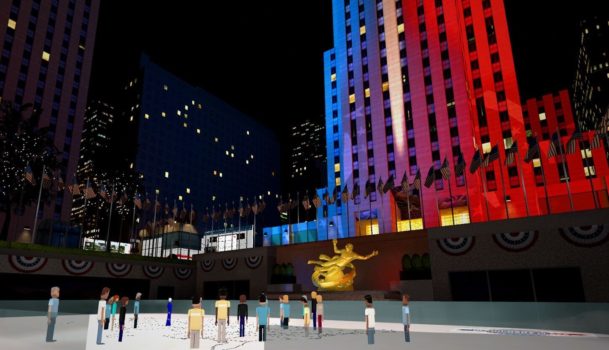 NBC picked AltspaceVR because it allows an unlimited number of participants to simultaneously attend a virtual reality event through its "FrontRow" technology.
"For the grand opening event, attendees will be only a few feet away from Today's Al Roker in virtual reality and can interact with him in a live Q&A session," an NBC spokesperson told Hypergrid Business.
Some events will also be live streamed to YouTube, the spokesperson added. "But not all events. For example, the debate watch parties will not be streamed."
Democracy Plaza event schedule:
September 21, 6:00 p.m. Eastern time: Opening Event — unveiling ceremony with Al Roker
September 26, 8:30 p.m. Eastern time: Debate Watch Party and audience vote and after party
September 29, 12:30 p.m. Eastern time: Ask the political expert — Q&A with Steve Kornacki
October 4, 8:30 p.m. Eastern time: V.P. Debate Watch Party
October 9, 8:30 p.m. Eastern time: Debate Watch Party
October 11, 7:00 p.m. Eastern time: Conversation with CNBC's Sharon Epperson
October 19, 8:30 p.m. Eastern time: Debate Watch Party
November 8, 6:00 p.m. Eastern time: Live Election Night coverage
Watch the live stream of Al Roker's unveiling ceremony below: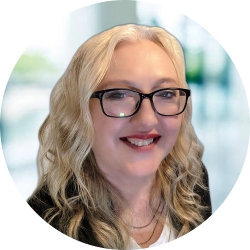 Latest posts by Maria Korolov
(see all)