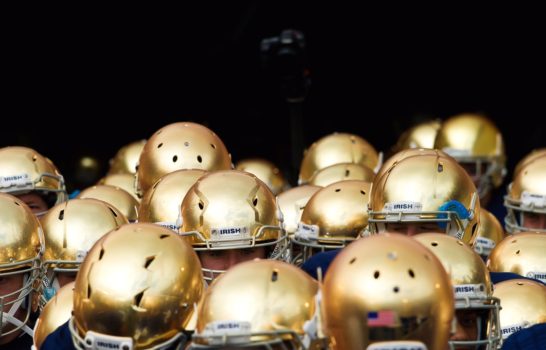 Press release: University of Notre Dame and NextVR Deliver Football in Virtual Reality for the First Time
Legendary collegiate football program teams with leading virtual reality content provider to present highlights from Oct. 15 Notre Dame vs. Stanford game
NOTRE DAME, Ind. — University of Notre Dame football and NextVR, the leader in broadcasting live events in virtual reality, announced they will deliver several virtual reality features from the Oct. 15 Notre Dame vs. Stanford football game at 7:30 p.m. ET on NBC. The virtual reality coverage provides fans with an opportunity to experience highlights of one of the most celebrated football programs in America.
Multiple NextVR virtual reality cameras will surround the field to provide viewers with different angles and vantage points transporting fans onto the sidelines and into the action. NextVR will release several highlight packages throughout the game in virtual reality, concluding each quarter with audio commentary from University of Notre Dame alumnus, Heisman Trophy winner and Pro Football Hall of Fame inductee Tim Brown and NBC announcers.
Notre Dame and NextVR deliver football in VRÂ for the first time
"We are pleased to be working with NextVR, in conjunction with our long time media partner NBC Sports, to pilot new fan experiences that bring them closer to the action," said Dan Skendzel, Senior Associate Athletics Director for Media and Branding.
"Our mission is to seek partnerships that will provide fans with unprecedented access," said Brad Allen, Executive Chairman of NextVR. "Notre Dame fans are among the most passionate in sports, making this relationship a significant milestone for Notre Dame and collegiate football fans."
In addition, NextVR will offer exclusive content from Brown. Fans can access behind-the-scenes virtual reality game day experiences including tailgating, the Notre Dame player walk to Notre Dame Stadium and other pre-game festivities, all of which will be available on-demand in mid-November.
How to experience the Notre Dame vs. Stanford football highlights in virtual reality
Fans can download the virtual reality experience of the Notre Dame vs. Stanford game on the free NextVR platform for Samsung Gear VR, which is available in the Oculus Home app store. Check the NBC Sports Channel on NextVR for game highlights and additional feature experiences. For more detailed instructions, go to http://www.NextVR.com/GetVR.
About NextVR
NextVR enables the transmission of live, long-form virtual reality content in broadcast quality – leading the way for live and on-demand VR to become a mainstream experience for sporting events, concerts, cinematic productions and more. Launched in 2009, NextVR has more than 36 patents granted or pending for the capture, compression, transmission and display of virtual reality content. NextVR's platform allows the fully immersive content to be streamed with pristine quality using current home and mobile Internet connections. NextVR was founded by veterans in stereoscopic imaging technology, software development and an award-winning filmmaker. For more information, go to www.nextVR.com.
About Notre Dame
The University of Notre Dame's longstanding historical success in football features 11 consensus national championships captured over the course of six different decades. The Irish title tradition dates back to Knute Rockne and the Four Horsemen who collaborated on Notre Dame's first consensus crown in 1924. The Irish have produced seven Heisman Trophy winners — and no college football program in the country can claim more. Notre Dame has produced more first-team All-Americans (190), consensus All-Americans (99) and unanimous All-Americans (33) than any other program in the nation. The Irish also rank No. 1 all-time in television appearances, as well as No. 2 in victories and all-time Division I winning percentage.

Latest posts by Press Release
(see all)