Back in early October, I ran out and bought the new Google Pixel phone the day it came out, and immediately put through an order for my free Daydream View VR headset.
Last week, as all the other tech journalists were writing their reviews, I had to sit and grind my teeth because my headset hadn't arrived yet.
But yesterday, it came! Whoo hoo!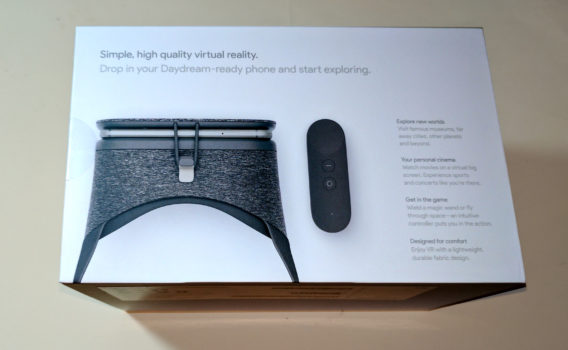 For those who somehow stumbled into this site by accident, the Daydream platform is Google's next stage of virtual reality evolution, and a big step forward from Google Cardboard.
You might not know much about Google Cardboard if you just watch the news, because most of the media coverage has been of the high-end headsets like the Oculus Rift and the HTC Vive, and more recently, Sony's PlayStation VR. But Cardboard-compatible headsets are actually outselling all of those put together by millions.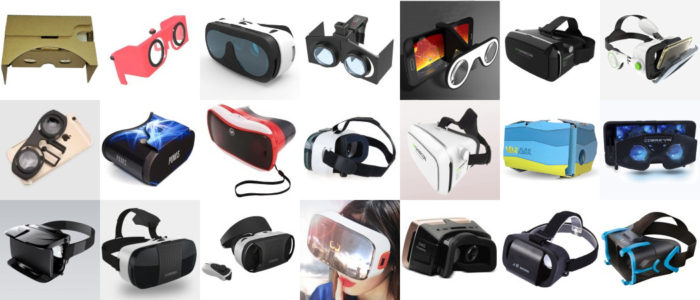 There are more than 100 different manufacturers making Cardboard-compatible headsets, which are great for playing moving on private virtual movie screens, watching immersive, 360-degree videos, and casual games. And porn. Can't forget porn. With prices as low as $5 a set, folks in emerging countries are snapping these up like crazy.
Daydream is the next stage of that and solves two of the most annoying problems with Cardboard-compatible headsets.
No configuring necessary
The original Cardboard specification allowed for an NFC chip that automatically told your phone to switch into virtual reality mode, and also told it how to adjust the image so that it would look right with the particular lenses your headset was using.
But I've never been able to find a headset that actually did this. And I have tried dozens of them.
Instead, you had to download the Google Cardboard app, find the Google Cardboard QR Code for your headset, and use the code to configure it.
Some manufacturers didn't even have a QR Code, so you had to try random ones for other headsets until you found one that was close enough.
If you skipped this step, and tried to run VR apps anyway, you were likely to wind up with a horribly distorted image and be traumatized for life.
The Daydream View finally gets this NFC thing right. You put your phone in the viewer, and it switches to VR mode. You do need to download the Daydream app, though. But once you do, you're in business.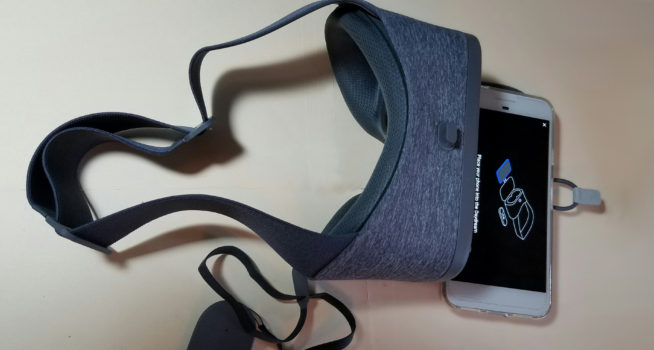 You just drop the phone in, close up the flap, and hook the little loop over the little plastic nub on top. It's not quite as easy as the magnetic holders some headsets have, but is still very simple and intuitive.
You also don't have to fiddle around with the interface. Existing Cardboard headsets use various ways to interact with apps — some give you access to the screen so you can touch it to activate things, others have a magnetic button, some have a capacitative touch button, and many have nothing at all. Third-party Bluetooth controllers work with some apps, but only for Android phones.
The Daydream comes with its own controller and automatically pairs itself with your phone, and has three main buttons — including one that doubles as a track pad — and a volume control. Plus, it knows which direction it's pointing in, which is a huge huge plus.
Virtual environment
On Cardboard, each app and video was its own, stand-alone experience. To load one up, you would take your phone, open the app or video, start it playing, then put it into your headset. To switch apps or videos, you needed to take the phone out of the headset, make the switch, then put the phone back on again.
Annoying!
Daydream has a virtual environment that lets you pull up apps and videos without taking off the headset.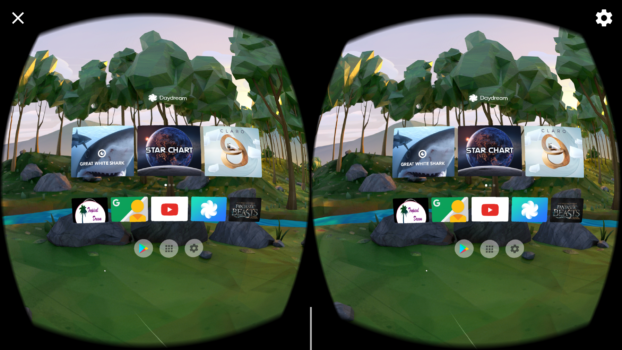 It doesn't work perfectly — I occasionally had to open it up and restart the app — but then again, it only came out ten days ago. Â In addition, some dialogs aren't VR-enabled yet. Not only do they break the immersion, but you have to take off the headset and take out the phone in order to deal with them. I'm hoping they'll fix this in the next update.
The environment is very similar to that of the Samsung Gear VR, which, until its phones started exploding, was the gold standard of mobile VR.
While the Gear VR's home is a living room scaled for a giant, with floating screens in front of you showing the various apps and other options, the Daydream home is a cartoony natural landscape.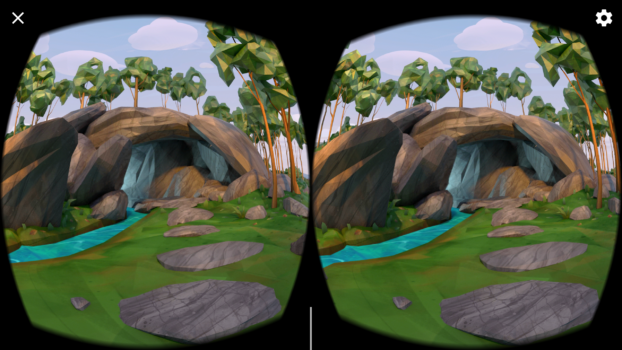 But, other than that, the two are pretty similar. You can open apps that you already have, or download new ones.
It's still easier to download apps the traditional way, though, because text entry in a virtual environment is not the easiest thing in the world.
App and phone selection
The thing that makes or breaks a platform, of course, is the size of its ecosystem.
And, with Google Daydream the potential ecosystem is ginormous.
Although only the Pixel phones officially support Daydream right now, more manufacturers have already announced that they'll be releasing new phones this holiday season.
Plus, with Daydream baked right into the latest version of Android, Nougat, at some point all new Android phones will support the platform.
Sorry, Apple fans. Although the Cardboard headsets work fine with iPhones, and many apps are available in both systems, so far Daydream looks to be a little too closely tied to the Android operating system to work on iOS. That could change in the future, but if virtual reality support is important to you, then this might be the reason you finally switch. I personally am a huge Apple phone, and loved my iPhone with a passion. Switching to the Samsung Galaxy S6 a year ago so that I could use the Gear VR was a painful experience and I never got used to the interface. It just seemed to get in my way all the time, while on the iPhone everything just worked. I have to say that with the Pixel, I'm no longer constantly annoyed. It just works. And works extremely well.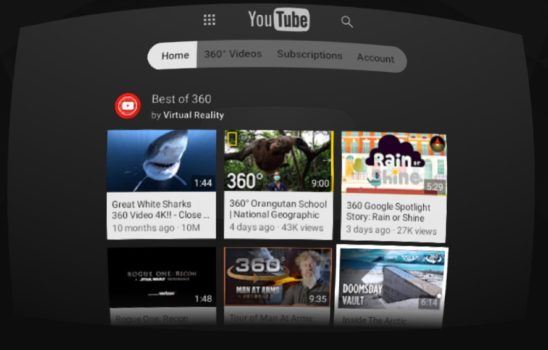 Moving on to the apps, Daydream launched with a nice base — YouTube, Hulu, CNN, USA Today, Street View, a couple of games, and the new Ghostbusters and Fantastic Beasts.
Ghostbusters knocked me out of the VR mode, and neither my new Daydream controller worked with it, nor my old Bluetooth controller from Ipega, but the rest of the apps were great. And many of my old Cardboard apps also worked, though I had to load them up first, then put the phone in the headset — they didn't launch from inside the virtual reality home. I hope Google fixes this soon, too, and also lets me use the new controller with the old apps as well.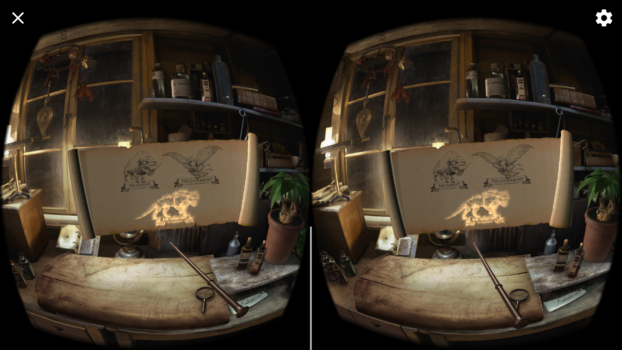 Bottom line: this is the new best-of-breed mobile headset, the best overall headset for the general public, and the best headset for 360-degree videos and casual games. It doesn't compete with the HTC Vive, or the PlayStation VR, but those are also aimed at very different audiences.
Watch a promo video for the headset below:
https://www.youtube.com/watch?v=rLLAA4ENIP4&feature=youtu.be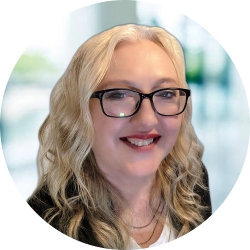 Latest posts by Maria Korolov
(see all)