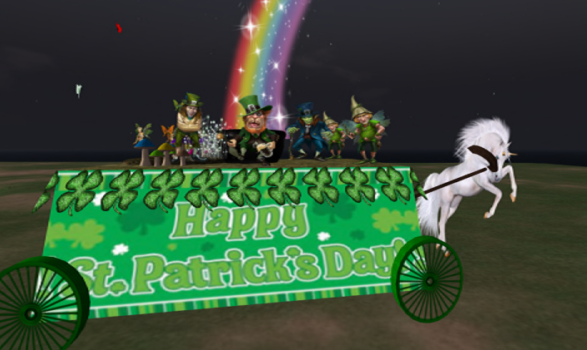 The Canadian Sun, an in-world magazine on the Great Canadian Grid, is sponsoring a St. Patrick's Day parade on Friday, March 17.
Participants are starting to build floats now, but there is still room for interested groups to sign up. Organizers are also looking for performers, and there will be a contest for the best float at the end of the parade, with prizes provided by community merchants.
"This is our first St. Patrick's Day event," Canadian Sun editor and publisher Marianna Monentes told Hypergrid Business.
The parade will be held on the Great Canadian Grid's GCG Communications region, and will run from the offices of the Corran Journal and end at the Canadian Sun office.
To participate, people should contact Monentes by email, via Google Plus, on in-world on the Great Canadian Grid.
The magazine will also be hosting a visit from the Hypergrid Safari tour group on February 8 on its GCG Communication region, at login.greatcanadiangrid.ca:8002:GCG Communications.
"We're very honored to be included," said Monentes.
You can find upcoming Hypergrid Safari events on its Facebook Events page, or buy its 2017 calendar, which features OpenSim destinations, on Lulu.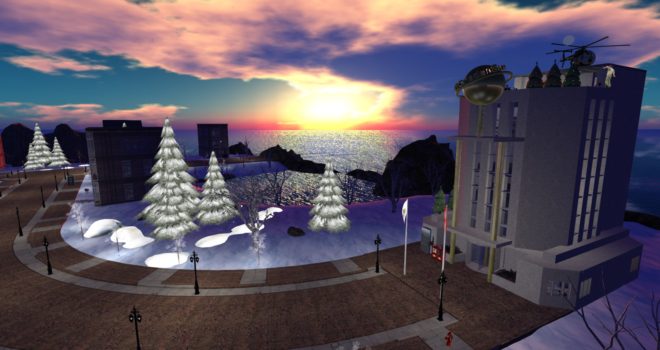 The Canadian Sun is a revival of a Second Life magazine started by Roddie Macchi, who is now the owner and founder of the Great Canadian Grid. The magazine features events and destinations both on the Great Canadian Grid and around the hypergrid. The magazine also hosts seasonal contests.
Robbie Macchi is the magazine's owner, Monentes the editor and publisher, and the editor in chief is Anna Wright.
In addition to the Corran Journal, the Canadian Sun also shares the region with the GCG Pulse, the events calendar for the grid. Both the Corran Journal and the GCG Pulse are managed by Winter Silversmith.
Other organizations with offices here include Metaworld Broadcasting, run by Mal Burns, and The Independents, which promotes a worthy real-life community outreach group in Oakville, Ontario.
There is space available for other organizations as well, and people interested should contact Monentes .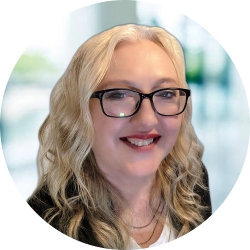 Latest posts by Maria Korolov
(see all)