Hypergrid Business may collect a small share of sales from the links on this page, which helps us keep the site going, and lets us offer free ads for OpenSim-related businesses. Prices are accurate as of the date of publication.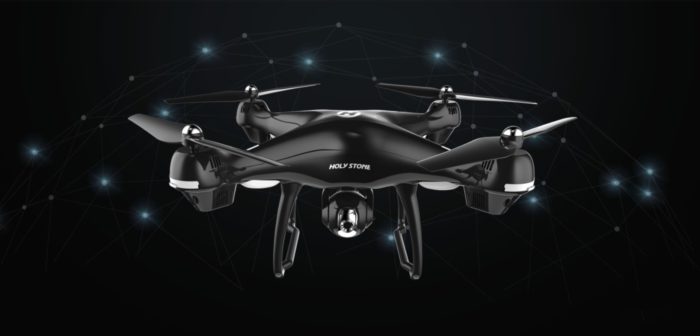 FPV drones, or first-person view drones, are a popular item on Amazon this fall.
Normally, you stand on the ground, look up at the drone, and use a controller to tell the drone where to go.
First person view adds a screen to the controller, usually via a smartphone that you plug into the controller, that shows you the view from the drone's on-board camera via a connected app.
Some drone manufacturers are taking this a step further, providing a VR option in their app and a building a VR headset with their equipment. Now, you can put your phone into the VR headset and feel as if you are literally inside the drone, looking down at the world through its eyes.
FPV drones let you explore the world from a whole new vantage point, and some of them give you a range of up to four miles, allowing you to explore in a way that line of site piloting simply wouldn't. This is especially exciting for photographers and videographers as it opens up a whole new realm of possibilities, and all of these drones take photos and videos.
All of the drones on this list give you the first-person view right on your phone screen.
With a wide variety of drones available at various price points, including some very affordable options, this fall could be the time to try out an FPV drone for yourself. Half of these drones sell for under $99 so almost anyone can get in on the action. Here are ten of the most popular FPV drones available on Amazon as of this September 2019.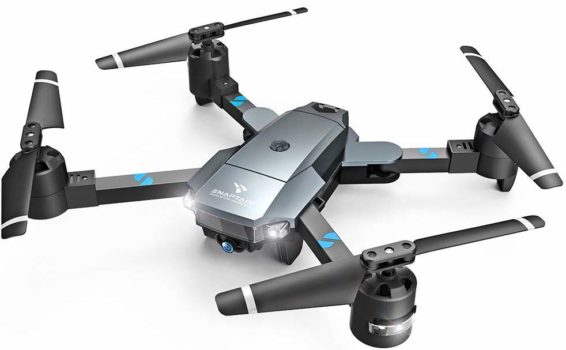 1. Snaptain A15 Foldable FPV $
This drone is small, foldable and has flexible blades so it's easy to carry around. Â It has voice control so you can tell it to take off and land just by speaking, and offers some other nice features such as altitude hold mode and one key start, landing and return.
Despite the low price, customers love it. This drone has more than 800 reviews on Amazon, with an average rating of 4.3 stars. Lots of reviewers mention the extra battery and included accessories that sweeten the deal with this affordable drone.
2. Holy Stone HS100 $$
The Holy Stone HS100 has some great features including a return-to-home function, so the drone will automatically return to you when the battery is low or if the signal is weak. It also has a follow me mode, where it follows and captures you, allowing for hands-free flying and great for selfies.
This drone has nearly 2,000 reviews on Amazon, and 76 percent of customers give it five stars. Reviewers also say it can be used in virtual reality mode with any smartphone-compatible VR headset. The downside is that it only has 15 minutes of flight time.
Watch the intro video here:
3. ScharkSpark SS41 $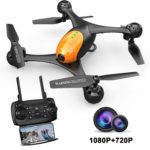 This nifty quadcopter features two cameras so you can enjoy multiple perspectives and switch between real-time viewing modes. It also has gesture control so you can take photos and videos with specific movements. The battery is 15 minutes, which puts it a little above the lowest-cost drones on this list.
This drone has over 400 reviews, with an average score of 4.6 stars.
This drone also has VR support in its app, but the VR headset is not included.
4. Holy Stone F181W Â $
This drone has automatic altitude hold, so you can release the throttle and it will keep hovering at its current height, which is a great feature for shooting photos or videos. It has a 6-axis flight control system that offers strong stability, making it easy to use for beginners.
Its app supports VR, but a VR headset needs to be bought separately. Flight time is eight to ten minutes, and additional batteries can be bought separately.
This drone has more than 1,400 reviews on Amazon, with an average score of 4.4 stars.
Holy Stone HS160 Shadow $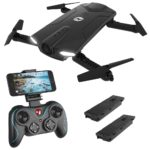 Another affordable drone on the list, this one has foldable and flexible blades, so it's small and portable. It also has a bonus battery for extra flight time, and sports a one-key start and landing, so anyone can fly with perfect control. One downside is that flight time is just seven to nine minutes, and some reviewers report even less.
More than 1,400 reviews with an average score of 4 starts, plus more than 400 answered questions make this a good bet. You will have to get the VR headset separately, however.
DJI Spark $$$
One of the pricier options on this list, the DJI Spark 813 sports a 2-axis mechanical gimbal and UltraSmooth technology to keep shots stable and detailed, along with an improved camera, allowing you to shoot stabilized video at 1080p and photos at 12 mp. It can reach speeds of 31 mph in sport mode and can stay in the air for 16 minutes on a full charge, an improvement over some of the less expensive drones.
You can purchase a pair of DJI Goggles to go along with the Spark if you're looking for the most immersive flight experience.
SNAPTAIN S5C WiFi FPV Drone $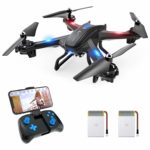 Despite being one of the most affordable options on this list, this little ninja is packed with features, including an HD camera, altitude hold, a foldable design, and one-key take-off and landing. Plus, it has more than 1,600 reviews with an average rating of 4.5 stars, and over 400 answered questions.
Flying time is between eight and ten minutes, which is about what you'd expect for this price. And it doesn't come with a VR headset, you'll need to bring your own.
DBPOWER U818A Discovery  $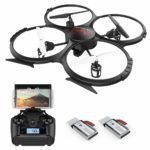 Another affordable drone packed with features, this one can get you up to 18 minutes of flying time with the included bonus battery. While the more expensive drones can do this with one battery, you'll save hundreds of dollars if you're willing to do this with two.
You do have to get the virtual reality headset separately.
DJI Mavic Pro Quadcopter Drone Fly More Combo Pack  $$$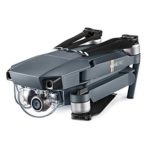 This is by far the most expensive drone on this list, but it comes in a kit that includes everything you need for a full VR flying experience including the virtual reality headset.
It has a 4.3 mile transmission range, 40 mph max speed, and can deliver fully stabilized 4K footage. Plus, the battery lasts for 27 minutes, and you get three batteries in the kit.
You get what you pay for with this drone package.
Parrot Anafi – FPV Drone Set   $$$
Newly released, this is another drone package that's ready to give you the full VR flying experience. A couple of nice perks are the lossless digital zoom and 180-degree tilting camera, as well as two new flight presets, cinematic and racing, all guaranteed to enhance the virtual reality flying experience. This package is also quite a bit cheaper than the DJI Mavic Pro, but still offers great features at a nice price.
Plus, it comes with a pair of virtual reality goggles. It's just been released, so there aren't many reviews on Amazon yet, but the company has a good reputation for its other drones. This is the first drone it's released with virtual reality support.
Have you tried any of these drones? How did you like them? Let us know in the comments below!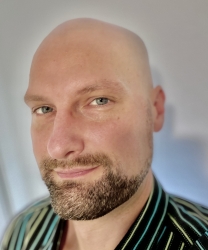 Latest posts by Alex Korolov
(see all)