If you are in the UK this fall, and are interested in seeing some virtual reality and augmented reality art for free, check out the Alternate Realities touring exhibition that is part of the Sheffield Doc/Fest and will be coming to Brighton in October, Manchester in November and will finish up in London in January.
Sheffield Doc/Fest's Alternate Realities is one of six program areas within Doc/Fest, a world-leading festival and marketplace that shares modern documentaries and non-fiction stories.
Alternate Realities presents its second UK tour this fall and winter with its partners Lighthouse, Brighton, HOME, Manchester and the Barbican, London. Â The tour, which starts in October, will exhibit highlights from the 2019 Alternate Realities digital art exhibition, which was attended by more than 7,500 people over a six-day festival.
The Alternate Realities tour will offer free admission, encompass three venues, and feature eight international digital art projects from the exhibition.
"It's such a pleasure to see some of the best-loved digital art projects from Doc/Fest 2019 go on to reach new audiences at prestigious venues across the country," said Melanie Iredale, interim director of Sheffield Doc/Fest, in the press release.
The tour will include Sheffield Doc/Fest Best Digital Experience winner, "Echo," an interactive installation by Australian multimedia artist Georgie Pinn, and "Big Dada," a series of deep fake moving image works inserted into social media channels in June 2019 from Sheffield Doc/Fest commission.
Virtual reality and augmented reality installations, interactive documentaries, 360-degree video and more will be used to present projects covering topics including social cleansing, LGBTQI experience, sexuality and disability, gender expression, and an ancient Chinese tale of truth-bending.
The Alternate Realities UK Tour is supported by the Arts Council England and can be seen free of charge at Lighthouse Brighton on October 11-20, HOME, Manchester November 9-17, and at Barbican, London January 13-19.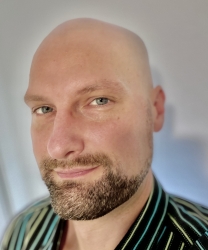 Latest posts by Alex Korolov
(see all)