Ever since Google Plus closed down for good earlier this year, the OpenSim community has been scattered across a lot of different platforms — Discord, MeWe, Facebook, and others.
So, we used to have more than 2,000 members in the OpenSim Virtual group on Google Plus.
Google Plus was public, so if you wanted to, you could share an announcement with friends via Twitter, email, in-world message or any other channel. Anyone could click on the link and see the post, whether or not they were members of Google Plus or of that particular group.
Today, the OpenSim community is scattered.
MeWe is becoming a popular option, but you can't share posts with the public. You can only share with other MeWe members. Discord is even more constrained as far as sharing is concerned.
That makes it hard for people to find interesting events and share them with friends. In particular, you want to be able to share events with people who might be interested in your event who aren't members of the platform.
So here's my top recommendation for staying on top of OpenSim events: go to Facebook, check out OpenSim News.
Join or bookmark the Facebook OpenSim News Group
OpenSim News has been around since 2011, and I've been a member all along, but only recently started paying attention to it because the group has been really taking off lately.
With 468 members, it's the largest cross-grid OpenSim group on any social media platform.
So, if you're a Facebook member, join the group, subscribe to notifications, join in the discussions, and share events with friends.
To share a particular post, click on the time or date just under the name of the person who posted the event. It will take you to the post's permalink page.
If you're not a Facebook member, you can't join the group or get automatic notifications but you can bookmark it and check back in for new announcements, and you can still share links to posts.
Another public OpenSim-related group is OpenSim Virtual on Facebook. However, as a reader pointed out to me, this isn't run by the same people as those who ran the big OpenSim Virtual group on Google Plus. The organizers behind this one seems to be the team from the controversial Sacrarium grid.
The people behind the original OpenSim Virtual do have a MeWe group. with more than 300 members — still far less than their membership numbers in Google Plus, but still a pretty good size for the post-Google+ era.
Another Facebook group is Hypergrid Happenings, which has 174 members on Facebook, and typically has more than ten posts a day.
Musical Metaverse is mostly Second Life events, but it also allows OpenSim postings — and has, as of today, 577 members. It's another busy group, that typically see more than ten posts per day. If you do post OpenSim grid events in Second Life-oriented groups — and you definitely should! — please include a link to an instruction page for how to visit your grid if someone has never been to OpenSim before. You never know which event may inspire them to check out OpenSim and create their first avatar account over here.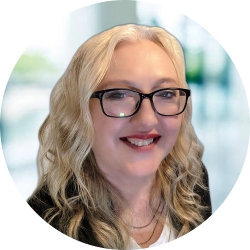 Latest posts by Maria Korolov
(see all)