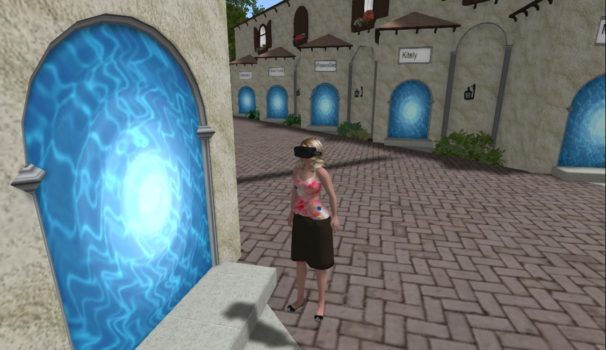 The hypergrid turned 11 years old today.
If you've ever wanted to teleport from one virtual world to another and be able to make friends and go shopping on other worlds, that's the hypergrid. You can even join groups and send messages to friends on other grids. And if you want to have your own private virtual world, for free, on your computer — you can do it, and still be part of the broader metaverse simply by turning on hypergrid connectivity.
It all started 11 years ago.
On this day in 2008, Crista Lopes, a professor of informatics at the University of California, Irvine, sent an email to the OpenSim developers' mailing list.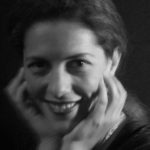 "I started working on an extension to OpenSim that makes it work in peer-to-peer mode… I'm really excited to say that this is working!" she wrote.
The email went on to detail some behind-the-scenes details of how the hypergrid was implemented, and where folks could download the code and try it out.
So what does she think of the hypergrid now?
"Eleven years? Say it ain't so… wow," she told Hypergrid Business. "I am in awe that OpenSim is still around and that the Hypergrid turned out to be one of its most valued features!"
The hypergrid growth story
By the spring of 2009, several major grids were hypergrid-enabled, including OSgrid. By November of that year, of the 33 known public OpenSim grids, 22 were hypergrid-enabled. By November of 2010, there were 60 public grids, of which about half were hypergrid enabled.
As of the end of 2012, we had seen 417 public OpenSim grids in our database, 245 of which — or 59 percent — were hypergrid enabled.
At that point, we began collecting active user stats on all the grids that published those numbers. At first, grids were evenly split between those that were on the hypergrid, and those that weren't. But, over time, open grids began to dominate.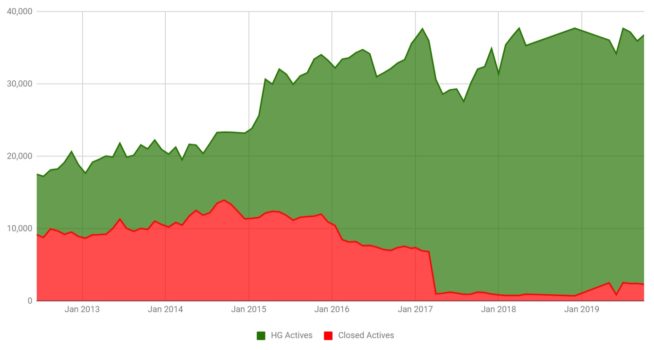 The big drop in mid-2017 on the chart above is when InWorldz stopped publishing its numbers. It went out of business the following year. The uptick in active users on closed grids over the past year is due to the emergence of the Tag Grid as its closed successor.
Today, there are 315 public OpenSim grids in our active grids list. Of those, 285 are accessible via the hypergrid. (Here is a list of the hypergrid-accessible worlds, sorted by traffic numbers.) Most closed grids are small. Of the 23 closed grids that published stats this month, only three had more than 100 active users. Another three had between 10 and 25 actives, and the rest were in single digits.
In fact, today, the hypergrid accounts for 94 percent of all the active users on the public OpenSim grids — and for 97 percent of all the land.
There are an unknown number of grids running in private mode, in schools, businesses and non-profits.
"The hypergrid is the main thing that helps set OpenSim apart from all the other virtual world platforms," said Ilan Tochner, CEO of Kitely, OpenSim's largest commercial grid by land area. "It is what enables anyone to join their grid of choice, or create a new one if they wish, while remaining connected to other parts of the metaverse."
Without the hypergrid, he told Hypergrid Business, the OpenSim ecosystem would have remained a much smaller collection of closed grids serving fragmented communities.
And the Kitely Market wouldn't be able to deliver products to as many grids as it does — 373 at last count — without some special configuration on the part of grid owners.
"In other words, the hypergrid enabled the OpenSim ecosystem to be what it is today," he said. "It enabled communities to flourish across grids and it enabled OpenSim users to gain access to legally available content even if their avatar is based on a small grid or standalone."
Kazuko Yoshida, owner of The Kaz Grid, echoed those sentiments.
"Well, of course, it's hypergrid which truly makes OpenSim an open platform," she said. "I do wonder how many OpenSim grids there would be if there were no hypergrid."
The hypergrid brings people together and provides them opportunities to support each other, she added. "Congrats to the hypergrid."
Hypergrid basics
To travel from one hypergrid-enabled world to another, just paste the hypergrid address in the map search box, where you would normally type the region name.
You can find hypergrid addresses on our active grids list, and on OpenSim World. and on the Hyperica directory.
For more detailed instructions, check our How to hypergrid page. and our Hypergrid FAQ.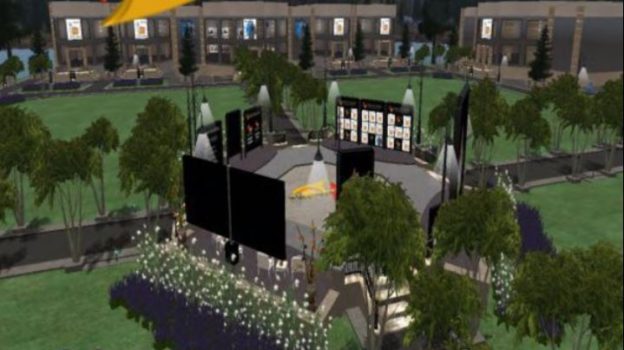 If you want to go shopping on other grids, check out our list of Freebie Destinations, or, if you want to spend some money, our list of Gloebit Shopping Destinations. Gloebits are the top currency in OpenSim right now, like PayPal, but for virtual worlds. Learn how to shop with Gloebits here.
If you want to stay on top of events and other hypergrid news, you might also want to join the Hypergrid Happenings or OpenSim News groups on Facebook.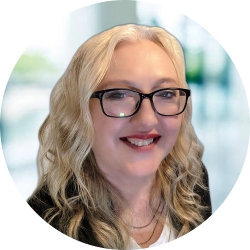 Latest posts by Maria Korolov
(see all)