The global pandemic's forced people apart, but technology is stepping up to bring us all back together, even if we're not in the same room.
MeetinVR and Wolf3d, two major players in VR, have teamed up to make meetings as human as possible.
MeetinVR's been working since 2016 to make VR business meetings that are better than in real life and now they've added Wolf3d's personal avatars to the platform to up the social aspect and make the human connection feel more real.
Wolf3d's been creating realistic avatars since 2014 with the goal of bringing humanity into virtual interactions between people.
"The feature that 90 percent of our customers ask for first is personal avatars," said MeetinVR's head of growth Francois Schumer in a press release.
"The design of the avatars we have was one of the many reasons why major clients of ours have chosen us instead of working with someone else," MeetinVR marketing manager Tomas Budrys told Hypergrid Business. "We found this really interesting balance between animated avatars and realistic ones, which worked for our clients."
Clunky avatars not only obstacle to VR adoption in business
There are some challenges to using VR in the workplace besides just the avatars.
It's hard for users to take notes when they can't see their hands or keyboards because the headset is blocking their view. It's also difficult to access emails, calendars, or other work applications when inside a VR environment.
MeetinVR addresses this issue by supplying infinite whiteboards and sticky notes inside the virtual space, and by supporting in-world typing or dictating speech-to-text. It also offers a virtual tablet to facilitate easy access to various tools.
"Being able to instantly grab the tools you need to communicate effectively then toss them aside when done is amazing," said MetaVRse CEO Alan Smithson in a statement. "There is literally no learning curve which is essential since most people just want to get to work in VR."
Another issue is that most users and companies don't have VR headsets, whereas nearly employee has smartphone cameras, computers, or other technologies necessary for video conferencing. 
The release of affordable consumer VR headsets could change this.
"Since the release of Oculus, we noticed that the demand from enterprise has increased significantly," said Budrys.
MeetinVR claims it doesn't intend to directly compete with video conferencing platforms like Zoom.
"We're creating a new reality," said Budrys. "In VR, you can use your creative potential to come up with tools that are not even possible in Zoom. Another thing we know brings value to clients is a feeling of presence. Certainly, Zoom fatigue is a thing, and when you're spending a lot of time talking over the desktop, conferencing, you kinda feel tired and engagement usually goes down."
Industry analysts are projecting major growth for VR and AR in the next ten years.
"VR and AR have the potential to deliver a $1.5 trillion boost to the global economy by 2030," said a PwC report studying the benefits of VR to industries including manufacturing, healthcare, energy, retail, and training and development.
"Neither VR or AR are new technologies, but there are two overarching trends that can ensure their use grows considerably: the business benefits they can deliver are now richer and more attractive, and technological advances are creating an improved user experience," said the report.
While consumer adoption may be slow, enterprise is quicker to adopt VR, as demonstrated by MeetinVR's exclusive partnership with high-end XR and VR headset manufacturer Varjo.
"MeetinVR represents the future of virtual collaboration," said Varjo CMO Jussi Mäkinen in a statement.
"The ability to mix virtual and real-life environments and participants in extreme visual quality augmented with humane connection through hand-shakes and eye contact is something that is driving the whole industry forward," he said.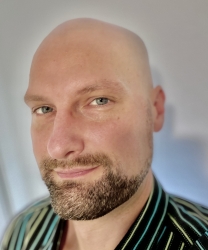 Latest posts by Alex Korolov
(see all)