Editor's Note: The ArtGate International 2021 kicks off with an opening ceremony tomorrow night, followed by three days of virtual art events. The art exhibition is open to the public and there is no cost to attend the event. A virtual reality headset will make the experience more immersive, but people can attend without one via their PC or mobile device.
When I put on my Oculus Quest headset and enter the ArtGate VR app, it is incredible how quickly I feel as if I am in person at a gallery, once again looking at art and speaking with visitors. Accustomed to exhibiting in multiple shows a year since 2007, I have been yearning for that pre-pandemic experience.
I am grateful for the opportunity to showcase my work in a cutting edge way that both emulates that missed experience and bypasses its geographic limitations. I look forward to meeting individuals whom I might never otherwise cross paths with. This is a unique opportunity to share my work with a truly international audience joining in from different corners of the world. For my art fans who do not have VR headsets, a desktop version is available for download via PC or Mac plus the live stream will be cast on Facebook.
I am excited to share the high definition translation of my work into virtual reality. Since my oil paintings are hyper-realistic, detail is everything to me. As a contemporary artist, I focus on the importance of dress to define our persona by incorporating tangible fabrics into my paintings. In each piece, I experiment with the transition between paint and fabric, allowing my subjects to transform into the characters I create.
Although ArtGate isn't currently compatible with partially three dimensional wall art yet, they have assured me it is on the development list. Luckily, the textiles in my works translate well as the high quality representation gives a trompe l'oeil effect as you approach a piece.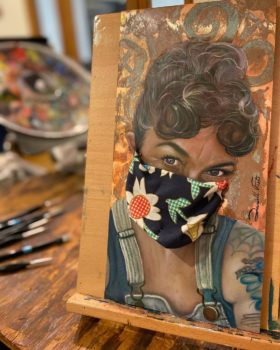 My brother's company, 3XR, modeled a nice version of what I hope the platform will support soon. For now it can be viewed in AR for that multidimensional experience. It was my collaboration with 3XR that led me to discover ArtGate VR earlier this year. Here is a company that has been operating for a few years but are seeing a significant rise in interest since the pandemic has propelled technology adoption rates. They now work with many established galleries that showcase famous masters as well as emerging contemporary artists.
During the 2021 ArtGate International Fair, I will debut my latest series, Mask Yourself. I focus on the act of wearing a face mask — a small piece of fabric connecting the world, strengthening our fight against an invisible enemy, but at the same time making us feel different.
I emphasize the opportunity for self expression, strength and unity that a face mask can represent. while highlighting the role we play in combating this global crisis together. I invite the VR community to join me on Friday, April 16, at 4 p.m. Eastern time, whether they are seasoned art lovers or virtual museum curious. More information on how to participate is at FestaCollection.com.
Visitors can also enter into my second exhibition room which represents a sampling of my work spanning over a decade. Unconventional mediums marry to tinker with viewers' perceptions. Elements of mixed media announce their presence first, as fabric subtly transitions with paint, it demands a second look. Through cuts and hems, hand sewing and gluing, my goal is to make the process a smooth integration.
There are many factors that contribute to perceptions of dress, deriving from both the individual's choice and the viewer's preconception. The endless combinations of these variables are what keep me exploring my theme. I alternate between drawing subjects that are strangers and those who are very close to me. This juxtaposition allows me to be both another judgmental outsider in some cases, and in others, someone who knows best that the subject's personality can rarely be defined by his or her projected image. Based on real moments in the lives of my subjects, I work to call attention to the importance we put on clothing. I want onlookers to experience the independent choices, the religious mandates and the social constructs that influence both what we wear and how we view others.
I look forward to virtually shaking hands and connecting with a new audience next week. I am also available for private gallery tours for those who are interested.
Watch the preview video below:
Latest posts by Danielle Festa
(see all)