I'm Snoots Dwagon, head of greeters, exhibitor, and a performer at this year's OpenSim Fest.
It's my first OpenSim festival, and I've got two parcels you might want to check out, Rascal Flats and Replicant City.
In the case of both exhibits, the entire purpose is to provide some fun for visitors.  I don't sell things in OpenSim, we don't charge rent or other fees, and all my lands are open 24/7/365 to visitors, with self-guided tours and freebies all over.
The Replicant City exhibit is designed to be fully interactive and to give visitors some fun things to do.  It contains a re-imagined replica of the Firefly spaceship, explorable with lots of buttons to press.
The Rascal Flats exhibit has a working Ferris wheel, a Godzilla battle, a beautiful dance floor, and a house with free Wee avatars – including a small robot, four colors of koala bears, kitties, and a tiny penguin.
Let me tell you a little more about the event.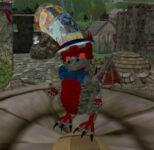 Officially abbreviated OSFest, this annual expo of OpenSim creators is being held July 8 to July 25, 2022.
This mega-event can be accessed by registering and creating an event avatar or by using your existing avatar and visiting via the hypergrid.
The hypergrid address is grid.opensimfest.com:8022.
OSFest offers many attractions:
Dozens of live performances and dances during the entire event
Displays showing off the talents of OpenSim creators
Market regions with OpenSim merchandise
Freebie areas for new and old members alike
Find out more at the official event website. In addition, you can locate individual OSFest areas here.
This is THE OpenSim Festival
If you're an OpenSim user, or a Second Life resident who has wondered what OpenSim is all about… come to OSFest '22. It's a great way to immerse yourself in all things OpenSim!
The history of Replicant City
I started building Replicant City in 2010 on InWorldz grid and spent a great deal of the next 12 years adding things to it a bit at a time.
Most of the creations are mine, but occasionally other creators would donate something to the City if it applied to the science fiction theme.
When InWorldz took a nose-dive into the pavement I was very fortunate to be able to salvage the entire Replicant City build in an OAR file and recreated it in high-sky ElvenSong VAR on OSgrid — this provided a unique arrangement of Elven Fantasy on ground level, and a full science fiction city in high sky.
Replicant City is now so large and detailed that it literally takes days to fully explore everything that's there, taking it an hour or two at a time. It is truly huge, extremely detailed, totally interactive throughout, and can be very addictive when explored.
The history of Rascal Flats
Rascal Flats is a "tiny town" found on VARMINTS region, DigiWorldz Grid. It's part of the Wellspring group and is provided by them for enjoyment by the Wee community — Tinies, Dinkies, and other Smalls — free of charge. There are free avatars, free homes, and free activities.
"Wee is free" is the motto. Rascal Flats is an affiliate land of the ancient Elf Clan group, which means that Rascal is G-rated, family-friendly, and safe for all visitors.
Here's how Rascal Flats got its start.
The Wellspring Group originally built the Sendalonde Community Library on InWorldz.
It was widely known for its readable library, live play theater presentations, and regular large exhibits with numerous creative talents. For example, one year they held a sci-fi exhibit, with creators from all over InWorldz contributing to the event. It was truly fun to explore.
I was one of the contributing creators to the Library and was invited to the Library Board of Directors, which is how I came to know the owners Alexina Proctor and Prax Maryjasz. I hope my memory is serving well. This was several years ago.
As with Replicant City, when InWorldz died, they managed to barely save some major components of Sendalonde, including most of the library.
They re-established their lands on OpenSim, setting up on a 64-region mega-server.  Their rebuilding task was considerable since their OAR files did not come across as fully as Replicant's.
They announced that they were rebuilding the Sendalonde Community Library, which is what caught my attention.
I had worked with them on the original Library by building a nice theater in the back.
So I contacted them and asked if they would like me to rebuild the theater for them as that was lost in the transfer.
Their response was three-fold:
1. Yes, they would very much like to have the Theater rebuilt
2. Would I like to be on the Board of Directors again and be their scripting and technical consultant?
3. (and this was the clincher)  Would I like to build a tiny town where Tinies could live and play for free?
Now, what Dwagon could resist an invitation to build an entire town for Wees, Tinies, and Dinkies?   They knew the bait, and I chomped.
I built the theater, which turned out nicely if I do say so.  I built a town that was later expanded to two-and-a-half times its originally intended size and renamed it Rascal Flats, a name that properly relates to its residents.
We added a huge sandbox, a rather large Giant Spider Race Track, a 50's-style Eats Diner with a good-size dance floor among the booths and custom jukeboxes, and a Pirate Cove with several sailing ships.
Rascal Flats contains numerous homes which are free to Wees who care to settle there, as well as a Central Park with several attractions.
Today in 2022, Rascal Flats is pretty much finished and as large as we want it to be: two-and-a-half regions of tiny mayhem.
We are friends and close associates of Weelandia, another land of Tinies on the same grid.  We often announce and attend each other's events, and work together on projects.
For example, we fixed the widely-distributed but often-broken mesh Koala avatar and sent it out to be distributed among the Wee society. A copy of this avatar can be picked up at the Rascal Flats exhibit at OSFest.
We'd like to invite readers to visit Rascal Flats and the Sendalonde Community Library. It's always good to see old friends… and meet new visitors!
Latest posts by Snoots Dwagon
(see all)