New research reports and surveys released this month show that interest in virtual and augmented reality is continuing to drop.
According to an EY Consulting survey released earlier this month, only 24 percent of people said their company has started using VR and AR technologies, putting it in last place among all technologies people were asked about. Those other technologies included cloud and edge computing, IoT, digital twins, quantum computing, biometrics, blockchain, and generative AI. And that's with quantum computers not even available on the market yet and generative AI only really becoming accessible to the world late last year.
Similarly, even among people who were familiar with VR technology, only 15 percent said that they wear a VR headset at work, only 17 percent said they attend meetings in the metaverse, and only 18 percent use VR for onboarding or training. The survey didn't ask if they did those things on a regular basis, or tried them once and stopped.
According to a report by research firm IDC, global shipments of AR and VR headsets dropped sharply this year — a decline of 54 percent compared to the same time in 2022.
The only growth was in augmented reality displays — the kind with transparent lenses, where you can see the real world, just with a holographic overlay over it. The top example of this are the Air AR glasses from Xreal. They can project a TV screen or computer monitor into the air in front of you, and look just like sunglasses. You connect them via a USB-C port to your smartphone or tablet, or to a PC or gaming console. You can even order them with prescription lenses. And they cost just $379 — still a little on the high side but about as much as you'd pay for a second monitor, and only about a tenth of the price of Apple's yet-to-be-released Apple Vision Pro headset.
Right now they only come in black and look a little clunky. But, in general, this is what I expected the Apple headset to be — a replacement display for the iPhone screen that was as easy to use as a pair of sunglasses. Add a few design options, a Bluetooth connection, and a case that doubles as a charger and I'm sold — especially if the resolution of the display is good enough to read text.
Oh, and I want the kind of lenses that automatically turn lighter or darker when you want them to. If they could replace my regular glasses, I could just wear them all the time.
Some companies are continuing to invest in AR and VR. J. Crew, for example, launched a virtual store earlier this month.
When you go inside the house, it's basically a typical real estate or museum tour — click on the arrows to teleport around, then look in various directions. For the most part, it's walls with pictures of items from the J. Crew catalog. A bit less pleasant to experience than the paper version, and a lot less convenient than its regular online shopping experience.
Frankly, it reminded me a bit of in-world stores in Second Life and OpenSim.
And I'm not the only one who wasn't impressed.
According to a YouGov survey, 45 percent of J. Crew customers don't see any practical applications for augmented or virtual reality.
The survey also shows that 67 percent of the retailer's customers think that augmented or virtual reality allows people to experience products and services before they buy them. Since that statement is technically true — augmented and virtual reality does allow that, for a certain definition of the word "experience" — I'm surprised that the answer wasn't 100 percent.
The thing is, many retailers are already adding virtual models to their websites, so you can see what the clothes might look like on you, or on a model that's shaped like you. No AR or VR required.
In other words, AR and VR have all the inconveniences of physical stores — limited selection, hard to find what you're looking for — with none of the benefits like, say, being able to feel the fabric, checking that the shoes or clothes don't pinch or itch, or buying a Cinnabon in the food court after you've finished shopping as a reward for surviving the ordeal.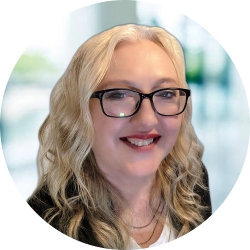 Latest posts by Maria Korolov
(see all)