OpenSim hosting company Dreamland Metaverse received the highest scores for performance, support, stability and its user interface in this year's hosting providers survey, followed by DigiWorldz and Zetamex Network.
There were 40 responses total to this year's hosting survey, which asks grid owners about their hosting providers. However, many of those responses were invalidated because the respondents were mistakenly evaluating grids instead of hosting providers. The grid survey was a different survey, and was conducted in October.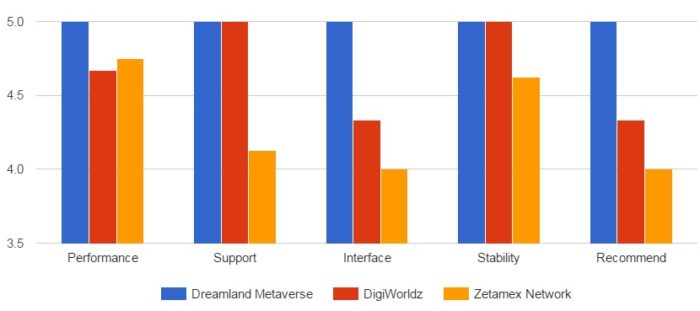 Since the survey was about hosting, there were a much smaller number of responses than in the survey about how much people liked their grids.  DigiWorldz and Dreamland Metaverse got three responses each, while Zematex Network got eight responses. 3DLES, which focuses on the education market, received two responses. CloudServe, Hispalab, Oliveira Virtual Lands, and SkyLife received one response each.
Last year, Dreamland Metaverse also received the highest scores.
Dreamland Metaverse received a perfect score in each category. DigiWorldz received perfect scores for support and stability, with an average performance score of 4.7 out of 5, and 4.3 for its user interface and management panel. Zetamex was rated 4.8 for performance, 4.6 for stability, 4.1 for support and 4.0 for its user interface.
The survey also asked OpenSim hosting customers about their perceptions of OpenSim in general.
The most appreciated feature, selected by 80 percent of respondents, was the ability to make backups of their regions, followed by low prices at 72 percent, hypergrid at 68 percent and inventory backups at 60 percent.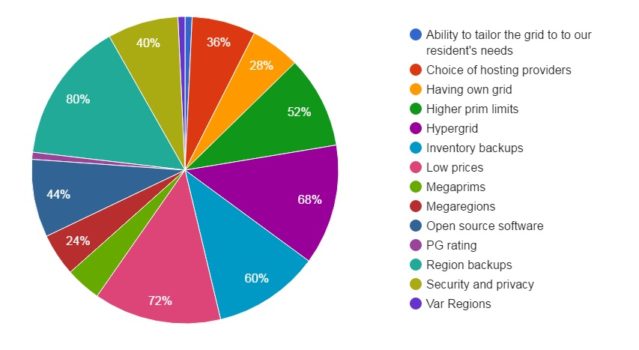 The most wanted missing feature was an online marketplace, selected by 39 percent of respondents. Currently, the major online marketplace for OpenSim is the Kitely Market, which any grid can connect to so that their users can buy content from the market and have it delivered directly to their avatars. The poll results could indicate that grid owners may want a private-label marketplace of their own, or that hosting companies could offer to set up a Kitely Market connection for their grid customers.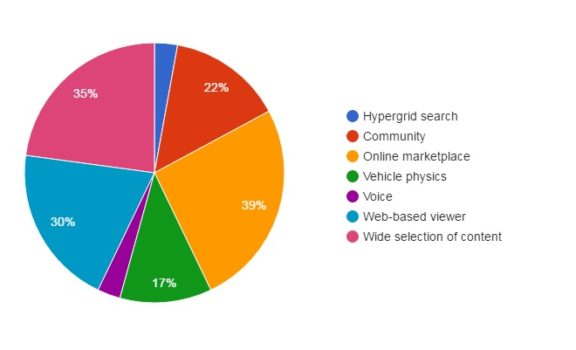 A wide selection of content was the second most-wanted feature, with 35 percent of respondents. Here, in addition to the Kitely Market, hosting companies can do more to make their customers aware of CC0-licensed content by Linda Kellie and make it easy to upload those region and inventory files for their users.
Other wanted features included a web-based viewer, with 30 percent of respondents, and a better community, at 22 percent.
A little more than a quarter of the respondents were using the grids for their businesses, educational institutions or non-profits. The rest were running creative or residential grids, mixed-use social grids, or grid focusing on shopping, role play, parties and other group activities.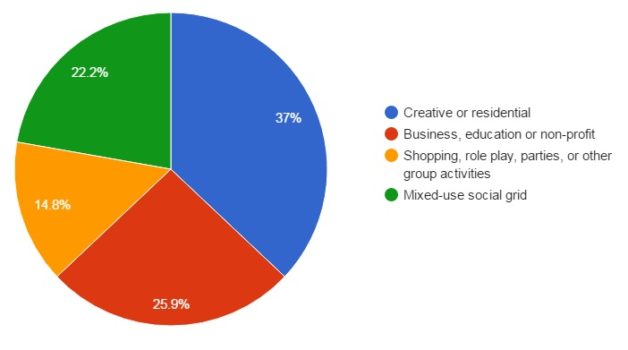 The vast majority of respondents, 71 percent, said that they would absolutely recommend OpenSim to others. Only one said they would definitely not recommend OpenSim. The rest would hesitate to recommend, or would suggest that people do some research first, or wait for the technology to improve.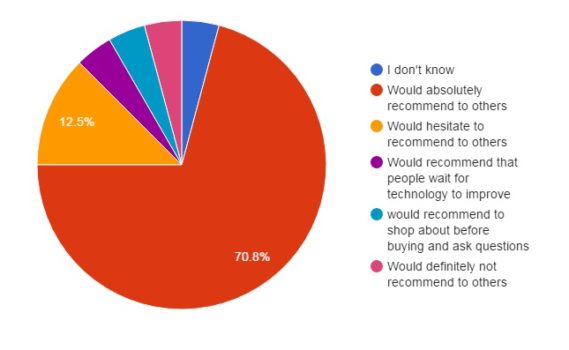 Several people added comments to their responses.
3DLES
"3DLES has very fast support. At daytime within a few minutes they respond and always solve the problem."
"3DLES Nick Zwart of 3DLES is a 4 help for us. He knows so much about virtual worlds, we are very happy that we work with them. And the server is very fast, compared to the one we had in the US."
CloudServe
"The control panel looks nice, however from my experience it feels like when I click on buttons it doesn't actually do anything. I feel like it is emailing someone to go save the OAR for me because nothing happens till hours later or till I send in a support ticket."
Dreamland Metaverse
"Dreamland Metaverse provides lag-free performance and customer support for the Lani region, a shopping mall and immersive Sci Fi environment, with continuous hypergrid traffic."
"Our grid has been with Dreamland for three years now. Our residents and visitors are very happy with the grid stability provided to us by Dreamland. We can not imagine ever using another OpenSim provider."
Zetamex Network
"Zetamex is a great hosting provider. They are great about figuring out issues. There been times where a issue was found and fixed by them before I even filed a ticket."
"I am very pleased with Zetamex Network, my grid has been hosted by them now for four years and they are very reliable, run by hard working people. Giving good advice. Good costumer service. Over the years seeing what is going on in OpenSim I would not trust any other host."
"I enjoy the services provided, however they are going through changes. I look forward to the improvements, the current tools are OK — better then other providers I have been with."
"Been a customer for a while, their interface is not the best but they claim a new one is coming soon. I just enjoy that I can restart and save oar's without emailing someone."
"While they do sometime take a while to respond to tickets, I mus say that their interface while I know it is kinda dated seems to be far more reliable then the competition."
Latest posts by Maria Korolov
(see all)