Nearly 800 responses came in for this year's Seventh Annual OpenSim Grid Survey, and after 31 were deleted as invalid, DigiWorldz came out with the most responses, while AllCity received the highest scores, followed by FrancoGrid, Virtual Highway, DigiWorldz and Lost Paradise.
People rated 51 different grids, of which 19Â made it past the 10-rating-minimum cutoff point.
The big difference in the distribution of responses, compared to previous years, is that InWorldz received fewer total responses than six other grids. In past years, it had always been the leading grid, since it is the most popular grid in OpenSim. This could be a reflection of the changing readership of Hypergrid Business, or the fact that InWorldz' traffic advantage over other grids has been shrinking over the past few years. InWorldz' share of all active OpenSim users has shrunk from a peak of 39 percent in 2012 to a low of 18 percent this month.
YrGrid was in second places with the total number of responses, as a result of an in-world business owner who offered an award, in in-world currency, for people who filled out the survey.
Since the promotion was not associated with the grid's management, and residents were not rewarded for voting more than once, I kept the votes in. I did have to delete a large number of duplicate submissions, more than for any other grid.
As you can see in the chart below, YrGrid's promotion actually backfired.
YrGrid scored the worst overall of all the grids, with the lowest score for content, second lowest for community, fifth lowest for support, and second lowest for technology.
I suspect that the reason is that people were encouraged to rate the grid who might not have taken the survey otherwise because they weren't particularly enthusiastic about their grid. Normally, I think, people vote because they're either very happy with their grid and want to let everyone know, or they're very unhappy about something but haven't for another grid yet.
Another interesting statistic in this year's survey is how many people visited other grids. Even if visitors don't consider a grid to be their virtual home, they might still spend money there, attend events, and participate in activities, so these visits matter.
These results serve as a check on the traffic numbers that grids release each month.
The following is a chart of the grids that were visited by at least 10 percent of our respondents. InWorldz and OSgrid obviously did well here, since they are well-established, popular grids.
Overall, the numbers were in-line with the traffic stats reported by the grids this month, and validated the decision not to run the numbers from Alife Virtual. Although that grid has been claiming very high active user numbers, only two people said that they had visited the grid, and none picked it as their home base.
AllCity had been visited by 33 of our respondents, a third of whom also chose that grid as their home base. That is not a bad showing, given that the grid only launched this spring, and that its primary language is Portuguese — and Hypergrid Business is written in English.
Avination, once one of the biggest, most successful commercial grids, continued its slide. Only one person chose it as their home grid, and only 10 people said that they visited it. The grid is currently down, which didn't help, but OSgrid was down for a longer period in 2014 and still had a large number of people saying that they had visited it. Avination had a peak of nearly 9,000 active monthly users in 2011, but traffic has fallen off steadily since then, falling below 450 active monthly users this year.
Another surprise was the falling scores for the Great Canadian Grid. Last year, it received an average of 4.7 as its overall score, and this year it was down to 4.0. In addition, only 74 percent said that they would "absolutely" recommend the grid to others, while 14 percent said "absolutely not" — compared to 2 percent overall.
By comparison, most people were extremely happy with the grids that they rated.
Write-ins DreamNation, 3rd Life Grid make a strong showing
Every year, there's usually at least one write-in grid that pops up on the survey as a write-in candidate. This year, there were two grids — DreamNation and 3rd Life Grid.
DreamNation had 56 respondents choosing it as their home grid, though only six others said that they had visited the grid but did not live there. The lack of visitors was partly due to the fact that people had to write it in, and partly that it is not open to hypergrid travelers. In order to visit the grid, users have to create a new account, and membership is by invitation only.
3rd Life Grid, had 20 respondents choosing it as their home grid, and 24 said that they had visited it. The grid only started making a splash in the past couple of months, but one of its residents, the well-known content creator Sunbeam Magic, has been promoting the grid recently. The grid also has a nice new Halloween-themed build. It also serves as the headquarters of HG VisionZ magazine. You can follow the grid on Facebook, and follow Sunbeam Magic on Facebook and Google Plus. Sunbeam Magic is also the founder of the OpenSim Everything Google Plus community.
AllCity, Virtual Highway score tops in content
AllCity and Virtual Highway both had perfect scores for the content category — all respondents rated them as "excellent."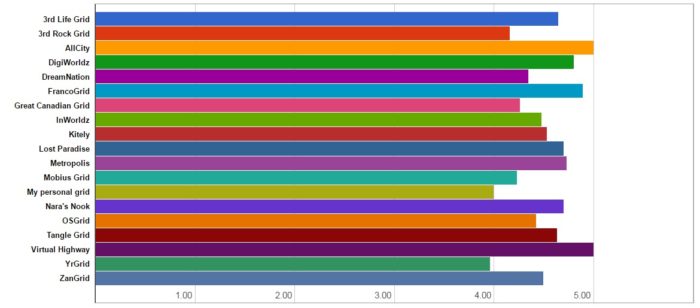 YrGrid scored the lowest, even below "my personal grid."
AllCity, Nara's Nook tops in community
Nara's Nook, a small grid focused on writers, tied with AllCity for a perfect "community" score.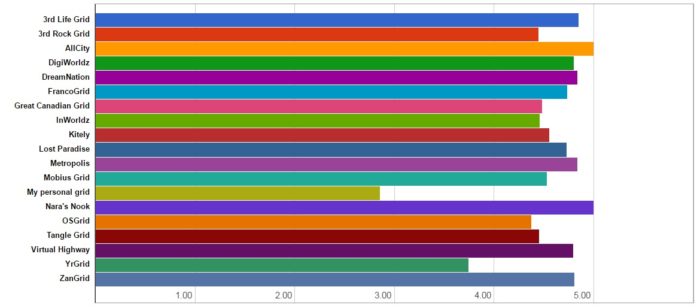 "My personal grid" was ranked lowest, for obvious reasons, with YrGrid scoring next lowest.
AllCity, Virtual Highway rank best in support
When it comes to the support, all AllCity and Virtual Highway residents gave "excellent" scores to their grids.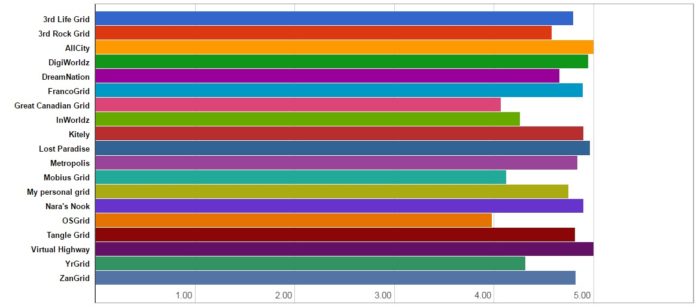 OSgrid, a non-profit, ranked lowest.
Surprisingly, Great Canadian Grid, which has had a good reputation in this area, scored next lowest.
FrancoGrid, AllCity, Kitely lead in technology
No grid got a perfect score for technology, but FrancoGrid ranked tops, followed by AllCity, Kitely, Lost Paradise, and DigiWorldz.
The Great Canadian Grid ranked last, and YrGrid came in second lowest.
Other Comments
The following are representative comments about the grids. There were 195Â comments in all, some of them quite lengthy, and if anyone wants to see them, just email me at maria@hypergridbusiness.com. In addition to leaving out some of the repetitive comments, I've also skipped those that had negative personal attacks or that seemed libelous and edited out any personally identifying information.
3rd Life Grid
"For a brand new grid, 3rd Life is full of fun and happy people. There is always something to do and projects to join in with the community spirit."
"For only being online for three months, this grid has great content. The mentors and residents are very friendly."
"Great new grid. All about fun. Owners listen and follow through with fun ideas like the Holiday Isle."
"This grid changed providers to make our virtual experience the best, always helpful and kind. They are how I like to think I would be if I had a grid to run."
3rd Rock Grid
"A very friendly grid where support is excellent.A good home base, and you can ask anybody and they will help you — or find somebody who knows who can. Pricing is good."
"They just lost 28 days of people's inventories, without bothering to tell anyone until pressed by members about what the heck happened. Not a good situation."
AllCity
"Eu recomendaria a todos virem e conhecerem o AllCity pois é um grid maravilhoso." ("I would recommend everyone to come and know the AllCity it is a wonderful grid.")
"Gosto muito dessa grid la encontrei muitos amigos diversao e aprendi muit coisas. Para mim o melhor grid que eu já joguei." ("I like this grid a lot. I found many friends and learned many different things. For me, the best grid I've ever tried.")
DigiWorldz
"From day one, I have felt welcome on this grid and so many people have helped me get around and learn this grid. When I did have issues, they took care of them right away. I have been on many other grids but this one is my favorite by far. Small but growing and I can see why!"
"The quality to cost ratio is the best I have found. This is a great place to run a sim inexpensively, where everything just works and is well maintained."
"I recommend DigiWorldz to everyone I run into. It is the most comprehensive and thorough grid I've experienced in a virtual setting… Support there is fantastic! never had an issue that wasn't resolved within minutes!"
"I like also that the owners are known by their real life name, with a company with real address… When I submit a ticket or write an email suggesting new features, they do not try to evade them giving me pseudo reasons. They tell me what they are doing to achieve that that feature is implemented. Always very friendly, they thank me for submitting such suggestions."
"Their prices can also not be beat and the availability of variable-sized regions makes it even more worth the price. I look forward to a long lasting relationship with DigiWorldz as I am now able to build my dream that I could never do — or afford — on other grids."
DreamNation
"DreamNation is a wonderful world full of many wonderful people. I am proud to have been a member for over four years now and enjoy being there to this day. I love to help my fellow residents explore and discover new things about our world, and can not think of any place I would ever rather be. I have accounts in over 50 grids, even my own small standalone I bring up occasionally, but DreamNation is home."
"Love DreamNation! Don't like the sign up process but once you're in"it's just great! Friendly people and helpful mentors."
"The grid is on the cutting edge using [OpenSim release] o.90 and have excellent coders supporting it."
Great Canadian Grid
Last year, the comments were overwhelmingly positive, with only a couple of complaints about support. This year, however, the number of negative comments was much higher, with people complaining about technology and support. Some of this was due to the distributed denial of service attacks this summer.
"Great Canadian Grid has had some availability issues in the past year that have caused some contraction after dramatic growth. Things seem to have stabilized, and the core community remains strong and engaged."
"This grid had to endure a DDOSÂ attack and we are still standing."
"Downsized my holdings and looking at options for moving. Owner is very bad at support. Combine that with the DDOSÂ issues, server move issues, and the owner's lack of tech savvy and it's gone from being a great place to build to a poor location at best."
"The support is very poor — I still have tickets open, unanswered since months. The owner is not showing any interest in his people and cannot handle feedback. He deletes posts on Facebook and at the forum. Some people still are not able to log back in. I would not recommend this grid to others."
"I would recommend for someone to consider having a backup grid to log into."
"Great Canadian Grid has always been a great grid simply because of the owner and his commitment to the community. We've hit some hard times recently and things aren't quite up to the standard they used to be. Overall, though, the Great Canadian Grid is a grid you can be proud to live on, work on, play on and bring your friends to."
InWorldz
Last year, InWorldz residents had some complaints about missing features and lack of Kitely Market deliveries last year, but most comments were positive. This year, there were more negative comments. In addition, many commenters said that they were splitting their time between InWorldz and another grid.
"InWorldz has built an amazing server back-end to support an outstanding community and scale up as the community grows. Official viewer development seems to stall regularly however, making up-to-date third party viewers more viable for many experienced users and leaves those new to virtual worlds with an official viewer that may or may not allow them to fully experience the grid."
"It is getting buggier by the week with ill-tested changes. Fix one thing, break two others. An appalling lack of developer discipline that brings down the quality of this grid's experience."
"Tech-wise, the best out there — some elements even passes big brother Second Life, cannot understand why other grids do not take advantage of the open sourcing InWorldz did on a lot of their essential improvements."
Kitely
Kitely had a few complaints about community in previous years, but this year the responses were almost universally positive. The one negative comment mentioned community, but was positive otherwise.
"Kitely's community hasn't seemed as good the past year, but it's definitely the most stable, and it's very affordable."
"I have been a resident on Kitely for five years. I recommend it for the stability, community, and support. It's a great grid, one I would not change for any other."
"I have found that Kitely's proprietary asset server technology, and their improvements on sim performance, as well as its hosting in Amazon server farms, provide an experience far and away superior to any other grid I've visited. They are operating the only significant in-world economy and the Kitely Marketplace website also are superior to any other grid, and it serves other grids with exportable content. It makes having a Kitely presence a necessity for any content creator of any kind who wishes to be compensated for their work instead of just giving their stuff away."
"I switched to Kitely from another grid because Kitely is more stable and is better for scripts. I also adore the option of having a huge sim with the prim count for very little money a month."
"I use Kitely as my home grid but also use OSgrid more often during conference and developer activities. Kitely has been very reliable, but it is starting to present differences from OpenSim version 0.90 when going to other grids. Map tiles, assets and friend and presence issues are most noticeable."
"Over this past year, Kitely's founders have worked closely with community members and added community-building tools — listing events on the log-in screen is one example. The revamped Kitely Welcome Center includes features to help newcomers get in touch with volunteer helpers. The fact that users are willing to volunteer to help in this way suggests an underlying good will towards Kitely grid."
Littlefield
"I would absolutely recommend Littlefield Grid based solely on the community there! These are some of the most friendly and helpful folks you can find anywhere. It's hypergrid-enabled, there are tons of free goodies and plenty of fun events. Their servers have always proven to be rock solid and stable. Not a single time have I had a login failure. There's just so much good here because the grid is based on a spirit of community, not profits or technology."
Lost Paradise
"Our Lost Paradise grid owner checks in regularly through the day to provide any and all needed support. The sim owners and residents really enjoy helping and sharing with each other, and we have some amazing sims and regions that invite all to come see, enjoy, and usually walk away with some additional items in their inventories."
Metropolis
"Simply the best. Metropolis has more friendly people than any other. And so giving and helpful."
Mobius Grid
Comments were split for Mobius grids, with some users complaining about lag and support.
"I like Mobius Grid not only for the friendlier people and staff, but the intriguing environments and support it has! I enjoy it!"
"The staff seems kind of a mess and the support is pretty slow. Most places are too big so it often feels empty as a whole. You can get in trouble for breaking a language rule even if no one else but a single staff member is around. Overall not a bad grid, but not one to take seriously either."
Nara's Nook
"The Nook has a great atmosphere and appeal. It has fresh content that is engaging."
OSgrid
There were few positive comments about the grid's community and support, and more discussion about technical issues. OSgrid is the main testing grid for OpenSim software.
"Given it is the test grid, it is darn good."
"OSgrid, while it is less densely populated than some others, has better technology and great community in the areas where people congregate. Hypergrid-enabled grids allow users the best of all worlds. Multiple servers, some privately owned, are a tremendous asset."
"I find the tempest in a teapot internal politics of a lot of OSgridders really disconcerting, as well as the prevailing rather prudish attitude."
"When OSgrid went to OpenSim version 0.9 things got seriously messed up and not sure they can recover."
Tangle Grid
"A nice, stable grid with the latest bells and whistles."
Virtual Highway
"I checked out other grids — my search ended when I found Virtual Highway and made it my home.
YrGrid
As mentioned above, many respondents rated YrGrid this year due to some promotional activity, but the comments were very divided.
"Very nice lag free environment, cheapest land, and guess what, games. Plenty of them to play and entertain ourselves… I would recommend it to anyone that coming from Second Life."
"Having gaming and Bitcoin makes this grid great."
"I have enjoyed the time I have spent in YrGrid. I would love to see more creators join as I think this grid has a lot of potential."
"AÂ lot of problems on the grid lately."
"The grid is very unstable. Sadly, this grid has major technical problems. Every day, something new isn't working."
"Too problematic to buy land — not a whole sim just a parcel."
"YrGrid has gone way downhill! I gave it a shot at first, but recently, it is so crashy and laggy everywhere. Can't even play games. And community? There's no community whatsoever! Cash-outs were supposed to be instant, now they hold the money a long time, for what? It looks like this place is going down the toilet. Best to avoid it."
ZanGrid
ZanGrid got quite a few comments this year, all positive.
"I have been a resident of ZanGrid since May 2013. Originally, I came there as a tester, there were just seven of us and the grid has come on in leaps and bounds in the last three years. Many of the regions there are now hypergrid-enabled, and it's great to see so many more visitors."
"The support is excellent, always an answer within the hour, I would say. The community is very stable and caring. This grid cares about its people and is not run by volunteers. They stay out of the drama as we can follow daily at Hypergrid Business when it comes to news about grids. It is my grid because they do take things seriously and act like a registered business should act."
"ZanGrid is very reliable, customer support is very fast. The pricing for regions is very competitive, they are one of the only ones that offer truly un-metered prims. I have seen people use over 200,000Â prims with no issues. You don't hear much about them — it feels like one of the best kept secrets in the community. Don't understand why they are not listed on the survey as they are one of the most reliable and popular grids out there. The grid is also a registered business which makes me feel better about professionalism."
ZetaWorlds
"ZetaWorlds is hosting our Virtually Enhanced Languages project demonstration region. The project is funded by the Australian government and is focused on demonstrating free resources we have developed for task-based language and culture learning — with a focus on Chinese — based on the resources we have developed and used in Second Life since 2008. Over 1500 students have done lessons in our Second Life region Monash Chinese Island. While there have been some technical teething problems, I have found the ZetaWorlds leads  to be incredibly helpful, and I admire the way they continuously improve what they do."
Editor's note: If you are interested in getting a copy of the anonymized data, or all the comments submitted for your grid, please email me at maria@hypergridbusiness.com.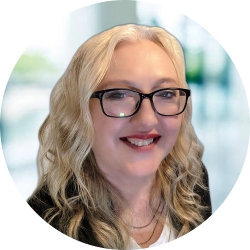 Latest posts by Maria Korolov
(see all)