The folks behind the OSGrid — a non-profit open grid focused on OpenSim development — answer questions about the grid, and about OpenSim, every Saturday at 10 a.m. PST, or 3 p.m. eastern time.
The PST refers to the internal clock set in the Hippo browser, the recommended browser for accessing OpenSim grids.
However, OSGrid, as well as other OpenSim grids, can also be accessed by the Second Life browser and the realXtend browser.
Instructions for configuring your browser and logging into the OSGrid.
To attend the Q&A, select Wright Plaza as your starting location in the login screen if you are using the Hippo browser. Or, once you are already logged in, click on the "Map" button on the bottom left of the screen, then type "Wright Plaza" (no quotes) in the Search field on the left and hit the "Search" button. Then select "Wright Plaza" and click the "Teleport" button.
You will land at the entrance to  a two-story building. Go inside, and up the stairs to the second floor.
Sit on one of the seats in the large semicircle facing the display screens by right-clicking on a chair cushion and selecting "Sit here."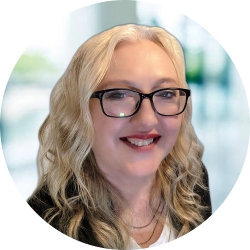 Latest posts by Maria Korolov
(see all)