ReactionGrid, headquartered in Fort Pierce, Florida has been working in virtual worlds for years. The founders – Robin and Kyle Gomboy – produced three-dimensional models of aircraft and chip parts for Florida manufacturers as part of their work on automating production facilities.
"We thought that if we put it into a real three dimensional environment, that people could go in and see these things in action," recalled Robin Gomboy, the company's chief operating officer. "But there wasn't anything there."
The best option available at the time was the Unreal engine, which cost a million dollars to license.
The Gomboys founded their company during the first Internet boom specifically to do three dimensional modeling, said CEO Kyle Gomboy..
"We made a little bit of mistake, we thought broadband would make it to the market quicker," he said. "We thought we could make a go of it with those tools – like Havoc – but wound up having our focus be on Web applications."
Today, with the OpenSim-based virtual worlds and similar platforms, the dream is finally a reality.
"This is our real shot at the plans we had in the late 90s," said Gomboy.
Gomboy said that he first realized that the times had changed three years ago, when he took a hard and serious look at the Second Life virtual world.
"We actually tried it a few times before that, but we didn't really have any interest in adult activities," said Robin Gomboy.
But the Second Life community evolved, and soon the Gomboys were regularly meeting with other developers, and began collaborating with Microsoft on their Second Life projects.
Chris Hart, ReactionGrid's chief technology officer, actually did some volunteer work for the Microsoft built in Second Life.
"You get so frustrated when you see something being one that you could do better," she said.
The fact that Microsoft opened up the project to the community, was an innovative example of a company reaching out to its constituents.
"You feel ownership of it when you build it," said Robin Gomboy.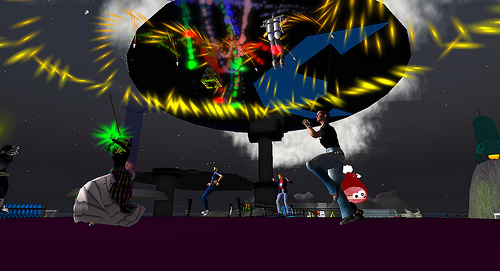 The company helped Microsoft organize a Second Life developers conference, "Heroes Happen Here," in April 2008 – a record-breaking event that brought in 450 people over the course of eight hours.
Recently, Microsoft expanded its virtual world presence to the ReactionGrid, its first deployment outside of Second Life.
Next month, Microsoft will begin work on setting up its own OpenSim grid, Gomboy said. "We've started development of that," she said.
OpenSim is appealing to Microsoft because it is based on the .Net platform – scripts can be written in C# and Visual Basic in addition to the Second Life scripting language, LSL.
"Another thing that really excited Microsoft is that OpenSim can run on a Microsoft platform," she Gomboy said. "We in particular use the full Microsoft stack. We run Windows Server 2008, which allows us to use Hyper-V to virtualize and isolate grids from each other."
The ReactionGrid worlds also use the SQL server database system, as opposed to the open-source MySQL or SQLite found in other OpenSim deployments.
As a result of using the Microsoft technology, the grids that Gomboy runs, including its flagship public world, ReactionGrid itself, can be easily backed up, moved to over machines, or copied.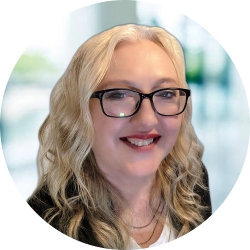 Latest posts by Maria Korolov
(see all)