IBM officially released its Lotus Sametime 3D collaboration product this week.
The product is based on the OpenSim opensource virtual world server software, an IBM spokeswoman confirmed to Hypergrid Business today.
This is the first serious use of the OpenSim platform as part of an established and popular enterprise product offering..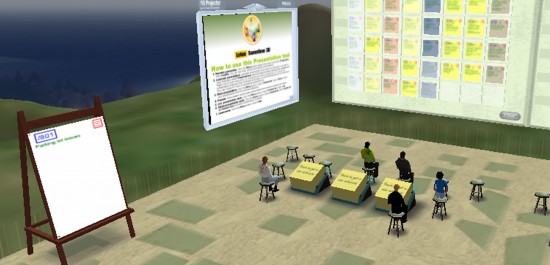 The service, officially titled Virtual Collaboration for Lotus Sametime, allows IBM's business customers to set up virtual meetings quickly and behind their corporate firewalls.
According to IBM, organizations in a variety of industries — ranging from aerospace and defense, consumer products, staffing, manufacturing, and education — tested the product over the course of the past six months.
Enterprises involved in the projects included Manpower, Northeastern University, Northcentral Technical College, and Raytheon.
"The timing is perfect for this new offering as it facilitates effective meetings and brainstorming without the time and expense of travel," said John Allessio, vice president, IBM Software Services for Lotus, in a statement.
OpenSim currently provides only limited support for voice. This is a major difference between the OpenSim platform and the Second Life platform, though otherwise the two systems seem very similar to a user.
However, IBM has partnered with Vivox to address this problem. The result is a Voice over Internet Protocol (VoIP) system that provides the same kind of spacial orientation as in the Second Life universe.
The voice systems available in the public OpenSim platform do not currently support spacial orientation — that is, a user wearing stereo headphones cannot tell which direction a voice is coming from. This is a problem in meetings with several people.
The IBM offering also has the voice getting louder or quieter depending on how far away the user is from the speaker.
According to IBM, more than 2,500 IBM employees have tested this product internally since February to hold meetings. Employees have organized meetings in areas such as development, product planning, and human resources.
"Virtually any meeting which requires co-creation of content by a team of people can benefit from this capability," the company said in its announcement.
In addition to running behind a company's firewall, the Sametime 3D product offers additional advantages over other virtual worlds.
Second Life, for example, has drawn the bulk of attention from business and colleges as a location for meetings and educational events.
However, unlike OpenSim, Second Life is a public environment primarily designed for adult game playing and socializing.
"Although we can already conduct class through other worlds, there is little classroom control or security," said Chet Strebe, Chief Information Officer, Northcentral Technical College in Wisconsin, which offers on-line courses and has students globally, in a statement. "Instructors can't always tell who is present."
But college students love to learn and meet in virtual world, he added.
"With IBM's new virtual meeting service, teachers would be able to tell which students are present and better control the environment," he said.
Second Life also has age limitations — underage users are restricted to a separate Teen Grid, making the platform unusable for classes in which some students are under 18.
OpenSim also allows companies to link virtual worlds through the use of hypergrid, to export entire regions and archive them, and to buy content — such as furniture, buildings, and business tools — on other grids and bring it in.
IBM hasn't yet responded to our questions about whether all this will be possible with the Sametime 3D regions.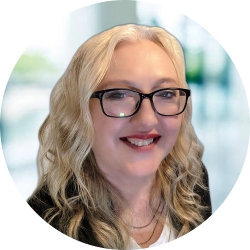 Latest posts by Maria Korolov
(see all)