The $50,000 price tag might scare off smaller customers, but IBM's Lotus Sametime 3D product is designed to help large enterprises start holding virtual meetings. The product – released at the end of June — includes integration with corporate directories, with the Lotus Sametime chat service, and includes conferencing tools created by IBM specifically for use in virtual environments.
Hypergrid Business talked with Karen Keeter, IBM's marketing executive for digital convergence to find out how this differs from other virtual meeting platforms – and how the OpenSim part of it works.
A virtual meeting allows the use of all the standard collaboration tools – shared white boards, scheduling calendars, PowerPoint slide projectors, Web displays, video viewers, polls, public and private text messaging, and voice.
SAMETIME INTEGRATION
Employees can launch a meeting on the fly from the Sametime instant messaging platform, or can set up a meeting in advance.
Users are authenticated through the client's existing Sametime infrastructure and corporate directories, Keeter said. The first time users log in, they can choose an avatar and an outfit, which are remember on subsequent visits.
The meeting time and place is selected by the meeting organizer, who can invite participants through the Sametime messaging system.
"After you've invited people, you have a pull-down list of existing meetings available to you – it's like going to the seventh floor and going into a conference room," Keeter said. "Or can decide to set up a new meeting place."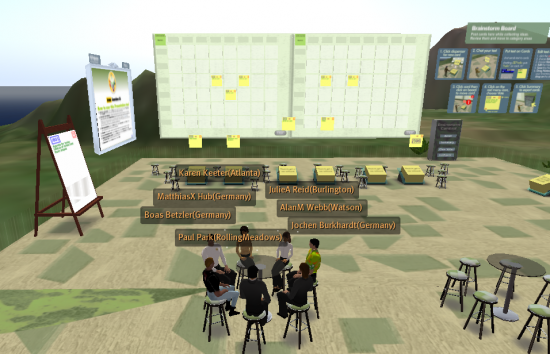 The standard $50,000 license comes with four concurrent meeting rooms, each one holding up to 20 people.
"There's nothing that stops you from adding more people," Keeter said. "But past that point we're less confident about performance and stability."
The product comes with three different default room configurations, which include all the collaboration tools and the conference rooms setups. However, clients can also upload their own OAR files, which are the standard OpenSim export format for virtual environments. Clients can archive as many rooms as they have storage for, as long as they only have as many active rooms as they have licenses to use. Clients can also add objects to the default rooms – new furniture, for example, or new collaborative tools. The OpenSim business and education communities have a rich set of collaborative and training products available, and objects and scripts can also be imported from Second Life.
"Say you wanted to put some branding in there, or some virtual coffee," Keeter said. "You could do that, save that template, and have that available instead of the base template."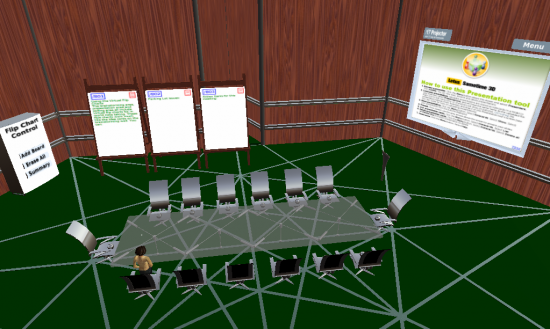 However, the product doesn't currently support teleports to or from outside grids, or even other OpenSim deployments within the same company.
"It's certain something that we can work with a company on, but it's not something we've done yet," said Keeter.
With the current standard deployment, however, an avatar can't go shopping on, say, the Italian grid, to pick up a nice new suit for a business meeting.
"If you have other objects, that you have the rights to use, you can load them on an OAR and move them into the system," Keeter said.
FIRST USERS
IBM already has customers using the product, as part of the pilot phase of development, including Manpower, Northeastern University, Northcentral Technical College, and Raytheon.
"It was a pretty wide range of clients in terms of the industries they were in, and in terms of what they used it for," said Keeter.
Several groups – both external clients and groups within IBM – used the product for HR-related meetings, she said.
"A couple of companies were using it to do strategic planning," she added.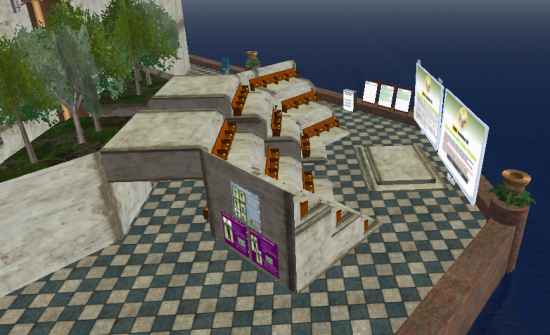 Inside IBM, the product is also used for daily meetings of the development group, and for product requirement discussions, she said. The common factor in these deployments is that the groups were dispersed geographically.
"Many of the groups interested had people in remote locations, in different countries," she said, "and needed to be able to bring those people together."
For example, one group in IBM's consulting area uses it for strategy workshops with clients.
"A lot of consulting companies do that kind of work," she said. "If they're going to do a small engagement, with small groups of people, some companies are saying that they can't afford to do that because they can't afford to bring the people together."
To bring in visitors from outside a company, the system needs to initially configured to be accessible from the outside, she said.
Then the visitors need to download the Second Life client, as well as a second component that points to the virtual meeting space.
IBM will help clients set this up, she said.
"The way we've packaged it, the entry-level offering includes the asset license and the services," she said. "Any client that buys this, buys the services too. And we come and help them."
It generally takes about a week or two to configure the system after the initial hardware is set up and the software installed, she said.
WHY OPENSIM
IBM doesn't just work with OpenSim when it comes to virtual worlds. "We actually have quite a few different platforms that we've used over the last several years," Keeter said.
OpenSim was chosen for this particular project because of client needs.
"The feedback that we were getting from clients at the time was that they wanted to do collaborative activities for their employees," she said. "But they absolutely wanted to do it behind the firewall, and there was really no other way to do it."
OpenSim also has the advantage over other platforms in that it's an open source project, she said. In addition, OpenSim has some functionality not available in its closest competitor, the proprietary Second Life platform.
"If you look at the video [see above] when you see us writing on the Post-It notes, that's a 'write on prim' function that doesn't exist in Second Life," she said. "That specific function was what enabled us to write on sticky notes. In order to implement the vision, the concept that we had, we had to be able to do that particular function."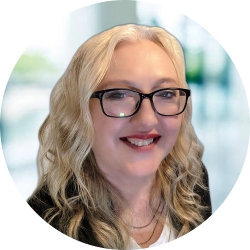 Latest posts by Maria Korolov
(see all)