Corporate Planners Unlimited, Inc. is not only a meeting and events company – it is also a travel agency. So it might be strange that president Dan Parks is promoting a way to hold meetings and conferences that requires no travel at all.
It wasn't always this way. When Parks first discovered the Second Life virtual world over three years ago, but didn't immediately start pitching it to clients.
"I went in when people were still doing chat, text only, and I came in the first time, and I had a weird experience, and I left – I didn't come back to Second Life for six months," Parks said.
The whole experience took about fifteen minutes. But Second Life evolved, and so did the uses that people were putting it to.
"A year ago, they came out with voice capability," he said. "And as soon as I saw that, I came up with the idea of a virtual convention center."
Second Life has since become one of the first options that his company offers to clients looking to save costs.
For example, one event last year brought in 80 people from several different countries for three days of training – with a team of people to help with orientation for an entire week. The total cost was around $10,000. By comparison, the budget for the previous year was $175,000, Parks said.
In general, he said, an event in Second Life is about 10 percent of the cost of a similar event in a physical location.
This isn't the only virtual service the company offers to clients.
"We create online Webpages for registration, we are social network experts for Twitter and Facebook and LinkedIn," Parks said. "We even have the capability inside Second Life with our avatars to Tweet.. It's fascinating the way it's all merged together."
Parks is also one of the founders of the Meetings Community Listserv, an online group of almost 3,000 meeting professionals.
Over 200 people worked on the Virtualis convention center in Second Life – all of them members of the broader virtual community.
"I never met any of them," Parks said. "I've not met a soul out of the people who worked on Virtualis to get it ready, and spent the last couple of years learning all the positives and challenges of the virtual meetings industry."
Parks and his team have also created new tools, for use in Second Life, to help people have more productive and more interesting meetings.
So far, Corporate Planners has conducted ten major events in Second Life, with the largest event totaling around 200 attendees, as well as several smaller events.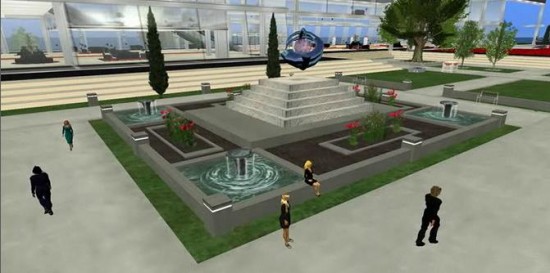 The company can do an event with as many as 320 attendees at one time. The trick, Parks said, is to work around Second Life restrictions. For example, the maximum number of avatars in one region is 80, but an event can be organized in such a way that the focal point is at the corner where four regions meet, and attendees distributed evenly between the four regions.
One challenge is teaching participants how to use the virtual environment.
"Every single piece of business and every single customer is completely different," he said. "I have some very brilliant and innovative companies that come in and hit the ground running, and I have other ones that you have to be really patient and go over everything a couple of times, and we're comfortable doing that as well."
But although there are some technical challenges about holding an event in a virtual world, in many respects the process is very similar to holding an event in a physical location.
"People say that planning a virtual meeting is so much easier – no, not at all!" Parks said. "The only difference is that at the end of the day, my feet don't hurt as bad after a virtual meeting."
Parks said that he has attended too many virtual meetings to count.
"I can tell you the difference between having professional meetings planners put together a virtual meetings — the difference is night a day," he said. A successful virtual meeting includes rehearsals and "meticulous attention to detail."
This is where experience matters, he said.
"My company has been doing this for 20 years, planning high-end meetings and events," Parks said. "And we're taking all those lessons and applying them to virtual environments."
It's important to plan ahead of time and to have clear definitions about the goal of the meeting.
A virtual meeting can also benefit from creativity. For example, Parks is working on a virtual event for a computer company.
"We'll do an open meeting in a 20-story-high computer, anatomically correct on the inside," he said. "You can see all the circuits and the printer tape that runs up the side. We will do a reception in there. We can do some truly amazing things in Second Life."
For Parks, the creativity is one of the most interesting aspects of doing business in Second Life.
"It's so much fun," he said. " Every morning when I wake up, I feel like Pablo Picasso. I turn on Second Life, and its like a clear canvas in front of me."
Parks is currently working on creating underwater meeting rooms. "I already have a set where you sit on air bubbles and you sit on starfish and it gives you the feel of being underwater," he said.
But he plans to make it more realistic, by putting it at the bottom of Second Life's virtual ocean.
"I want the most different, unique and unusual environment possible," he said. "I'm absolutely wanting to do the most unique amazing things I can come up with."
One advantage of a virtual environment is that it's easy to break up serious learning sessions with other activities, to give people time to digest information.
"You segue and disconnect your mind for five or ten minutes, then come back and hammer into your content," he said. "That's the new way that people are teaching."
For example, he can hold a tai chi exercise, in which all the avatars perform the moves – and the attendees are asked to duplicate those moves in real life, at their physical locations.
Parks also uses other techniques to maximize Second Life's technology. For example, the avatars that attendees use are created from scratch, and are designed to avoid anything fancy.
"We generally bring people in who've never been in Second Life before," he said. The avatars are dressed in business clothes. "You will find zero bling on any of our avatars – it's the number one sucker-upper of resources. All of our avatars are created with that format, so we're able to get more people on the island than most."
He also uses virtual boxes to hold pre-made meeting rooms. "In our grand ballroom, I have 15 different sets," he said.
There are other virtual meeting environment besides Second Life, Parks added.
"We're often recommending other environments to people if we need to," said Parks.
For example, if a company wants to hold an event for 900, 1000 people – or 1,500 people – Parks would refer them to InXpo or another web-based environment. These platforms have no upper limit on attendees because they don't have a true immersive environment – attendees click on images on a Web page in order to load information about, watch presentations, or chat with presenters and other attendees.
It doesn't quite offer the same "wow experience" as a true virtual world, however, he said.
But there are ways to make the Second Life environment work for larger meetings. For example, he's currently working on a project that involves 780 attendees.
"I'm probably going to be using around 10 islands, and creating different environments on each of those islands," he said. "We'll set up exhibit booths that are going to be duplicated on each island, and do an awards ceremony with streaming video for the awards ceremony out to all of those islands. There are ways in which we can make things happen in a large scale in Second Life."
Another client is working on a project with 700 exhibit booths.
"They don't have the budget for the exhibit hall for their meetings anymore," Parks said. "They're still going to do the real-world meetings and poster sessions, but the exhibit hall they'll put in Second Life, with exact photo-realistic copies of the booths."
Visitors will be able to wander through the virtual exhibit halls, or ride through it on a tour vehicle.
He's currently working on a way to make the initial sign-in process easier for new visitors.
For example, attendees have to do a little work right now in order to attend a virtual meeting. They need to register for an account, create an avatar, get to the location, figure how to navigate through the virtual world – not always an easy task, find the way to their seats, and figure how how to use the camera controls so that they're looking in the right direction.
Right now, this is handled at the company's Orientation Platform, where Parks' employees assist arriving guests.
"You need to take the time to make sure that every single person is comfortable and happy with the environment," said Parks. "Otherwise you're going to have many interruptions from people who bumped into a wall or fell of a ledge – it's a distraction."
Parks said he would love to have a way to take care of more of this automatically for his visitors. "To have someone log into Second Life, and then have to do nothing – it automatically logs into an avatar that is sitting down in a meeting room, facing the screen."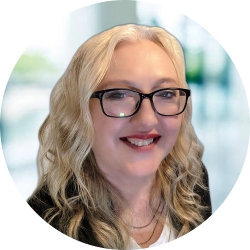 Latest posts by Maria Korolov
(see all)