Analyst firm ThinkBalm has created a virtual reception room for Web site visitors, using the 3DXplorer virtual worlds platform. ThinkBalm is  an independent industry analyst firm focused on work-related use of the immersive Internet — so the new three-dimensional, immersive environment was a good fit for the company's mission.
The reception area is accessible through a prominent graphic on its Web site. Visitors must have Java enabled on their browsers, but no other downloads or plugins are required, though the area can take a couple of minutes to load up. 3DXplorer is a hosted virtual world platform from Altadyn Corp., which also offers a behind-the-firewall, server-based version of the product.
"We launched this feature a week ago when we launched a new ThinkBalm Web site," said ThinkBalm principal co-founder Erica Driver.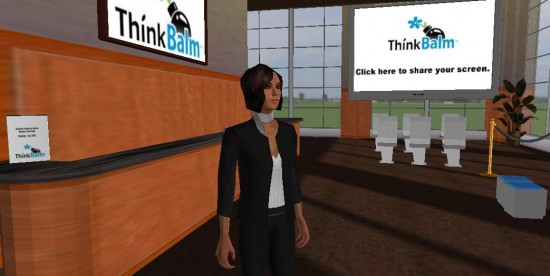 The consulting firms is rotating through a variety of web-based tools, she explained, and the 3DXplorer product is one of them.
Whenever anyone visits the virtual world Driver or her c0-founder, Sam Driver, receive a "doorbell ring" alert by email.
"If we are at our desks we can pop into the environment to meet the visitor," she said. " If we are not at our desks at the time, the visitor likely enters an empty meeting room."
Typically, visitors stop by one at a time, she said, though last week 10 people logged in for an online chat. However, the system maxed out at seven concurrent visitors, she said.
It can take a little while for the world to load, but once it does navigation is easy, using either the mouse or the arrow keys.
"Feedback on the user interface and avatar navigation has been mostly positive," Driver said.
Some visitors have had problems logging into the system. Here at Hypergrid Business, three out of five attempts failed, crashing our browsers.
"We have had some stability issues, especially when people use the built-in screen sharing tool," Driver said. "Sometimes 3DXplorer hangs or crashes."
Some people have also found the user interface for the screen sharing tool to be "a little bit un-intuitive," she added.
Unlike other virtual worlds platforms like Second Life or IBM's OpenSim-based Lotus Sametime 3D product, there is no built-in voice support.
However, the system can work in conjunction with Skype, Driver said, launching the Internet-based phone service from within the 3DXplorer window.
"You can right-click on an avatar to initiate a Skype call with them," she said. "It's very straightforward, as long as both participants have Skype accounts and have set up their 3DXplorer profiles to include their Skype handles."
In addition to stability issues, the group size is also a problem, she said. "Practical limitation on number of simultaneous avatars, based on my personal experience, is seven or eight."
The 3DXplorer product is free as long as there are fewer than 200 visitors a day. If more visitors log in, the licensing can get "pricy," Driver said.
According to Altadyn, monthly plans start at $150 for 500 visitors a day, and $900 a month for up to 2,000 visitors.
The company currently has a promotional offer, however, of $499 for unlimited visitors with a six-month subscription. Premium features — such as the the ability to share desktops — start at $49 a month. Pricing details are here.
Driver also pointed out that Altadyn is a small company compared to Second Life, IBM, and other virtual worlds vendors, and that the product is "not originally designed specifically for business use."
ThinkBalm recently produced a white paper, the ThinkBalm Immersive Internet Business Value Study, Q2 2009, which was co-sponsored by Altadyn.
ThinkBalm also hosts the ThinkBalm Innovation Community, an network with over 300 members which aims  to advance adoption of work-related use of the immersive Internet.
Related articles: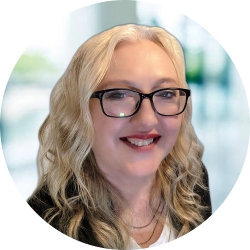 Latest posts by Maria Korolov
(see all)