Press Release: 1 Billion Hours, 1 Billion Dollars Served: Second Life Celebrates Major Milestones for Virtual Worlds
Linden Lab Shares Statistics Revealing Tremendous User Engagement and the Largest User-Generated Virtual Goods Economy in the World
SAN FRANCISCO — May 27, 2009 — Linden Lab®, creator of the virtual world Second Life®, today announced that Second Life Residents have transacted the equivalent of more than one billion US dollars with each other while spending more than one billion hours in Second Life – significant milestones for the virtual worlds industry. The company also shared a series of additional statistics that reveal the scale of Second Life and its virtual goods economy, as well as the activity and engagement of its Residents.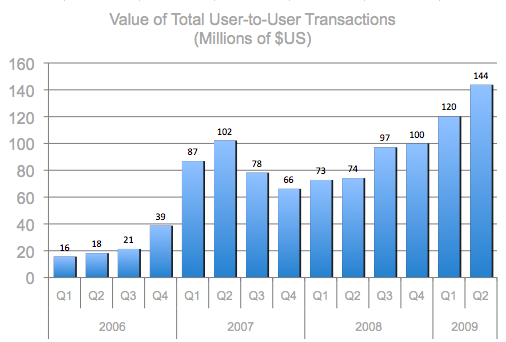 From its inception, Second Life has offered a rich three-dimensional environment that is built upon and fueled by the collective imagination and ingenuity of its Residents. Representing nearly every country and hundreds of cultures from around the globe, the Second Life community uses the virtual world as a place to create, connect, collaborate, communicate, and more across barriers of language and physical location. The combination of a world without boundaries and a highly engaged user base has led to a number of key milestones for Second Life. Some of these accomplishments include:
In total, users around the world have spent more than one billion hours in Second Life.
That's roughly 115,000 years spent doing everything from meeting and socializing with friends; to attending live concerts; to creating, selling, and shopping for virtual goods; to learning a foreign language; to attending business meetings; and much more. User hours grew 33% year-over-year to an all-time high of 126 million in Q2 2009.
Second Life Residents spend an average of about 100 minutes inworld per visit.
This average session time is significantly greater than those seen with popular social networking websites and reveals the uniquely high level of engagement Residents have with Second Life.
The equivalent of more than USD1 billion has been transacted between Residents in Second Life, who purchase virtual goods and services from one another.
The inworld economy grew 94% year-over-year from Q2 2008 to Q2 2009. Now at nearly USD50 million each month in user-to-user transactions, the Second Life economy is on an annual run rate of more than a half billion US dollars, making Second Life the largest virtual economy in the industry.
Residents create more than 250,000 new virtual goods every day – from clothing to vehicles to buildings to automatic language translators, and more.
There are now more than 270 terabytes of content in Second Life, and this is growing by approximately 100% every year.
More than 18 billion minutes of voice chat have been used in Second Life since voice was introduced in 2007.
Voice minutes grew 44% year-over-year from Q2 2008 to Q2 2009, and more than six billion minutes of voice have been delivered in 2009 alone, making Linden Lab a major VoIP provider.
Approximately 1,250 text-based messages are sent every second in Second Life, and more than 600 million words are typed on an average day.
Roughly 60% of active Second Life Residents based outside of the US, representing more than 200 countries, and the Second Life Viewer available in 10 languages.
The total land area of Second Life is now equivalent to approximately two billion square meters – roughly the size of the state of Rhode Island.
Land in Second Life has grown roughly 18% from Q1 of 2009 and approximately 75% since Q1 of 2008. As the creator and original seller of all virtual land in Second Life, Linden Lab is not only the provider of the worlds largest platform for user-generated virtual goods, but also a leading virtual goods vendor itself.
Industry-leading content creation and transactional tools, coupled with the fact that Residents retain the IP rights to the content they build inworld, have enabled Second Life Residents to make Second Life a leading hub of user-generated content (UGC) and the largest user-generated virtual goods economy in the world. The unique content Residents create and sell in Second Life makes the virtual world a more compelling experience for individuals and a more useful platform for enterprises and educators, as well as providing an entrepreneurial opportunity for content creators who can profit from their creations.
A wide variety of activity makes up the more than 40 million hours Residents spend in Second Life each month. For example, Residents meet and socialize with friends while exploring unique environments, dancing at live music performances, visiting art galleries, learning new languages, sailing the virtual seas, and building new creations. Entrepreneurs around the globe have built successful businesses in Second Life, selling their virtual goods and services to others and earning real profits. Hundreds of universities and real world businesses, including many of the Fortune 500, are using Second Life as a platform for learning and training, meetings and events, and collaboration and prototyping.
"These metrics give a sense of some key aspects of Second Life – the deeply engaging nature of the 3D world, the immense use of Second Life as a communications platform, and the scale and strength of the economy based on the huge number of unique virtual goods users are creating," said Mark Kingdon, CEO, Linden Lab. "These numbers are a snapshot of the success of Second Life and its Residents today, and a validation of Linden Lab's leadership in the virtual worlds space, but there's much more to come. This is a year of renovation for Second Life, and we're well positioned for reinvigorating our growth in 2010 with a range of strategic initiatives that will enhance the experience for existing Residents and propel our expansion with new users."
About Second Life and Linden Lab
Developed and launched by Linden Lab in 2003, Second Life is the world's leading 3D virtual world environment. It enables its Residents to create content, interact with others, launch businesses, collaborate, educate, and more. Since its inception, Second Life Residents have logged more than one billion user hours and generated more than USD1 billion in user-to-user transactions. With a broad user base that includes everyone from consumers and educators to medical researchers and large enterprises, Second Life has become one of the largest hubs of user-generated content and the largest user-generated virtual goods economy in the world.
Linden Lab, founded in 1999 by Chairman of the Board Philip Rosedale and headquartered in San Francisco, develops revolutionary technologies that change the way people communicate, interact, learn and create. Privately held and profitable, Linden Lab is led by CEO Mark Kingdon, and has more than 300 employees spread across the U.S., Europe, and Asia.