When you hear the words "Virtual Events" or "Immersive Environments," what comes to mind?  Geordi from Star Trek? Perhaps a giant question mark since they sound so foreign?
Many of us participate in virtual events regularly via webinars and streaming video events, and if you want to get technical, even a conference call is a virtual event.  Now what comes to mind are probably visions of sleepy office scenes with participants multi-tasking while a speaker drones on and on in a monotone voice (no, I wasn't on that call with you yesterday!).
Virtual events have become a necessity in business today, for meetings, learning and more. There are different virtual platforms for different uses and we tend to get stuck with one or two because it's easier than learning how to use new technology.  I have used many webinar platforms such as GoToWebinar, WebEx, AdobeConnect and ReadyTalk.  While webinars do allow for participant chat, the platform is typically flat (few if any can run video clips without the possibility of hiccups) and we have all learned how to multitask during the webinar, only tuning in if we are called by name or asked to complete a poll or other activity.
I have found the platforms that allow for participants to use annotation tools and actually write or use draw tools on the slides can be more fun and engaging.  When I tell participants to "draw on the tech tool you use most" they go crazy, marking all over the slide.  It is fun to watch!  People will try to write with the freehand draw tool instead of chatting, which is GREAT because they are actually engaged.
I've also been involved using hybrid virtual event systems such as Unisfair, On24, and InXpo, where they combine video streaming with slides, audience chat, a few social engagement pieces, and some cool 3D conference entry points where you can see the different breakout sessions being offered.
These are extremely engaging for larger conference events where you have keynote speakers and breakout sessions. Â Attendees can be both live and remote or you can host the event completely for remote attendees. Â They allow participants to pop into the sessions they want to attend and skip the sessions that are not relevant to them. Â These platforms are for one-to-many communication. Â The speakers deliver the content and the attendees can interact via chat.
The most engaging, in my not-so-humble opinion, is the 3D immersive environments.  I say this for several reasons, one being the environments are so different from anything you have probably used, that your brain is trying to grasp what is going on.  You are hearing each person speak with 3D sound, which means the people on your right are heard on your right (if you are wearing a headset or have good computer speakers), and the person on your left is coming through in your left ear.  The person's avatar who is standing further away sounds quieter than the avatars right next to you.
The avatars are gesturing when they speak and their little cartoon lips are even moving. Â  These avatars gather in conference rooms, open-air amphitheaters or possibly a build that resembles the inside of a computer as someone points out the changes that will take place in the new product rollout.
Another reason 3D immersive is more engaging is the simple fact that there is so much going on visually. Â Participants are not just looking at slides on a computer screen (although sadly many people load up boring slide decks in virtual environments just as often as they do at face-to-face events). Â Participants are IN the environment. Â They are moving their avatars around and taking in all the amazing visual surroundings. Â All the other participants are avatars in the same shared environment and they are looking at the same documents, slides, or even white board.
There are many different 3D immersive platforms and not every 3D environment is created equal. Â I have found Second Life, Teleplace and VirtualU to be some of the best for business and learning events (many will have other opinions and by no means is this list comprehensive so please chime in with more that we should check out in the comments). Â Without going into too much detail, here is why:
Most people have at least heard of this platform, but many have only heard the strange social networking or personal gaming side of the platform. I love the flexibility of Second Life; the ability to change and create your environment to enhance your outcomes.  Avatars are more realistic looking and can be customized until your heart's content.  This picture here shows an education conference that was built around a desert theme and the creativity was MIND-BLOWING!
Some of the downsides to Second Life are the intense graphic nature of the program (gaming computers are ideal, but most of today's PCs have great graphics to run the program) and the fact that this "world" is most like our real world, in that anything that you can think of, you can probably find in Second Life somewhere.  I tell people that virtual environments are event and destination driven.  You log on and attend an event or go to a specific location and when you are finished you log off.  If you start wandering around and looking to see what else is in this environment, you will find some strange places and people, just like you would in our real world. (Trust me, I've been lost in New York before!)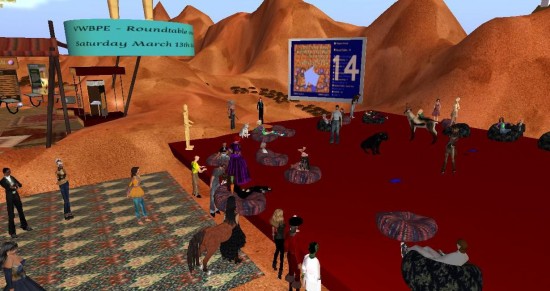 This is a great platform for people new to the 3D immersive idea. Â It is great for business meetings and is most like a webinar than any other that I have seen. Â You do have simple business avatars (or you can choose a lego-man body with your photo in the square head-see photo of green lego-man here) and you enter the business office or conference center.
The choices and customization of avatars is very limited and your environment is less flexible as well, which can be a good thing for some businesses, who are a little tech-skiddish. With Teleplace, you download a small program (much like GoToMeeting) and within 10 minutes you are ready for your meeting to begin. Â You can share video, websites, documents and slides, which makes it great for small group meetings and corporate training classes.
The downside to this tool is they are not set up for event pricing (one event this month, two next month and perhaps none the third month). They require annual licenses and it is a bit pricier than other platforms.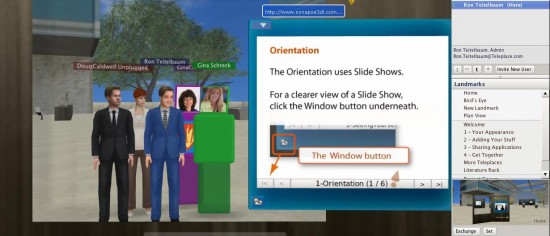 This is a promising platform that is a good blend of Second Life and Teleplace.  A very simple download, easy on the graphics, but the customization is not as robust as Second Life.  I do love that people can create a free account and come in for a class, meeting or to network and practice.  You don't pay until you want to have your own space designed.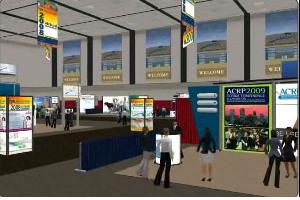 Imagine logging into a webinar 30 minutes early to chat with folks and network before the event began. That is what will happen when you host an event in this great environment. Â There is even an art museum to get people mingling and meeting one another before beginning. This photo is from their expo hall where participants can chat with exhibitors.
The major downside (for me anyway) is it is not supported on Macintosh. Â I do have a PC on my desk but travel with my Mac, so cannot log in from the road. (I know they are working on this)
I believe we will continue to see greater adoption of virtual events as travel becomes tougher and budgets become tighter, but also as technology becomes more and more engaging to use. Â Dive in, learn about these virtual options, but then attend one for yourself in each environment to see how you could use them.
We host regular webinars and meet weekly in our Second Life campus for business discussions, classes and professional networking. Â You can join us for FREE on Thursday nights 6pm (PT)/9pm (ET) by clicking on this link to begin setting up your account-it will place you in our campus when you are finished with the set up. http://bit.ly/6aINpd
What are you waiting for? Â Jump in!
Latest posts by Gina Schreck
(see all)