Press Release: UBM Built Environment Presents 'Sustainability Now,' Targeted to Built Environment Professionals and Their Clients – Now Available On Demand
Virtual Event Leader UBM Studios Provided 3D Platform
CHICAGO — UBM Built Environment, in conjunction with BD, Building, and Property Week Magazines, presented the fifth installment of "Sustainability Now," a virtual event targeted to built environment professionals, on December 8-9, 2010. Â The event offers the latest news and information on creating and sustaining a green built environment. Â UBM Studios, a leader in virtual events and virtual business solutions, provided the 3D platform for the event. Â The event is now available on demand.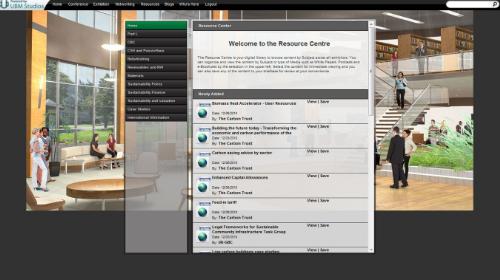 The virtual event drew 2675 registrants and 1146 live attendees. The two live video webinars averaged 254 unique viewers and the 8 audio webinars averaged 160 unique viewers. Exhibiting client booths were visited by an average of 131 sustainability professionals.
In the Auditorium the conference program features industry leaders offering their thoughts and opinions on the market and addressing the issues and challenges in and around sustainability. Â Key speakers include Janet Kidner, Head of Sustainability, Lend Lease; Paul King, Chief Executive, UK-GBC; Neil Jefferson, Chief Executive, Zero Carbon Hub and Jeremy Sumeray, Sustainability Consultant, Chartered Institute of Marketing Construction Industry Group.
In the Exhibit Hall exhibitor booths include Armstrong, British Land, Carbon Counter, Carbon Trust, CEADA, Concrete Centre, RIBA CPD Providers Network, Kingspan Insulation, Pilkington, Global Action Plan, StickyWorld, ProLogis, Verisae, UK-GBC and Knauf Insulation.
In the Networking Lounge event attendees were able to chat with peers one-on-one or in group chats. Â All presentations were immediately available on demand.
For additional information on UBM Studios or to purchase a virtual business solution, contact Kate Spellman, SVP, Managing Director, UBM Studios at 516 562 7383 or [email protected].
To follow UBM Studios on Twitter, visit http://twitter.com/UBMStudios, to follow on Facebook, visit UBM Studios and to follow on LinkedIn, visit UBM Studios.
For further information about Sustainability Now and future events in the UK, please contact Richard Myles, Virtual Events Director, [email protected].
About BD Magazine (http://www.buildingonline.co.uk)
BD (Building Design) is the architects' number one destination for news, comment and opinion. Its unique tabloid format and critical writing have earned it the reputation as one of the UK's best business titles, leading to a clutch of industry awards including Weekly Magazine of the Year (IBP Awards 2008), and Business & Professional Magazines Editor of the Year 2007 (BSME Awards 2007) to name but a few.
About Building Magazine (formerly Building For a Future Magazine) (www.buildingforafuture.co.uk)
Building is the UK's best-read, most-established magazine in the construction industry. Reaching over 125,000 professionals every week, Building provides an unrivalled combination of news, interviews, analysis and hard industry data and leads the way in journalism for the construction industry. Building is the only magazine covering all levels of the specification chain, reaching an audience of contractors, housebuilders, architects, clients and surveyors.
About Property Week Magazine (www.propertyweek.com)
Property Week is the must-read news magazine for the commercial property market and the choice of professionals throughout the market. Through Property Week's editorial excellence, it has managed a steadily rise in paid-for readership to a weekly circulation of 23,146 (ABC July 08-Jun 09) and growth in market share contributing to making Property Week PPA weekly business magazine of the year in 2009 (and in 2007), beating a host of UK business titles.
About UBM Built Environment
UBM Built Environment is the market leading and multi award winning media business serving the property, architecture, construction and engineering sectors through a broad range of media channels. Through a combination of established brands and innovative development, our prime focus is to meet our customers marketing and communication needs. Our products and services include magazines, trade shows, networking events, conferences, data businesses, websites as well as offering a variety of groundbreaking digital and interactive opportunities.
About UBM Studios (www.ubmstudios.com)
UBM Studios is a leader in virtual events and virtual business solutions.  A pioneer with virtual platforms, UBM Studios delivers deep expertise in live and online events that brings business value to customers.  UBM Studios connects, educates and enables virtual communications through a portfolio that fits every budget.  UBM Studios is the only virtual event provider to offer platform, content, audience recruitment, reporting and social marketing and gaming.   UBM Studios virtual events include Virtual Trade Shows, Virtual Career Fairs, Virtual Seminar Centers, Virtual Resource Centers, Virtual Product Launch, Virtual Business Continuity, Virtual Corporate Meetings, Virtual Sales Meetings, Virtual Focus Group Centers and Virtual Training.  UBM Studios delivers a complete global communication solution in Asia, Europe and North America in industries including, health, finance, technology, building and education.
About United Business Media Limited
UBM (UBM.L) focuses on two principal activities: worldwide information distribution, targeting and monitoring; and, the development and monetization of B2B communities and markets. UBM's businesses inform markets and serve professional commercial communities — from doctors to game developers, from journalists to jewelry traders, from farmers to pharmacists — with integrated events, online, print and business information products. Our 6,500 staff in more than 30 countries are organized into specialist teams that serve these communities, bringing buyers and sellers together, helping them to do business and their markets to work effectively and efficiently. For more information, go to www.ubm.com.

Latest posts by Press Release
(see all)