Press release: Virtual Environment Leader UBM Studios Organizes for Growth in 2011
CHICAGO — UBM Studios, a global virtual service provider delivering turnkey interactive environments on the right platform, with superior service and world-class user engagement, today announced that it is organizing its team with new hires and promotions to grow its business. Â According to the BtoB study "State of Virtual Events," which UBM Studios sponsored, virtual events in all their shapes and forms are reaching critical mass as a mainstream marketing channel and marketers are planning to use them increasingly in 2011 to augment other channels.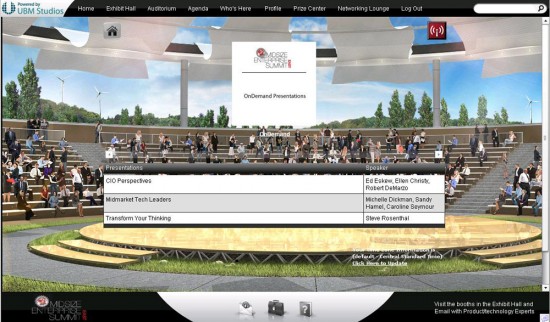 "The digital era is moving forward at breakneck speed and virtual technologies are helping lead the charge. Â Throughout 2010, we witnessed extreme growth and adaptation of virtual events integrated into sales and marketing initiatives and we have seen the transformation of emerging virtual business solutions becoming an integral part in business plans worldwide," said Kate Spellman, SVP, Managing Director, UBM Studios. "Growing our team is critical to our ability to deliver a high level of customer service and support, and to increase our capacity to produce even more events for our customers this year."
Sandro Padin has been employed with UBM Studios for four years and has been promoted from Software Developer to Senior Software Developer. Â He is responsible for the full lifecycle of the software development process. Â Padin continues to report to Michael O'Sullivan, Creative Director, UBM Studios.
Max Gerstein has been promoted from Project Manager to Senior Account Executive, Virtual Business Solutions. In his new position, Gerstein will provide sales support and will also assist with client services. Â Gerstein joined UBM Studios in May 2010. Â Gerstein will report to Michael Kushner, VP, Digital Media Strategy, UBM Studios.
Jessica Robertson has been promoted from Associate Producer to Event Director. Â  In this position, Robertson will be responsible for planning, creating and optimizing virtual environments and related digital media components. Â In addition to pre-show production, Robertson will also lead the live day support and post-show data analysis. Robertson joined UBM Studios in July 2010. Robertson will report to Larry Stein, Production Director, UBM Studios.
Gaylen Ly and Bridgette Smith have joined UBM Studios as Associate Producers where they will be responsible for creating virtual environments and related digital media components. Â Ly and Smith will work directly with UBM Studios customers, sponsors and exhibitors. Â Ly came to UBM Studios from Mediatec Publishing and Smith from RPM Visual Media. Â Ly and Smith will report to Stein.
For additional information on UBM Studios or to purchase a virtual business solution, contact Kate Spellman, SVP, Managing Director, UBM Studios at 516 562 7383 or [email protected].
To follow UBM Studios on Twitter, visit http://twitter.com/UBMStudios, to follow on Facebook, visit UBM Studios and to follow on LinkedIn, visit UBM Studios.
About UBM Studios (www.ubmstudios.com)
UBM Studios is a leader in virtual events and virtual business solutions.  A pioneer with virtual platforms, UBM Studios delivers deep expertise in live and online events that brings business value to customers.  UBM Studios connects, educates and enables virtual communications through a portfolio that fits every budget.  UBM Studios is the only virtual event provider to offer platform, content, audience recruitment, reporting and social marketing and gaming.   UBM Studios virtual events include Virtual Trade Shows, Virtual Career Fairs, Virtual Seminar Centers, Virtual Resource Centers, Virtual Product Launch, Virtual Business Continuity, Virtual Corporate Meetings, Virtual Sales Meetings, Virtual Focus Group Centers and Virtual Training.  UBM Studios delivers a complete global communication solution in Asia, Europe and North America in industries including, health, finance, technology, building and education.
About United Business Media Limited
UBM (UBM.L) focuses on two principal activities: worldwide information distribution, targeting and monitoring; and, the development and monetisation of B2B communities and markets. UBM's businesses inform markets and serve professional commercial communities — from doctors to game developers, from journalists to jewelry traders, from farmers to pharmacists — with integrated events, online, print and business information products. Our 6,500 staff in more than 30 countries are organised into specialist teams that serve these communities, bringing buyers and sellers together, helping them to do business and their markets to work effectively and efficiently. For more information, go to www.ubm.com.

Latest posts by Press Release
(see all)