The non-profit, research-focused ScienceSim grid is now accessible via hypergrid teleports again, after more than a year of no hypergrid connectivity.
ScienceSim turned off the hypergrid last January, due to security concerns.
But new upgrades in the hypergrid technology — in particular, the ability to keep content from being taken off-grid by foreign visitors — has allowed the grid to turn on in-bound teleports from other grids.
"We have partially enabled hypergrid capabilities on ScienceSim," said Mic Bowman, the principal investigator from Intel who is leading Intel's research in support of ScienceSim.
What this means is that people from other grids running on compatible software can teleport to ScienceSim without having to create a new user account. And they can also continue to access their inventories from other grids.
The reason for the new openness? A big public event coming up soon.
"We're shooting for something in mid-March," Bowman told Hypergrid Business, and promised to provide more details about the event later on.
However, local ScienceSim users cannot teleport out of ScienceSim to other grids.
"We are working with the OpenMetaverse Foundation to address these limitations," he said.
The OpenMetaverse Foundation is the non-profit group behind LibOpenMetaverse — a library that allows virtual world servers to talk to virtual world viewers. Â LibOpenMetaverse is based on the messages communicated back and forth between Second Life and its viewers, and is also used by OpenSim and RealXtend virtual world servers and the SimianGrid code used by ScienceSim as well as by all third-party viewers.
In effect, the OpenMetaverse Foundation is to the hypergrid as the World Wide Web Consortium is to the Web.
New hypergrid security
Last week, hypergrid inventor Crista Lopes, professor of informatics at the University of California, Irvine, added a setting to OpenSim that would prohibit hypergrid visitors from foreign grids from taking content away with them.
"It removes their ability to take assets into their grids, even if the objects can be copied," Lopes told Hypergrid Business.
The way it works is that region administrators have to set the "OutboundPermission" setting to "False" in OpenSim's HGInventoryAccessModule.
How to teleport
I was able to teleport to ScienceSim from OSGrid today by starting out at OSGrid's Wright Plaza.
Then I pulled up the map dialogue box — Ctrl-M — and entered the following address:
http://grid.sciencesim.com/grid/hypergrid.php "Yellowstone01 74"
I copied and pasted the whole thing, including the quotation marks around the region name.
Once I arrived, I was on ScienceSim's scale model of Yellowstone National Grid, which encompasses a vast number of regions.
I was able to wander around the area, stop by and greet Bowman, and change my outfit — my clothing loaded in fine, even though it had to be fetched from OSGrid.
Eventually, Bowman said, all regions hosted by Intel will be hypergrid enabled. Today, however, only the Yellowstone and Scratch regions are accessible to hypergrid visitors.
About ScienceSim
With 338 regions, ScienceSim is the sixth-largest grid in the OpenSim metaverse (read this month's grid survey story here). However, much of its land is simulations of landscapes, without any buildings or activities.
The grid is also home to some very interesting research work, however, and to the Fashion Research Institute.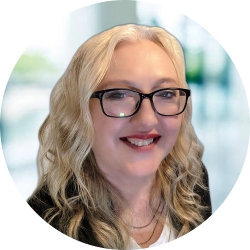 Latest posts by Maria Korolov
(see all)