MOSES — Military Open Simulator Enterprise Strategy — is an OpenSim-based, 3D, virtual environment platform originally developed by the U.S. Army as an alternative to Second Life Enterprise. It is now available to interested, relevant, researchers both in and out of the defense industry, thanks to the U.S. Army Simulation & Training Center (STTC), under the auspices of Douglas Maxwell, STTC Science and Technology Manager for Virtual World Strategic Applications.
How did MOSES come about, and why is the U.S. Army offering it to researchers in enterprise, university, and other armed services, including the Air Force and the Navy?
"MOSES started as a response to the vacuum Linden Lab created by canceling the Second Life Enterprise project. We had a significant investment in the platform that needed to be preserved," said Maxwell. "My colleagues told me how lucky I was to have access to a commercial non-military network to use for research and development of virtual trainers, with collaboration avenues to industry and academia. It is important to note that no classified or sensitive information is allowed on MOSES."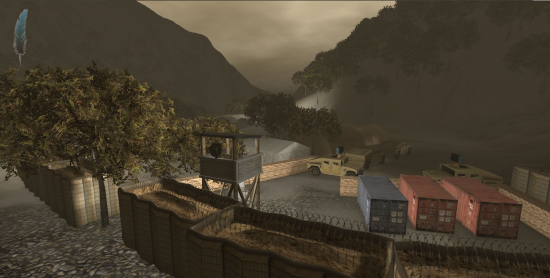 Maxwell continued, "The purpose of my Virtual World Strategic Applications team is to augment the U.S. Army's existing, regular, operations-grade virtual trainers. Each of these existing trainers does one thing very well. However, we need more flexibility. We need to blend multiple trainer attributes into a sort of multi-tool super trainer."
"For example, our lab systems are able to produce craters in the terrain resulting from explosions. We are able to change weather and timing in challenge scenarios more powerfully, in real time. We are able to include chat between teams and commanders on different communication channels, as in real world circumstances. Teams can even interact with and build, in situ, in the lab trainer environment."
"All of these features are desirable for the new virtual trainers needed to meet the changing situation demands on modern warfighters."
Enter MOSES
"With the loss last year of Second Life Enterprise, I wanted to offer researchers in the field an OpenSimulator research environment that would be of similar grade and security," Maxwell said.
"I was able to acquire sixteen Hewlett Packard Blade servers that had just been decommissioned from another project," he added. "e refurbished them and brought them online on the open Internet so that I could give MOSES accounts on them. All that I ask is that users of the platform are doing relevant work to virtual-training systems."
"MOSES is highly relevant to our STTC exploratory initiative," said Maxwell. "MOSES emulates the highly-successful Linden Lab content-creation-by-residents model. We have an excellent team of programmers and designers, but the new researchers signing up for MOSES outnumber us drastically. We benefit from their content creation and testing work on MOSES. They benefit from having a high grade, secure, good-to-go platform ready for use."
"What you put on MOSES, you own free and clear," said Maxwell. MOSES is also secure. "Even though on open Internet, these servers have security measures in place approximating (75%) what we achieved on SL Enterprise. MOSES is on the public Internet for good reason: to allow us all to expand, more efficiently, best practices in using OpenSimulator and 3D Web virtual environments."
In fact, Maxwell has started a public MOSES website, blog, and email list to share best practices in the use of OpenSimulator technology. This is a sorely needed boon for the expanded use of 3D Web, whether for research, commerce, military, art, or enterprise.
"Interest and logins since the first announcements have been high," said Maxwell, "higher than I expected. In addition, we brought online assets from The University of Central Florida STOKES High Performance Computing Center. MOSES now supports 96 separate simulator regions on 40 CPU cores."
Maxwell has assigned over 100 non-Army user accounts so far, and is even assigning entire sims to approved research organizations. Maxwell clarifies, "In some ways, MOSES is a direct response to the loss of the Second Life Enterprise Beta product." SL Enterprise Beta was a fully-operational, behind-the-firewall, 3D Web solution that was developed by Linden Lab, with Maxwell's assistance, to be 100% secure. Linden Lab cancelled the SL Enterprise program in 2010.
"MOSES allows the other SL Enterprise researchers to continue their work," said Maxwell. "It would be a waste to let the content developed for SL Enterprise servers be deleted. Instead, it is preserved (in accordance with the terms of service) by migrating to MOSES."
However, MOSES content migrated from SL Enterprise is relatively minimal. MOSES already contains 36 Afghan-terrain sims inherited from the earlier project. And MOSES is gaining new content every day from the work being added by new MOSES users.
The HP servers are installed with standard OS software, available from www.opensimulator.org. The IBM server has special added software. "The Stokes server is running Intel's Distributed Scene Graph (DSG). This allows ten times as many avatars, up to 1,000, on each super sim," said Maxwell.
How do you apply for an account, or a sim, or otherwise benefit from Maxwell's MOSES project?
"Use the MOSES website, to apply for an account, be added to our email list, and otherwise learn more," Maxwell said.
Growing the 3D Web
"It's important to remember," Maxwell added, "MOSES is a research and development environment, not an operations environment. We will keep upgrading the platform, for example, as we learn new improvements in using OS. We have also enabled full-sim backups from your MOSES regions to your own organization hard drives."
Priority will be given to technology and military testing.
"It doesn't have to be a military project," explained Maxwell. "If you're developing or evolving some cool new kind of technology, like bots, for example, that would be clearly relevant to the MOSES mission."
So far, Maxwell has assigned 18 sims for Air Force use and four sims for Navy use. Another four sims have gone to private research firms and several to individual qualified researchers. "I will keep assigning MOSES resources until they run out," said Maxwell.
What will happen when MOSES resources run out, and will STTC and Maxwell continue to operate and grow the project?
Maxwell responds, "I like to think of MOSES as carrying on the tradition of military research contributing to the public good. The Internet itself is a direct descendent of military funded research (ARPANET). It's possible that more resources will show up to be added to MOSES, as awareness grows through blog, email, articles, and word of mouth."
(This article adapted, with permission, from Sitearm. See also US Army Uses 3D Web To Train More And Cost Less.)
Latest posts by James Neville
(see all)