The top 40 OpenSim grids lost a net total of 475 regions since mid May, for a new total of 15,290 regions, but all of that decline — and then some — is accounted for by the removal of 2,200 regions from OSGrid two weeks ago.
It was part of a regular housekeeping of unused regions on the grid, said OSGrid manager Michael Emory Cerquoni, Â also known as Nebadon Izumi in-world.
The regions were not deleted from their host computers, but just from the OSGrid map, freeing up their locations for other uses.
Meanwhile, ScienceSim picked up a few hundred regions, but this may have been in connection with ongoing load testing — the grid is a laboratory for Intel's scalability projects.
Region growth in the cloud
Of the commercial grids, cloud-based Kitely gained the most regions, growing by 105 regions for a new total of 778 regions. Kitely is now the six-largest grid running on the OpenSim platform. Growth was helped by the fact that regions are free while Kitely is in beta — the service isn't expected to roll out its billing system until August. In addition, getting a new region up and running takes just a mouse click and only as much time as it takes to upload an OAR file.
Kitely also gained 932 new users, but active users dropped slightly. Kitely CEO Ilan Tochner told Hypergrid Business that the drop in active users may be due to a lack of public events on the grid, and of worries that people will exceed their usage amounts. There is currently no way to buy additional capacity if a region is heavily used. However, Kitely has been automatically topping off user accounts each week, and giving out extra credits to customers running public events, such as the Frost Art Museum's South Florida Cultural Consortium Fellowship Exhibition, which runs through August 21.
Kitely is likely to see another jump in usage this summer since it just rolled out the ability to export OAR files, making it an attractive — and, for now, free — platform on which to create regions for use, sale, or distribution elsewhere. Kitely also added the ability to change default viewers as part of its upgrade this week.
No other grid gained more than 30 regions this past month.
InWorldz gained only 10 regions, while Avination actually lost 106 regions since mid-May.
Users go commercial
Users may not be buying regions on the commercial grids, but they're certainly joining up.
Avination gained 3,595 new users this month, putting it ahead in the growth stats. It now has a total of 32,117 registered users, third after OSGrid and InWorldz. It also has the most active users of any grid, with 7,355 users logging in this past month.
InWorldz gained 1,647 new registered users, giving it a total of 38,609 users. InWorldz does not report active user numbers.
The non-profit OSGrid gained 1,332 new users, putting it first place by registered users with 62,231. However, OSGrid still hasn't regained its primary position as most active grid. It only reported 3,425 active users over the past 30 days — less than half that of Avination.
However, some of these numbers may be skewed by bots and campers. As a commercial grid, some Avination region owners may be trying to artificially bolster the popularity of their regions. This is much less likely to be the case on OSGrid, which does not promote in-grid commence. In addition, OSGrid regions as significantly less expensive than those on the commercial grids, so region owners don't have to try to recoup hosting costs. A region on OSGrid is free for those who run it on their home computers, and professional hosting starts at under $10 a month.
Another thing to watch out for with these metrics is that it's becoming increasingly easy to put up new regions, especially if they are little used. Both storage and computing costs and low, and dropping fast. Grids like Kitely can, in effect, put up an unlimited number of regions overnight because the cloud cost per region is just 10 cents a month if nobody visits them. Other grids have also begun experimenting with cloud-based regions to save money, improve performance, and allow for scalability.
Would-be merchants and grid residents looking for an active grid should also consider its registered users and active 30-days users, which we include in our raw data table, and are encouraged to stop by a few times to see how many users there are on the grid at any one time before investing money in land or stores.
New growth
Mid-sized social grids are continuing to grow. Last summer, OSGrid accounted for 64 percent of the land area on the top 40 grids. Today, it accounts for just 40 percent — a sign of the growing maturity of the market.
Meanwhile, we added several new grids to our survey this month, including GridNirvana, Phoenix Grid, City Grid, School Grid, City Planet, Flatlandia, Mino's Home, NSL Test Grid, Haven, Xscape and and Oneworld Grid, OpenSim.ru, Virtual Games 3D and TUIS Open Grid, among others. The last three made it to our top-40 grid list.
As always, we continue to be amazed by the international nature of OpenSim. TUIS is run by the Tokyo University of Information Sciences. Virtual Games 3D is Italian. OpenSim.ru is Russian. Lots of possibilities to practice foreign languages with native speakers out there in the metaverse….
Another new development is the emergence of a public special interest grid, Gay San Francisco. Over time, we expect to see more grids emerge to serve narrowly-targeted communities, but consolidation among grids serving general markets like business or education.
If there's a public grid we're not tracking, please email us at[email protected].
There is currently no central system for tracking OpenSim grids. The OpenSimulator.org website does not track downloads, and grid owners don't have to register their grids with anyone — unlike websites, where owners have to apply for domain names. The OpenSimulator grid list is out of date and incomplete.
In addition, a single download of the server software can be used to set up several grids, or can be used to set up no grids at all.
However, there are statistics for one popular version of OpenSim, the Diva Distro, a four-region, hypergrid-enabled, pre-configured minigrid.
The Diva Distro has been downloaded 931 times over the past month, a record high. The total number of Diva Distro downloads now stands at 6,399.
Diva Distro is also part of the popular Sim-on-a-Stick, a version of OpenSim packaged to run on a USB stick. According to Sim-on-a-Stick creator Ener Hax, the USB-friendly OpenSim package has been downloaded 764 times over the past month.
Hypergrid grows steadily
According to data from The Hypergates, there are now 493 active hypergates on 43 different grids.
In addition, the number of people using the gates has grown, as has the number of hypergrid jumps. There were 4,011 hypergrid jumps made in May, compared to 2,821 in May of 2010.
Not all hypergates are part of The Hypergates network — anyone can create their own hypergrid by dropping a script on any object, such as our touch or walk-through single-destination hypergate script.
In addition, many people do hypergrid jumps without using any gate at all, simply by typing a hypergrid address into Map-Search. There is currently no way of tracking that traffic.
Second Life lost 145 regions over the past month, and now has 31,240 regions, according to data from Grid Survey. This is a lost of 645 regions since June of last year.
However, at nearly 800,000 average monthly repeat logins, Second Life throughly dwarfs any OpenSim-based grid when it comes to its active user base.
June Region Counts on the Top 40 Grids
We are now tracking a total of 161 different publicly-accessible grids, 86 of which reported their region counts this month. SpotOn3D did not report numbers for either its SpotOn3D or its Veesome grid.
The raw data for this month's report is here.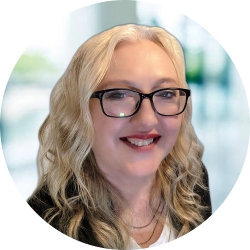 Latest posts by Maria Korolov
(see all)