Press Release: WorldViz 3D Interaction Walls bring Semi-Immersive Virtual Reality to Mainstream
Santa Barbara, CA –WorldViz, the industry leader in interactive virtual reality solutions, has released two turnkey 3D simulation systems based proprietary motion-tracking technology and a single front-projected 3D screen. The systems enable low-cost immersive Virtual Reality applications for visualization, training or research.
Complete with an unprecedented short-throw projection system, the reduced footprint of the WorldViz solution is ideal for industry or research applications that are limited to a small space or need to be mobile. The WorldViz 3D Wall Touch systems come with an intuitive hand-interaction wand, the renowned WorldViz Vizard 3D content authoring toolkit, and an affordable price point new to the world of immersive Virtual Reality solutions.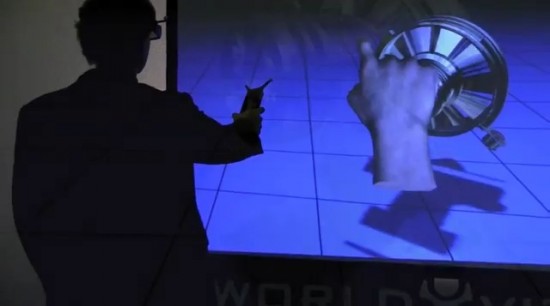 "We designed these system packages for companies and researchers to create and deploy interactive 3D applications at a fraction of the current cost." said Peter Schlueer, President of WorldViz. "With its integrated bright short-throw projector technology and our proprietary real-time motion tracking, the system can be used in a small area and is extremely portable. Its high functionality at low acquisition cost opens the doors to immersive 3D applications for mid-size companies who are ready to dive into visualizing their product prototypes or train staff on technical procedures, and for innovative academic researchers with limited budgets."
The WorldViz 3D Interaction Walls come in the Touch LITE flavor for simple and intuitive moving of virtual objects, and in the Touch PRO version for advanced hand interaction, allowing users to move and rotate virtual objects for complex navigation and 3D object interaction. The LITE Package including the PPT Wand Touch Lite, WorldViz Vizard VR Authoring Toolkit, WorldViz motion tracking, a rendering PC, short-throw 3D projector and screen, and 3 pairs of 3D glasses is available for $19,900. The PRO version, priced at $26,900, comes with the more advanced PPT Wand Touch PRO handheld device allowing for the rotation and movement of virtual objects. The PRO system also includes 5 pairs of 3D glasses. For more information about these fully integrated packages, or other Virtual Reality offerings by WorldViz, please visit www.worldviz.com

ABOUT WORLDVIZ
WorldViz is the industry leader in turnkey interactive virtual reality solutions for Fortune 500 industry and top government clients, including Boeing, Lockheed Martin, Nissan, Disney, NASA, NIH National Institutes of Health, Stanford University and MIT. The company's Virtual Reality solutions include the industry's favored 3D software platform Vizard 4.0, custom application programming, 3D graphics design, real-time optical motion tracking, and expert onsite installation & training.
For more information about WorldViz go to: www.worldviz.com.

Latest posts by Press Release
(see all)