The flight simulator celebrated its 100s anniversary a couple of years ago. A training rig was developed in 1909 to help pilots operate the control wheels of the early monoplanes in a safe environment and its predecessors have been a mainstay of pilot training ever since. Translating this concept to a "social simulator" to help practice interpersonal skills like "executive selling" has proven harder.
While we wouldn't fly with a pilot that learned about flying from a PowerPoint presentation and answered multiple choice questions, most sales organizations are content with this industrial model of training. Sales reps don't routinely practice and fail in a safe simulation environment the way pilots do.
Avaya's sales organization is determined to change that.
Working in partnership with its global sales organization and Visualize Inc., we created a "Virtual Rehearsal Studio" in its own web.alive environment.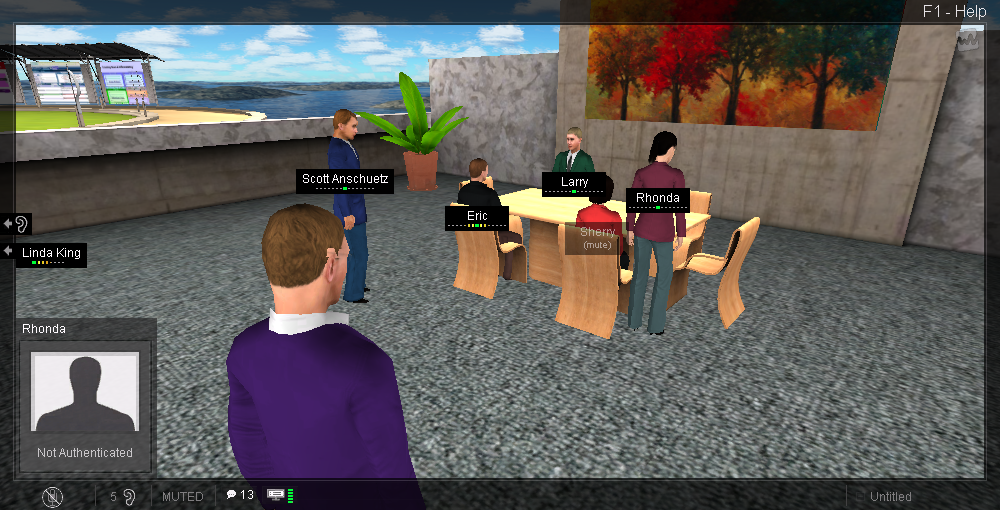 "The purpose with our session in web.alive was to run a collaborative learning and rehearsal session without the travel costs and time of class room training," said Rhonda Duesterberg, Avaya's senior manager for global sales learning and development.
Sales representatives practice preparing for a customer visit and role-playing customer conversations in the 3D immersive environment.
The avatars gather in an open-air setting along a virtual tropical coastline. Simple props like a plant, office desks and chairs and half-walls create the feeling of being in an executive suite, while the outdoor setting puts participants in a positive mind set and makes it easy to find your way around.
The virtual workshop, "Maximizing Your Sales Call Preparation," is focused on helping account managers improve their skills at preparing for a sales call. Sales reps take turns playing the role of Julia Parker, the CIO of International University, and the Avaya account manager, while other reps give feedback on the performance.
The first role-play is performed between the facilitator and one participant in front of the group. Next, participants split in break-out groups where two participants role-play against each other and the other two provide feedback.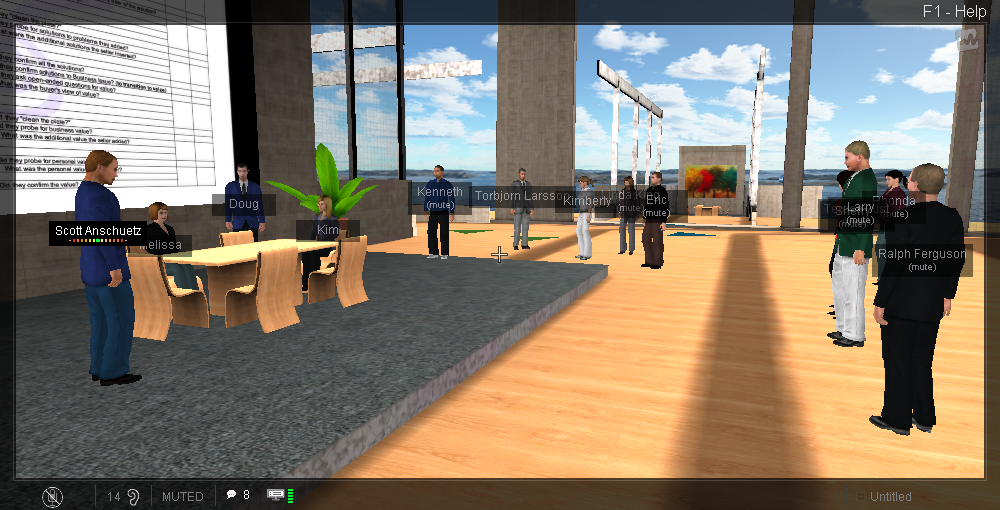 The web.alive platform offers easy browser-based access with low band-width requirement. There's no software download — just a browser-plug in — and its dynamic tunneling capability makes it the only platform to my knowledge that can be accessed through just about any corporate firewall.
While we scheduled one-hour orientation sessions, most people need just ten minutes to get comfortable with the simple controls. As you would expect from a platform developed by a telephony company, the 3D spacial voice is as reliable and clear as any phone service. Participants can even toggle between "shout," "normal," and "whisper," voice mode.
When facilitators need to talk to all the breakout groups, they put their voice in "shout." When two observers want to have sidebar conversation about a role-play in progress, they can "whisper" to each other while still listening in on the role-play.
All of the traditional instructional tools of whiteboard, screen sharing, web access, video, and PowerPoints are available. The collaborative whiteboard is extremely practical when the breakout teams are asked to strategize on current opportunities in their pipelines. Users can open the whiteboard in separate browser for easier viewing as they are all typing their ideas.
Being able to upload a new PowerPoint deck on the fly is another helpful feature.
"We received very positive feedback, such as: 'The two hours just flew by!' and 'It kept us very engaged,'" said Linda King, Avaya's senior manager for global sales learning and development.
The next step will be to go from doing "old things in new ways" — moving an existing workshop to web.alive — to doing "new things in new ways," by creating a persistent, multipurpose, 3D immersive environment for learning and collaboration with game elements like points, badges, levels, goals, virtual rewards, time-pressure, high scoring lists, and cut scenes to provide engagement and give reps a reason to come back. More on that later.
Latest posts by Anders Gronstedt
(see all)