There are many reasons why I believe that virtual worlds are not dead, dying or disappearing. In fact, I believe that they are gaining momentum and are becoming more and more impactful as the technology gets better and more real world business cases are indicating the value of these environments, in addition there are several initiatives that are examples of the kinds of projects that are are driving virtual worlds. Here are several indicators that I see.
Classes in 3D worlds and about 3D worlds
First contrary to the belief of many, Second Life is not dead or dying. Last night I had the pleasure of traveling to Randy Hinrich's Virtual World Certificate Class for 2012 in their Winter Thinkfest. What a great event. I was a guest speaker along with Anders Gronstedt and Lesley Scopes. The visit, enthusiasm of the students, the feeling of connectedness and the interactions proved to me that virtual worlds are not dead, dying or disappearing. They are alive and well and for good reason. They provide a sense of engagement not possible in any other online medium.
Within a virtual world, there is a level of engagement that I have never experienced with 2D webinar software or even video conferencing. With those two technologies, all you do is sit. In a 3D virtual world, you are engaged.
Here are some great images from our tour. Lesley, Anders and I walked through the virtual space as the students showed us their 3D stories boards for the concepts. There assignment is to turn the space into a museum where visitors can experience being in a museum, they showed us the entry point or table of contents of the museum and then showed the various areas they created.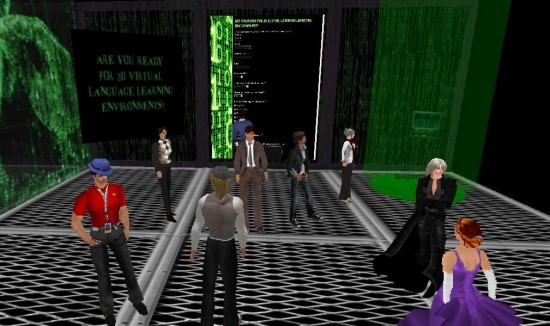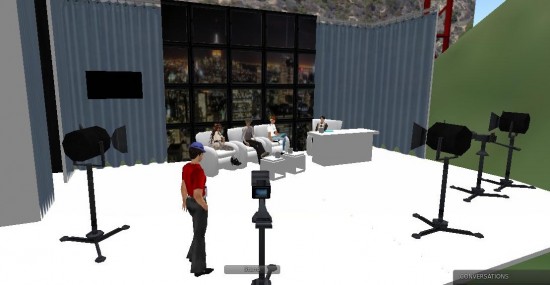 So this class is going on and has been going on for a number of years, alumni came back to help guide students through the virtual world experience. Students were motivated to do wonderful projects in and out of class. The energy within the class was tangible. The fact that three people from, literally, around the world were able to engage with students from around the world and, yet, be in the same place is proof positive that virtual worlds are here to stay.
Enterprise solutions continue to evolve
Next, corporations have not abandoned virtual worlds. ProtonMedia's ProtoSphere is being used extensively by forward-thinking organizations. The proof is in their upgrades and new versions.
ProtonMedia makes virtual worlds work for the enterprise. They are a partner with Microsoft in a big way, they have an immersive, social, learning & collaboration enterprise environment available in the SaaS cloud. ProtoSphere's virtual environment provides an arsenal of business-focused collaboration and communication tools that give innovative companies an edge.
Version 2.0 has a number of fantastic features including a new user interface, a build your own world option and enhanced moderation capabilities just to name a few of the innovations being pioneered by ProtonMedia. Here is a video of just one of the new features.

New uses for virtual worlds
Next the use of virtual worlds is expanding. The folks at Designing Digitally have done a number of wonderful things with virutal worlds. They have a wonderful virtual college tour. They are incorporating virtual world technologies into traditional e-learning courses to add a great new dimension and they have a wonderful browser-based 3D world called Azivia.
3D Virtual Campus Tours – Features Overview from Designing Digitally on Vimeo.
Vendors focusing on education
Avaya's Web.Alive had a substantial presence recently at a large K-12 trade show and in a presentation during a break out session they had standing room only. This is a web-based browser that is also being used by Anders in his Train for Success series. The platform is great for easy firewall access.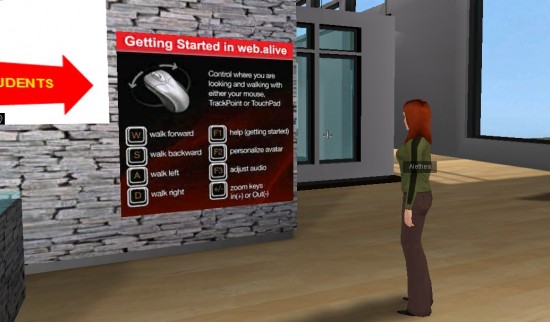 Vendors go beyond the classroom
VirtualUÂ is a platform that holds music concerts, speaker events, conferences and other really cool events. You can become an early Indian or even a firefighter and explore their world in full costume and within the right surrounds. Very innovative ideas and concepts that integrate 2D screens 3D elements and other engaging items.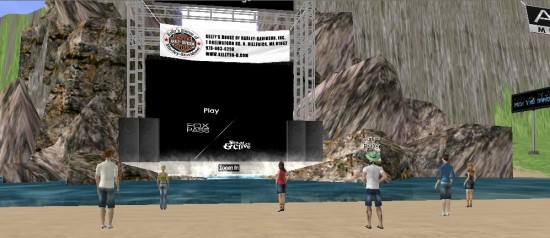 Collaboration and meetings
Next, virtual worlds go beyond training and move to collaboration, group brainstorming and lots of interaction. VenueGen continues to provide excellent meeting spaces for training, collaboration and meeting with people in a face-to-face environment where your own image is incorporated into the image of the avatar. It can look very realistic. The product quickly allows for 3D collaboration among meeting attendees.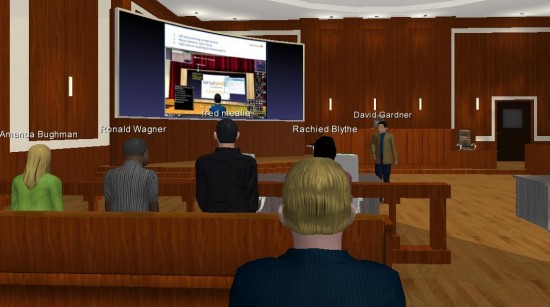 Virtual worlds are going mobile
Next virtual world technologies are changing.
Here are a few mobile initiatives in the virtual space. Also, while not strictly a virtual world, Unity 3D is compatible with both iOS and Android.
VenueGen is working on an iPad-enabled version of their virtual world client. A Spanish company called Virtway which released a virtual world platform for the iPhone and ipad.
So don't listen when someone tells you that 3D virtual worlds are dead or dying or even disappearing. They are here to stay. They will revolutionize education, instruction and collaboration. The movement is not progressing as quickly as some of us would like but make no mistake, virtual worlds will only get better, faster and more realistic and when they do, we'll all be learning in 3D.
(This column adapted with permission from Kapp Notes.)
Latest posts by Karl Kapp
(see all)