Working in the space of 3D virtual immersive environments (VIE) is a small, but dedicated group of people who are creating some really wonderful and powerful learning. The other day I had a chance to virtually catch up with Andrew Hughes who is the president of Designing Digitally, Inc. and an instructor at the University of Cincinnati. Andrew is very passionate about creating engaging, educational, and entertaining learning experience through web-based training and simulations. Andrew's company, Designing Digitally, Inc. develops these training simulations using virtual worlds as a platform to deliver the content material.
Here is the Q&A and a little insight into the industry and some projects he and his team are working on. If you are interested in 3D virtual worlds and 3D projects, you should read the interview.
Kapp: So tell us what you are doing these days and about your work in 3D learning spaces.
Hughes: Currently we are developing a multitude of different 3D learning spaces and simulations for three different sectors which include our corporate clients for employee training, our government clients for collaborative virtual worlds / simulation training, and our University clients for 3D virtual campus tours and 3D web-based training. We are currently developing in a plethora of virtual world spaces such as Second Life, OpenSim, Open Wonderland, as well as a handful of gaming engines such as Unity 3D and Unreal engine.
Kapp: What is the most interesting 3D project you have worked on recently?
Hughes: This is a fantastic question! We just finished a large-scale one year development to create a browser-based virtual campus tour that is being used for admissions recruiting. This was developed for the United States Air Force Academy and was completed this past month. Based on this project, we have launched a web-based product called "3D Virtual Campus Tours" for college recruitment. This product allows admissions reps to schedule guided tours where they can show students around a high quality 3D replication of the campus that far surpasses anything you can get from a traditional "virtual campus tour," Google Earth, Second Life, Opensim, as well as many other virtual world platforms out today. Within the guided tour users can explore each area on their own, but they cannot teleport from area to area and must wait until the admissions representative teleports the group as a whole. When in a self-guided tour which can be accessed at any time, users are free to visit any area they would like on their own.
"3D Virtual Campus Tours" includes games and many other interactive features to make the tour more engaging and informative. Available features include:
Games such as parachute jump, basketball shoot out, flight simulator and others
Clues throughout the virtual campus to teach students about the school
Trivia questions, answered with the help of the clues
Text and voice chat capabilities
Avatar customization
Dynamic web-based administrative log-in, and much more
You can see this here and sign up for a demo.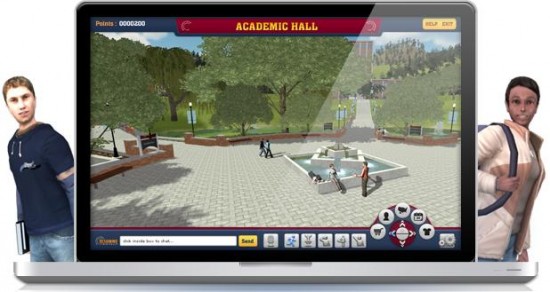 As far as 3D learning spaces, we're also working with DARPA, Wright Patterson Air Force Base Research Laboratory, Ohio University, Wright State University, and Topcoder, Inc. to develop a complex OpenSim virtual world grid that would allow for the universities in the research laboratory to conduct virtual classes and STEM research with students located throughout the entire United States. We are currently aiming to achieve 1,000 students within this large complex grid by October 2011.
Last but not least, we recently began a large-scale project to develop financial literacy games for people looking to purchase their first home. This will be a website that includes eight hours of learning in a game-like setting, as well as supplemental Unity-based learning games. Users will also be able to create and manage a budget, as well as savings goals. Users will also be able to purchase a 3D home with the money they earn through games and will have the opportunity to customize that home in order to keep the user engaged and excited about their financial goals.
Kapp: Do you think the learning industry is starting to accept 3D learning environments or do you still think there is a long way to go?
Hughes: I think virtual worlds and 3D learning are still at their infancy and have a very long way to go before being accepted and utilized as much as let's say Facebook. However, with increasing bandwidth speeds, higher performance of devices and computers, and with the demand of the new videogame generation coming into the workforce, this acceptance of 3D learning environments is only going to become more and more prevalent in our industry.
Currently, many of the people that I see asking for our services are usually the cutting-edge technology directors or training directors at companies that see the value in what 3D learning environments can already offer. Often times I find myself presenting to the executive committee of the company and within the first 30 seconds I can tell if they value what 3D learning environments can provide by their initial reaction when I present what it can do.
Kapp: What obstacles do you encounter when trying to create a 3D learning experience?
Hughes: One of the toughest obstacles that we find is that technology is evolving exponentially. The current virtual worlds and gaming engines that are out on the market today could be gone tomorrow. Our team at Designing Digitally, Inc. takes extra precautions in evaluating a company's technology requirements to ensure that the platform we choose to develop their 3D learning environment is going to be sustainable for years to come, not to mention that it will adhere to their technology restrictions.
Another obstacle is the "naysayers." Many times some of the executive committee might have the thought process that learning should be a conventional type of environment where their staff is placed in a room and an instructor would come in and present this content material. Sometimes these are the hardest people to convince the value of what 3D learning environments can provide. Again, I usually can find that out within the first 30 seconds when I start talking about some of the case studies and what is possible with these 3D virtual environments.
Kapp: What do you think is the future of 3D immersive learning environments?
Hughes: I personally think we will find that mobile learning and augmented reality will become ever more prevalent in our industry. There is a demand for motion tracking through devices such as Microsoft Kinetc and Webcams. We are going to find ourselves taking these 3D learning environments and fully immersing ourselves not just with a Webcam but projecting the actual 3D environments into our own living room. The question we should be asking ourselves is how we could integrate augmented reality, motion tracking, and state-of-the-art peripheral devices to create effective learning environments and stop thinking of these devices as separate resources..
Kapp: If you were giving advice to students about developing and designing for 3D learning spaces, what advice would you give?
Hughes: I am constantly giving both my students and my employees advice about developing 3D learning spaces, and one of my biggest pet peeves is the overall simplicity of use. Many of these platforms that are out today consist of cumbersome steps for the learner just to be able to get into the 3D learning environment before they can even start the learning objectives that we are aiming to achieve.
We're actually working on a browser-based 3D virtual platform that will be more convenient for users to get in to conduct the training that need they need without spending half their time trying to figure out how to get to or utilize the training simulations. This platform will be called Azivia and we anticipate having it launched by the summer of 2011. This platform will be used for the development of training simulations and for virtual 3D immersive spaces for collaboration and conferences.
Kapp: I am sure people would like to a see some samples of your work, do you have any links to what you've done?
Hughes: Regarding our browser-based virtual world used for university enrollment and recruiting go see, 3D Virtual Campus Tours and sign up for demo and we'll show you around.
In terms of some of our other work, we actually just launched a website that showcases our 3D simulations and 3D serious games, you can see that web site here.
Kapp: Thanks Andrew, great stuff!
(Article reprinted with permission from Kapp Notes.)
Latest posts by Karl Kapp
(see all)