CtrlAltStudio released a viewer yesterday that can be used to access Second Life and OpenSim grids with an Oculus Rift.
This is a preview viewer, which can be used to walk and look around inside the virtual world, but is missing user interface functionality. It works both in standard mode, and in 3D Oculus Rift mode, so users can switch back and forth if they need to.

"It feels pretty good," said  said CtrlAltStudio's David Rowe, an independent virtual worlds developer. "People were grinning ear-to-ear when they tried it out today and yesterday."
He has visited both Second Life and OpenSim with the viewer, which is based on the Firestorm code base.
However, there are no plans at this stage to develop a full user interface, he told Hypergrid Business.
"It depends on Linden Lab," he said. "They've got it in the pipeline, but I don't known when it comes out. It might have a good virtual worlds user interface, with the mouse key sorted out."
If Rowe were to build his own interface, it would become obsolete as soon as Linden Labs rolls out theirs, he said.
In July, Linden Lab CEO Rod Humble told All Things Digital that this could be in " late summer."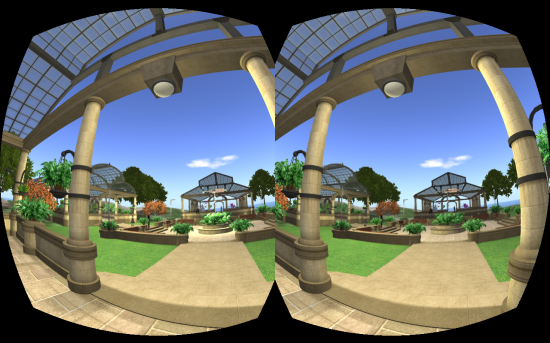 The Oculus Rift requires a different approach to user interfaces than what you have in a standard viewer.
For example, anything at the edges of the screen will be outside the field of view. In addition. static text looks like it hangs in the air in front of the user, blocking the view of what's behind it, and is also hard to focus on. If located at a comfortable focusing distance in front of the avatar, it may become difficult to read.
In addition, because the users are wearing a headset, they can't see their keyboard. Asking them to use arrow keys to move around is simple enough, but if they need to type, or enter keyboard shortcuts, it can be hard to do blind.
Finally, some interface design have already been found to increase nausea in users, such as static screens or cut screens, which don't move when users move their heads. Similarly, going instantaneously from standing to walking speed to running speed — without a period of acceleration in between — can cause problems for users.
Touching objects is another issue. The CtrlAltStudio viewer uses the arrow keys to move. And, since the Oculus Rift first-person "Riftlook" view is based on mouselook, moving the mouse changes the viewing direction.
"And you can't actually see a mouse cursor to move or click on anything with at present," he added.
Switching to a third-person view causes the viewpoint to hang in the air above the avatar's head, creating an out-of-body experience. That isn't stopping early testers, however, said Rowe.
"People seem to like using the third-person view," he said. "It doesn't work very well, so I'll have a look at that, stop it from crashing so much."
Over the course of this coming week he plans to iron out a few other issues that cause problems with teleporting and with windows mode — users are currently recommended to use full-screen mode.
There is also a noticeable "screendoor" issue, he said. He has an early model of the Oculus Rift, not the most recent high-definition one, so the graphics aren't as good as they will be when the consumer version finally comes out.
Rowe said he began working on Oculus Rift support four weeks ago.
"I knew there were a bunch of people impatient to try it out, so why not?" he said. "And it's something I wanted to try out for my own sake. It's all very well thinking and talking about what it would be like, but it's nothing like trying it out for real."
The Oculus Rift hasn't yet released the launch date for the viewer, but developers kits are are already available for $300, with an estimated 20,000 kits already shipped.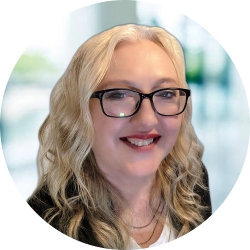 Latest posts by Maria Korolov
(see all)