The first annual OpenSimulator Community Conference will open this Saturday morning Pacific time with a keynote panel of core developers discussing the future of the OpenSimulator platform.
Core developer panelists include Justin Clark-Casey, who is the president of the Overte Foundation that oversees OpenSim. He will be joined by Intel engineer Mic Bowman, hypergrid inventor Crista Lopes and Avination grid founder Melanie Thielker.
The afternoon keynote is by Cynthia Calongne, also known as Lyr Lobo in-world, who is a pioneer in the use of virtual environments for education and simulations. She will be speaking about the future of virtual worlds and what makes them so compelling.
Sunday morning will kick off with a keynote panel discussion about innovative applications of OpenSim. Panelists include Christer Lindstrom, co-founder of the International Institute of Sustainable Transportation, US Army Research Lab's science and technology manager Douglas Maxwell, and 3D Avatar School founder Claus Nehmzow.
Sunday afternoon will begin with a keynote address by Grady Booch, a world-renowned computer scientist who is currently working on a documentary about computing and the human experience. His speech topic is "My Virtual Life."
Between the keynotes will be breakout sessions in a number of areas, including art and creativity, business and enterprise, software development, education, research, and social communities.
The business and enterprise track, for example, will include panels about using BitCoin on grids, an introduction to the Kitely Market, a talk about the Metaverse Universal Marketplace, a how-to panel about virtual currencies, a discussion of copyright and content protection, and a talk about OpenSim's growth since Hypergrid Business began tracking it in 2009.
This track will also host a how-to setup OpenSim session for absolute dummies, with a little info for tech-savvy attendees as well.
For times, locations, and descriptions, check the full conference schedule here.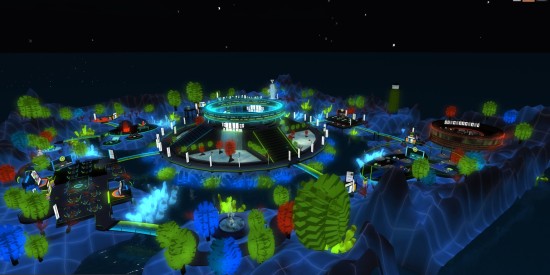 In-world tickets are already sold out, but you can still register for the free online video stream.
In-world attendance at keynotes and panels is limited because of current restrictions about avatar numbers on regions.
However, some areas of the convention grid are open access, including eight Expo regions.
The convention grid is hypergrid accessible, so from any hypergrid-enabled grid just teleport to cc.opensimulator.org:8002:Expo Zone 1, all the way through cc.opensimulator.org:8002:Expo Zone 8.
In addition, many other grids will be holding social events in connection with the conference itself.
Saturday afternoon, the U.S. Air Force will hold an open house for its Virtual Discovery Center. The hypergrid address is virtualtechedge.com:8002:DiscoveryLab1, and the region is located in the upper coordinates. You can also create a local account on the grid as well.
Littlefield Grid will host a dance Saturday night, hypergrid accessible at lfgrid.com:8002:Speakeasy  (upper coordinates).
OSgrid will host a live music closing party Sunday afternoon, hypergrid accessible at hg.osgrid.org:80:SeaPriorPlaza (also upper coordinates).
The US Army is also getting in on the action on Sunday, with a demonstration event co-sponsored by Intel on the MOSES grid. The hypergrid address is atropia.militarymetaverse.org:80:atropia. Visitors can see a demonstration of large-scale training and education, with hundreds of simultaneous participants. This is made possible by Intel's Distributed Scene Graph function that they've donated to OpenSim, which allows more than a thousand avatars on a single region.
The final conference-related social event is actually being held in Second Life, at 4 p.m. Pacific on Sunday afternoon, on the Blue Moon region. Visitors can attend a guided field trip through the Whole Brain Health Fairgrounds, or participate in solo and group experiences that promote brain fitness.
Latest posts by David Winfrey
(see all)