The results of the 2013 OpenSim hosting  are in, and the biggest surprise was the lack of votes for SimHost, once one of the leading vendors in this space. Another surprise? Vehicle physics tops the list of wanted OpenSim features, just as it did in 2011.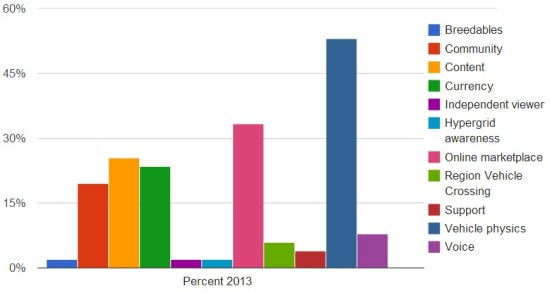 Overall, 53 percent of respondents said they missed vehicle physics, a set of features which allow OpenSim vehicles to behave like those in Second Life. This was up slightly from 52 percent in 2011.
The next most-wanted feature this year was an online marketplace, with 33 percent of respondents, up from 20 percent in 2011.
Content came in at 25 percent this year, down slightly from 2011's 29 percent, and community was at 20 percent, down from 2011's 25 percent, a possible sign that both of these issues have improved a bit in OpenSim over the past two years.
Almost every respondent said they "would absolutely recommend" their hosting provider, and OpenSim pricing was described as "a bargain" or "reasonable prices for the services provider" by almost every respondent as well.

Respondents also rated the stability, performance, support, and user interfaces of their hosting providers. Please keep in mind that the number of respondents is very low for each vendor, since there are relatively few people who rent grids or regions from independent hosting providers, as opposed to renting land directly from grid owners. For reviews of grids themselves, please see last month's survey of OpenSim grid users.
Dreamland Metaverse leads in support
Dreamland Metaverse is the grand-daddy of today's OpenSim hosting providers, with a strong presence in the educational sector. The company is based in Switzerland and offers support in both English and German, with data centers in Europe, North America and Asia.
Although they are known for running private grids for educational institutions and companies of all sizes, including Fortune 500 firms — "hundreds of grids" at last count — they also provide hosting for individual regions on OSgrid and Metropolis and standalone mini-grids.
"I have relied upon Dreamland Metaverse for three years, with their high quality US data-center servers, to provide a low-lag experience for the 40 to 100 visitors my OSgrid region sees every day," said one responder.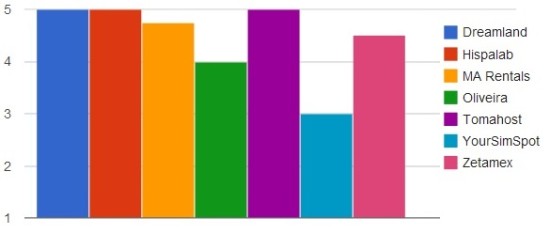 Hispalab and TomaHost, both newcomers to our list and both based in Spain, also had "excellent" scores — but each had only one responder on our survey. MA Rentals, Zetamex and Oliveira also did very well. The only negative review was of YourSimSpot.
"While their prices are low the support really lacks," said one user. "We tried hosting two regions with them and we could not get simple things to work like currency with VirWox — they lacked the knowledge of helping us get that set up."
The user also complained about slow connections speeds, a control panel that only worked sometimes, and a surprise price increase. "We were told that prices were not going to be changing anytime soon when we signed up," the customer reported. "After all of this we cancelled."
YourSimSpot CEO Anthony Gill apologized for the problems this user had.
"We would like also to apologize to anyone who had any type of negative experience while using our service," he told Hypergrid Business. "And we encourage them to engage us with any issues they might have or had with our tools and region hosting. This would only help us to improve the quality of our offerings. Â We greatly appreciate our customers and are always ready to serve them in any way possible."
Zetamex has most responses
Zetamex is relatively new to OpenSim hosting, but has quickly grown into a major player after rebranding earlier this year from its previous incarnation as SoftPaw Estates.
Last summer, Zetamex stepped up to provide hosting for Linda Kellie's content, setting up the new Zadaroo website. Zadaroo is now home to the single largest collection of Linda Kellie's work, all licensed CC0 for use in any grid, for any purpose — including commercial. In addition to individual virtual items available as XML downloads, the site also includes 30 different OAR files of full regions packed with content, including shopping malls and themed builds.
Zetamex is currently working on version 2.0 of its ZetaPanel user interface system, which will include tools to rename regions, change region coordinates, and get region access statistics.
Zetamex CEO Timothy Rogers is also known for being helpful to other grid owners, whether or not they're current customers, and to other hosting companies. For example, Zetamex has been helping out Fernando Oliveira, of Oliveira Virtual Lands, who has been working on OpenSim support for the PostgreSQL database. PostgreSQL is a database designed to work with large, enterprise-class databases, and may scale better than the MySQL database currently used as the default in OpenSim.
"We use Zetamex Hosting for our newly opened grid," wrote one customer. "There was a lot of planning prior to our launch and I think between myself and Timothy Rogers we had over 200 emails… The support we received was second to none… Adding to that, on day one of our launch we did have massive problems [with] corrupted files… Timothy spent over 24 hours online, repairing it, setting up new regions, bringing in content to replace what we had lost. All in all I would rate Zetamex as 11 out of 10."
In fact, many grid owners are now turning to OpenSim hosting providers to handle the technical side of running their infrastructure, while they themselves focus on marketing, sales, and community building. Zetamex is quickly becoming known for being friendly to customers without technical backgrounds.
"I especially like that even when the support problem I am having is related to my lack of knowledge, they take time to help me learn and do so with patience," said another customer. "They have never shrugged me of with a claim that their stuff as working and the problem must be me. When it is me, they help me figure out what I am doing wrong."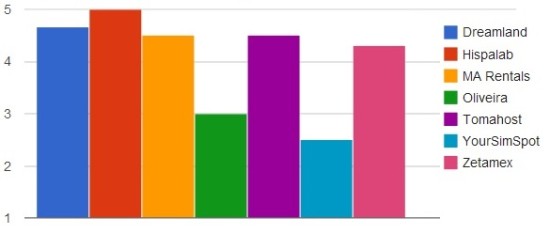 By engaging with the community — helping grid owners and competitors, writing helpful articles and blog posts, and always being ready to explain things to the media — Zetamex has quickly positioned itself in the top tier of OpenSim hosting companies.
Based in Last Vegas, Zetamex is the only major US-based hosting provider, so that might also be a factor in attracting US-based clients.
"Never have any [unexpected] downtime, only scheduled, and always told in advance, which I like," wrote one Zetamex customer. "The hardware used by Zetamex is all very good and top notch. Great connections to the servers no issues."
MA Rentals scores high in stability
Germany's MA Rentals is best known for hosting individual regions attached to OSgrid. The company runs the regions in a virtualized cloud-based system that automatically allocates resources to regions when they need them.
As a result, the company stored top marks for stability.
"Performance of the region is excellent, the only performance issues so far were related to slow grid services from OSgrid or bugs," said one customer. "Bugs were usually fixed within the same day."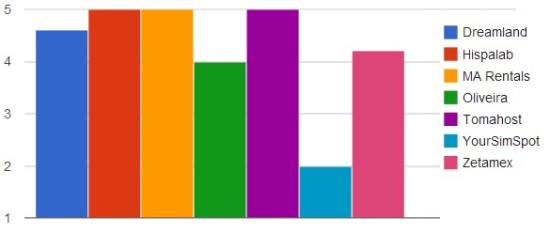 MA Rentals also got top marks for its interface. The company's web panel provides a great deal of functionality for region owners, including self-serve OAR and IAR downloads. A demo version of its webpanel is available on its site.
"The webpanel offers me all the daily needed settings and stats and I have more time to enjoy my inworld experience," wrote a customer.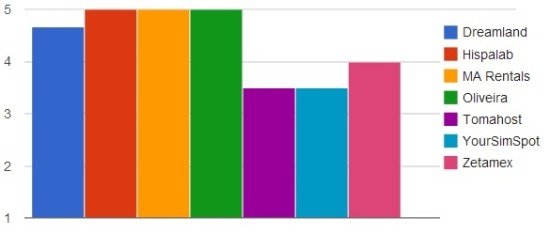 Do it yourself hosting
Many respondents said that they were running OpenSim on their own, either using the standard OpenSim distribution, the Diva Distro, Sim-on-a-Stick, New World Studio, the Metropolis distribution, or AuroraSim. By far the largest group of respondents were using the standard distribution, followed by Sim-on-a-Stick and New World Studio.
Scores for stability, support, performance, and interface varied greatly, since every deployment and use case can be different.
"I am my own provider," wrote a user running the standard distribution of OpenSim. "I use command-line tools — they are easy. I don't need a gimmicky GUI."
For example, performance tends to be excellent when OpenSim is run on a local computer and used by only one person.
"Sim-on-a-Stick is very useful for me when I wish to just work on terraforming without interruptions or net issues," said one user.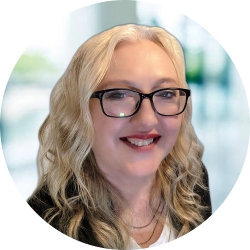 Latest posts by Maria Korolov
(see all)