The virtual reality hardware landscape is changing so quickly, it's hard to keep up. But one trend is already clear, with devices falling into one of three categories — PC and console peripherals, self-contained systems, and smartphone-powered headsets.
Here's an overview of what's going on with the all the major projects.
PC and console peripherals
These headsets are fully immersive, responsive to head movements and with a wide field of view. They typically connect to personal computers or gaming consoles.
Oculus Rift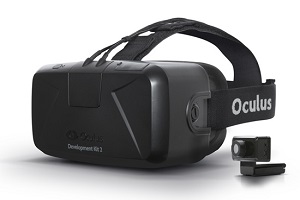 Made by Oculus VR and recently acquired by Facebook for $2 billion, this is the device that kicked off the current virtual reality hardware race. A second-generation developer kit is available for pre-order for $350, with shipping in August. A date for release of the consumer version has not yet been announced.
The Oculus Rift is designed to work with personal computers, with a combination of built-in sensors and an external camera for head tracking.
Project Morpheus
Sony's answer to the Oculus Rift was introduced this year at the Game Developers Conference, the worlds largest game industry event for professionals.
A developer version of this headset has been made available to some game developers, but not to the public.
ANTVR
The Beijing-based ANTVR Technology Co., Ltd. is already 90 percent of the way to a successful Kickstarter campaign, with 30 days still left to go.
ANTVR sets itself apart from the other platform with an open-source approach to hardware, a wireless design, and the fact that it comes packaged with a clever controller that can transform into a gun, joystick, or steering wheel.
The headset also has a built-in window that can be opened for a quick peek at your keyboard.
Kickstarter backers can get a beta kit for $270, with delivery currently estimated at September.
Totem
Totem is a device from True Player Gear that adds its own twist — two built-in cameras that allow the user to see the surrounding world without taking off the device.
The company plans a crowdfunding campaign this summer, with an official release of the product by the end of the year. Pricing is expected to be higher than the Oculus Rift because of the additional hardware.
Avegant Glyph
Avegant's Glyph headset had a successful Kickstarter earlier this year, raising $1.5 million. It is currently available for pre-order for $500 with estimated delivery in the first quarter of 2015.
The Glyph's main unique feature is its display, where the image is actually projected onto the eyes, resulting in a higher quality and less eye strain. However, it has a smaller field of view — just 45 degrees — than the other devices on this list.
While it has headtracking and can be used for immersive virtual reality games, the company seems to be marketing it as a personal theater for watching movies.
CastAR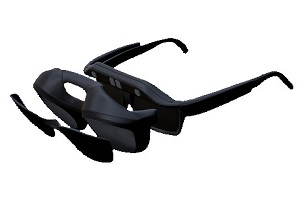 The CastAR from Seattle-based Technical Illusions is a device designed to be used like augmented reality glasses — for example, to play with 3D objects that seem to appear in front of you, like holograms, on a special reflective surface. They can be converted, with clipons, into regular augmented reality or virtual reality glasses — instead of projecting the virtual image on the special reflective surface, the image is reflected back from the inside of the clip-on.
The company held a successful Kickstarter last fall, raising over $1 million on a $400,000 goal.
Pre orders are $345 for estimated September delivery.
VReye Pro
 The VReye Pro from Spain's Vrelia, promises higher resolution than the Oculus Rift and a wider field of view. Prices and release dates aren't available yet, but Road to VR reports that it could be out "by the end of the year."
Smartphone accessories
This family of virtual reality devices is basically a shell into which users slide their smartphones. There's typically a set of lenses that turn the screen into a full wrap-around virtual view.
App makers just have to create games that use the phone's built-in accelerometer, and that show the images in the side-by-side view necessary for 3D displays.
These devices tend to be a lot less expensive, because they rely on the computing power in the cellphone you've already paid for. The downside is slower responsiveness — but this may change as smartphones improve. Just slide out the old phone and slide in the new one, and your headset instantly has better graphics and performance.
Sulon Cortex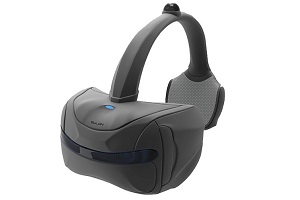 The Cortex, from Ontario-based Sulon Technologies, stands out with the promise of an ultra-wide 140 degree field of view. The development kit is available for pre-order now for $499, for shipping at the end of this year.
The steep price is because the device isn't just a case for a smartphone — there's a built-in computer that actually scans the environment you're in and the walls and other obstacles are mapped into the virtual reality, so that you can move around while wearing this device without crashing into anything.
Durovis Dive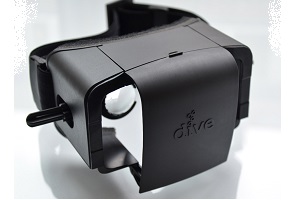 The Durovis Dive is made by Muenster-based Shoogee GmbH & Co. KG and sells for about $77. It's compatible with a wide array of smartphones, including most recent Android and iOS smartphones. Launch the app, snap the phone into the headset, adjust the lenses, and play the game or movie.
A handful of games are already available in the Google Play and iTunes app stores. For Android devices, there is also a virtual cinema app for the Dive.
vrAse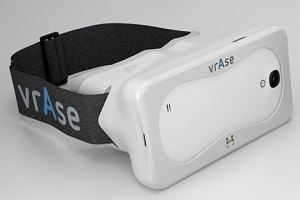 The vrAse headset from Scotland-based Eyedak Ltd. had a successful Kickstarter last fall, but still hasn't shipped the headsets. The last update, in mid May, reported that the company was still working on design improvements.
The price of the device hasn't been set yet, but the company says it will be higher than the $65 Kickstarter price tag.
Vrizzmo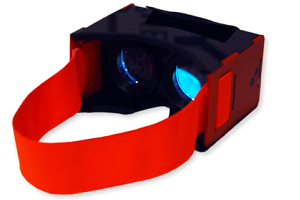 The Vrizzimo from Poland-based De JET Works is also not yet available for purchase but the company is promising a development kit in June.
And they have a photo of what the device will look like.
VReye Go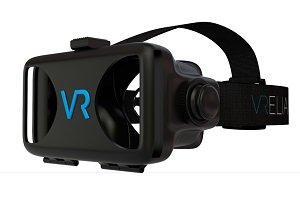 Another head-mounted display from Spain's Vrelia, is designed to work with existing smartphones.
No specs or prices have been announced but, again, according to Road to VR, it could be out by the end of the year.
VR Viewer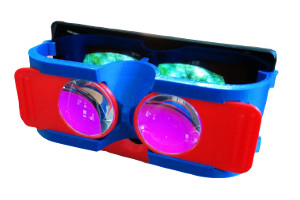 The generically-named VR Viewer from Yay3D is a bargain at just $49 and works with the 2013 Nexus 7 tablets –Â and also fits the 2012 Nexus 7 and the iPad mini, the company says.
With a 90 degree field of view, it's close to what the Oculus Rift offers.
It can be used to watch Oculus Rift videos and other 3D movies, and is compatible with the side-by-side VR apps designed for the Durovis Dive, vrAse, and similar devices.
Refugio3D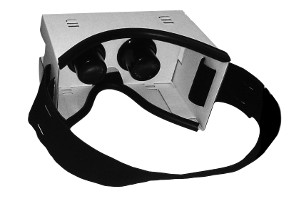 For just US$34 — including shipping — this smartphone frame from Refugio3D comes as a kit that you need to assemble yourself. It includes a flat body that folds into shape, lenses, straps, and other parts.
Or, for around $48, you can get it pre-assembled. It's available in a variety of sizes to fit different smartphone models.
Compatible with all side-by-side videos and apps.
VR SmartView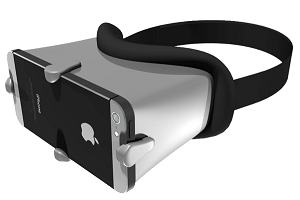 The VR SmartView came out of a startup competition at Sunshine Coast University's Innovation Centre in Queensland, Australia.
The product is available for preorder for $99.95 — probably in Australian dollars. No shipping date has been announced.
The device is promised to work with devices from Apple, Samsung, HTC, Nokia and other smartphone makers.
Samsung's rumored device
This smartphone accessory doesn't even have a name yet, much less a photo, but folks are talking about it.
According to Engadget, it will have its own display, instead of using a snap-in smartphone, and is connected to a Samsung phone or tablet with a cable. According to reports, the device will be announced later this year and will cost less than the Oculus Rift.
Self-contained systems
These devices are stand-alone video game platforms, with computers built right into the headsets. They typically run on the Android operating system. They have all the benefits of a wireless headset, without the extra lag that wireless connections can sometimes add. Plus, you don't need a computer or gaming console to use them.
GameFace
The development kit for the GameFace headset from GameFace Labs isn't expected out until the end of the year at the earliest, but you can pre-register to get a development kit a month before everyone else.
The price hasn't been announced yet, either, Â but it's expected to be higher than the Oculus because of the on-board computer.
GameFace apps need to be either custom-written in Unity or ported over from Android. The company says there are already 60 games to choose from, including many popular Android games.
It boasts a 2.5K display, a significant graphics improvement over the latest Oculus Rift or Project Morpheus.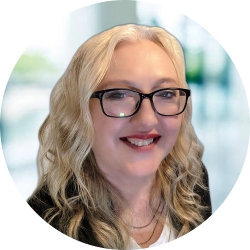 Latest posts by Maria Korolov
(see all)