Virtual reality headsets such as the Oculus Rift and Project Morpheus haven't hit the consumer market yet, but virtual reality is already making a difference in many industries.
The medical profession, for one, has been one of the earliest adopters of virtual reality, virtual worlds and simulations.
Here are five examples.
1. Enabling medical students practice surgery techniques and hospital procedures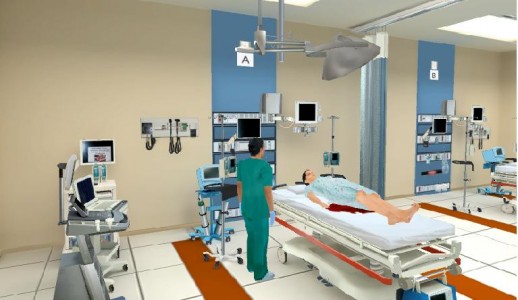 For a surgeon, the jump to real from theoretical is huge. And no patient wants to be a guinea pig. But by operating in the virtual world the student of surgical medicine can practice technique, risk-free.
CliniSpace, for example, offers a browser-based environment with virtual operating rooms and other simulations where medical students and other hospital staff can practice skills. Read more about it here.
2. Helping autistic kids
For a child with autism learning motor skills and social cues can be a frustrating experience. And sometimes the lessons are even harder on the teachers.
But a computer equipped with a virtual reality program and its infinite patience can be an effective instructor, according to Justine Cassell, Director of Northwestern University's Center for Technology and Social Behavior. Read full story here.
In the video below, Newcastle University's "Blue Room" virtual reality environment is being used to enable people with autism to experience the thing that terrifies them in a safe environment. Read full story here.
3.  Treating PTSD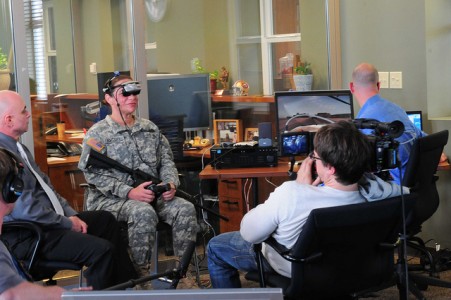 Since the U.S. went to war in Afghanistan in 2001 and Iraq in 2003, about 2.5 million members of the Army, Navy, Marines, Air Force, Coast Guard and related Reserve and National Guard units have been deployed in the Afghanistan and Iraq wars, according to Department of Defense data.
Not everyone comes back unchanged. In fact, even if a soldier never sees battle he or she can still suffer the effects of post-traumatic stress disorder, psychologists say.
But by using a virtual reality program doctors can guide veterans through their decompression. Virtual reality safely takes a warrior back in time, even to the war zone, to safely re-examine, and hopefully learn how to manage, the disturbing experiences of war. Read more about it here.
4. Providing pain relief to burn victims
Cringe-inducing "skin stretching" therapy for a burn victim can be excruciating. But through a virtual game called "Snow World" in which the affected person is allowed to shoot snowballs at penguins and snowmen while listening to a favorite song the hurt can be mitigated.
"Snow World" therapy was first used at the Loyola University Hospital in Maywood, IL. Patient testimonies and MRI results prove it works. Read more about it here.
Watch a video about this below.
5. Helping people deal with phantom pain
The exact reason that an amputee victim thinks his or her limb is still there is unknown. The patient feels the missing limb, but cannot see or control it. One study, however, unearthed a cure for one man's chronic phantom pain after 48 years of suffering.
Using a virtual reality program the patient was able view a representation of the limb. The virtual program enabled the patient to control his missing body part by using electrodes that measured muscle movement which were attached to the base of the missing limb. After the treatment, doctors determined that there had been a significant improvement in the patient's condition.
Virtual reality is the future. Research into it, though, can make pain and suffering the past. Watch a video about this below.
Latest posts by Bill Marcus
(see all)