Sept. 18 update: All prices will be going up on Nov. 1 but existing customers — and all those who order before Nov. 1 — will be grandfathered in. Read more here.
Aug. 9 update: The prices were slightly raised, and more features added, with more starting regions, and choice of names and locations. Grid owners can also buy these regions for their Zetamex-hosted grids. Read more here.
I was chatting with the folks on the InWorld Review today about how great the new $3 region offer from Zetamex was and couldn't resist — I had to pick one up for myself.
The ordering process was simple — just click on the blue "Order One!" button on this page.
There was a super simple form to fill out — they just wanted my real name, avatar name, my email address, choice of grids — OSgrid or Metropolis — and choice of starter region — flat land, Country Cabin, Tropical House, or Lake House. I went with the tropical house.
All three are Linda Kellie regions, meaning that all content on them is CC0 licensed — you can do anything you want with it, up to and including modifying it and even selling it. So they make for great choices for starter regions.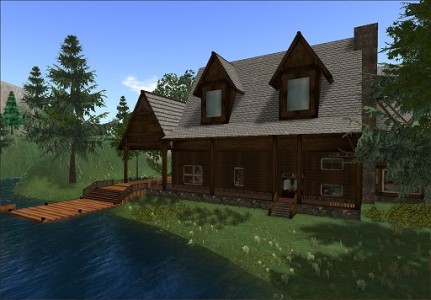 Then I got an invoice by email and made the $3 payment via PayPal. The region, I was told, would take up to 12 hours to show up.
In fact, the notification about my new region came in about two hours.
I got the login instructions for the Web-based management panel, called ZetaPanel, and the name of my new region and how to take ownership of it.
First, the panel.
Super simple region management
I clicked on the link, entered the user name and password provided, and my region management panel came right up.

So, basically, just three controls. You can restart the region, do a backup, or request an OAR file. An OAR is a full export of a region and everything on it – useful for making local backups, or for selling a build that you've created, or for moving an entire region from one grid to another.
The OAR download gets sent by email, and is handled manually, so can take up to six hours.
This is the only quibble I had with the whole experience — requesting an OAR required that I fill in my email address and region name, even though the system should have already known which region I wanted the OAR of, since I was already at the Region Controls panel. The six hour wait doesn't bother me — it's a $3 region! I can wait a few hours for my file.
Update: the OAR arrived, in the form of an email link, about two hours after I placed the request.
The region backups are handled automatically, via a single backup slot. This is useful for when you're about to start making a lot of changes on a region, and don't know whether you'll like it or not, so you save a backup first, then restore it when you decide you don't like the changes.
Or you can make the backup when the region is finished, and looks just perfect. That way, if you accidentally set your access controls wrong, and a griefer comes along and messes it up, you can just restore it to its pristine state with a single click.
Taking ownership also super easy
To get my region, I followed the very simple instructions that were emailed to me. I logged into OSgrid with the avatar name I provided when I originally ordered the region, teleported over to my new region — called Koanend — right-clicked on the ground, and bought it.
It was extremely painless.
Both OSgrid and Metropolis are hypergrid-enabled, meaning that you can teleport to over 100 other grids from your regions. I plan to put up a gate to my office on Hyperica.
As I mentioned before, this is Linda Kellie's Tropical OAR, which is free for anyone to grab and download. Like all her content, it has a certain Linda Kellie quality, a light and breezy style, which is perfectly appropriate for this tropical setting.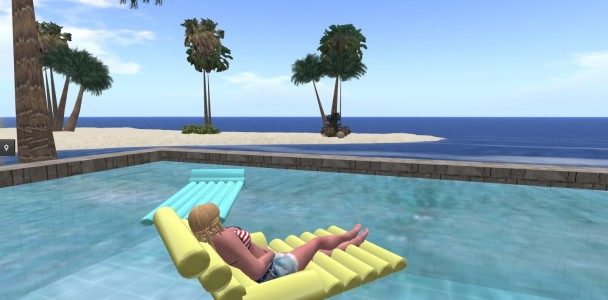 The region is ready for use. The pool floats work, and have appropriate poses.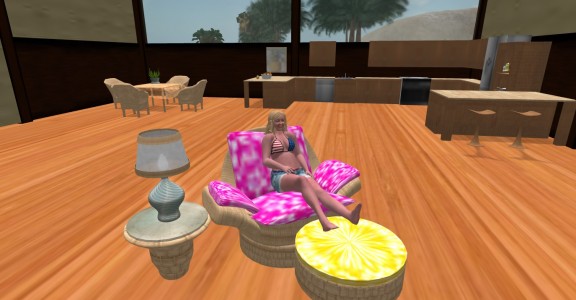 So does all the furniture inside. You can even sit on the toilet — though I didn't check to see whether it flushed or not!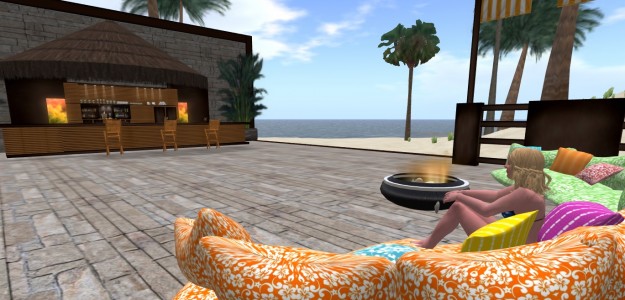 There's a fire in the firepit. I can see inviting friends over to hang out some night. Mental note: make some non-work friends.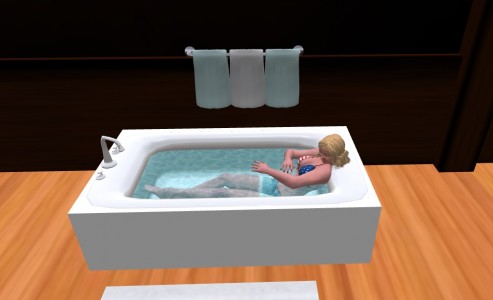 The bathroom comes with a bathtub — again, with the appropriate animation.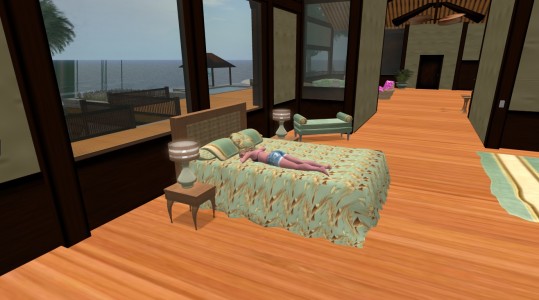 My first day on my new region comes to an end. All this wandering around sitting on things tired me out. Luckily, I have a bed to sleep on. Nice!
Bottom line
Run, don't walk, over to Zetamex to grab some of these $3 regions before they run out. The company can't guarantee that they'll keep them around, but do promise not to raise prices on you once you've bought one.
And if you ever need more functionality, you can always upgrade to their regular prices, which start at a pretty low $15 a month, anyway.
Downsides:
You only get 15,000 prims — 45,000 if you go for the $7.50 region
You only get a choice of OSgrid and Metropolis
They don't tell you how many avatars the region can support
You don't get to pick the name of your region
You don't get to choose the coordinates of your region
You don't get to upload just any old OAR you like
Upsides:
For $3 a month, who needs any of that stuff, anyway?
It's so ridiculously simple. I can't believe how easy this was.
Did I mention it's $3 a month?
They don't put any restrictions on how you can use this region.
Oh, and it's $3 a month.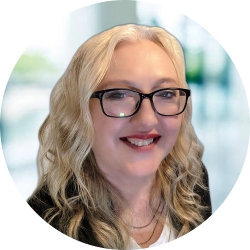 Latest posts by Maria Korolov
(see all)