Rethink Communications, a Vancouver-based advertising agency, recently approached my company, AC+A with an interesting project to raise awareness for the #NoTankers campaign. The campaign is run by Rethink's clients, the non-profit Dogwood Initiative, to stop the increase of oil tanker traffic in Vancouver's Burrard Inlet.
Rethink wanted to create a virtual reality experience that used Oculus Rift to show people – using standard tourist-style binoculars – what Vancouver's iconic English Bay would look like in the wake of an oil spill. AC+A's challenge was to deliver a 3D virtual reality scene for Oculus Rift and combine that with Rethink's professionally built binocular prop, all in the space of about six weeks.
Vancouver is a city nearly surrounded by water, full of bridges, beaches and a 22-kilometer long seawall, among many other beautiful marine features. An oil spill in the Vancouver region would be disastrous, not just environmentally, but for the quality of life many of its seaside residents enjoy. This was an issue close to our hearts, so we were excited to take it on.

AC+A immediately contacted Factory 1 Studios, a local art house run by Ladislav Konopa, a long-time colleague of Adrian's and one of the leading realtime 3D environmental artists in games. Lasko has delivered high end, photoreal 3D environments for the likes of Electronic Arts (FIFA) and his studio creates the art for games that currently dominate casual game charts.
AC+A and Factory 1 met with Rethink and Ted Morgan, Rethink's Project Manager, over the course of six weeks, working closely with their creative and PR groups to pull off what would be a one-day, location based "stunt " to generate publicity.

DEVELOPMENT
Factory 1 Studios described some of the technical challenges related to building a location-based VR product.
Merging 2D Background Panorama and 3D Foreground Elements
One of the biggest obstacles was placing objects in the foreground when no 3D foreground existed, only a simple 2D panorama. In this scene, the beach was re-created in 3D using Google Earth as a guide from the location where the Oculus Rift binoculars were to be placed. Then the beach texture was created and mapped on a 2D plane to sit on top of the water. The textured plane had to be aligned to meet the panorama image where the beach is also present in the background, enabling us to place 3D objects along the beach. The beach also became transparent so it blended back to showing the panoramic background.
Oculus and Unity Camera Vignette
While Oculus and Unity work great together there were some minor issues. One of them was using a GUI element which didn't work with the Oculus. So for lens deterioration and vignette, a poly with a texture was placed locked to the camera so it moved in the direction the user looks. This gave the impression of lens markings that one might expect to see on tourist binoculars.
Oily Water
The impression of oil-slicked water was created by slowing down the animation and using something of an oily looking colour value to get it feeling as close as possible to what an oily ocean would look like. The reflections were also adjusted to best mimic polluted water.
Fire and Smoke
To give the scene more atmosphere, there are several areas, especially in the distance, that have a volumetric moving form over the water and along the horizon line. We created smoke and fire by utilizing the Unity asset store's prefab entity that matched the look of the burning oil. The biggest adjustment to this was slowing down the burn of the fire and smoke.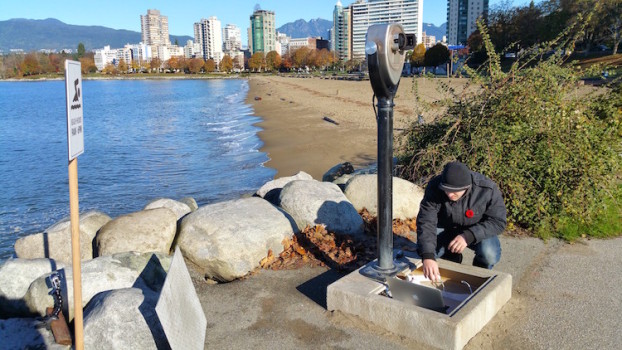 DEMO DAY
We had a demo day a couple days before to test out the unit on-site. The weather was perfect, which was fortunate as the prop itself was not remotely waterproof and couldn't have held the rain off the Macbook Pro mounted under the base, or the Oculus Rift built into the binoculars unit. Aside from some last minute adjustments and resolving a camera angle bug, everything went well and several passers by were impressed.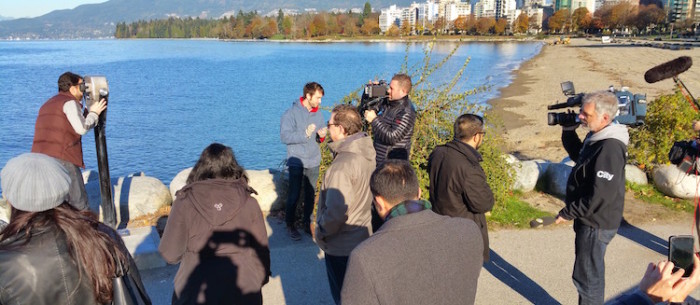 EVENT DAY
The day of the actual installation, November 12, we had a VIP session before opening to the general public. Rethink did a superb job booking off the site, acquiring the proper permits, and covering the event with photographers, video and even a drone. We were fortunate enough to get news coverage and the mayor of Vancouver, the environmentally-minded Gregor Robertson, also came by to check it out (even though he was in the final week of an intense re-election campaign).

Here's a video of the Oculus Rift binoculars in action.
Huffington Post had a good write-up of the installation and it was a success all around, especially for something with next to zero budget — non-profit work rarely has one. AC+A is proud to have helped fulfill Dogwood and Rethink's vision, hopefully generating more awareness for the very real environmental impact increased tanker traffic will have on the region.
We've done work with advertising and branding agencies in the past, primarily for big clients such as Starwood Hotels and Liberty Mutual, but also for truth (anti-nicotine). So it's not every day we get to leverage our passion for interactivity (and VR!) to support our values, but this was a perfect project for it.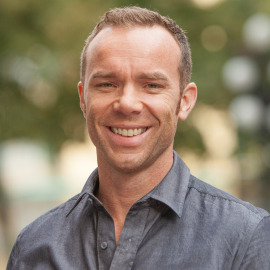 Latest posts by Adrian Crook
(see all)