Press release: VirtualTourCafe Offers 3-D Virtual Reality Alternative to Traditional Real Estate Virtual Tours and Open House
Online service embraces new 3-D technology developed by Matterport to offer international and out-of-town buyers an alternative to the traditional real estate virtual tours and being there in person.
Pleasanton, CA  – VirtualTourCafe introduces game-changing technology to their product of services that will over time change consumers demand when searching for homes online. Fox Business News recently interviewed Matterport CEO Bill Brown to talk about the new virtual reality 3-D camera introduced late last year, and the impact it could have on the real estate industry.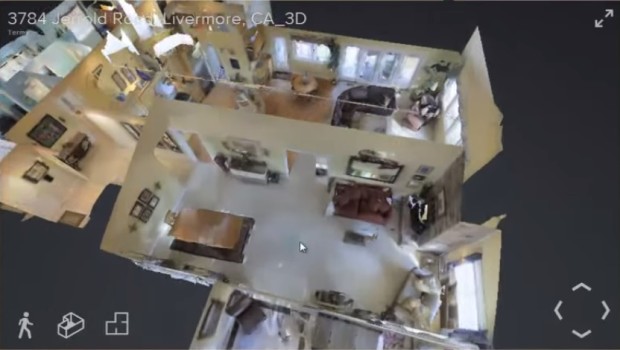 Companies like VirtualTourCafe have been offering real estate virtual tours for many years, so what is so unique about this new technology? The difference is that the new camera is able to create 3-D virtual tours of homes by using proprietary software and hardware that produces a doll-house view of the home, as well as a walk-through view and floor plan by using a series of 3-D cameras and sensors to record and measure interior rooms.
Being the first national virtual tour service to incorporate the 3-D modeling technology into the real estate virtual tours theme with agent and broker branding, VirtualTourCafe offers home owners and real estate agents an alternative to the traditional open house. And with international buyers making up 20 to even 30% of home purchases according to the National Association of Realtors®, this can be a game-changer for many real estate agents and Brokers.
VirtualTourCafe launched the new 3D Walkthrough Home Tour service in the San Francisco Bay Area to a great reception by both the real estate community and home owners with plans to expand as the technology gains acceptance.
"Our sellers were extremely impressed with the doll-house view of the 3D Walkthrough Home Tour and said they had never seen anything like it before. They are a busy family with 3 small kids and we had to make the showings worth them all having to leave the home, yet making sure the floorplan worked for clients and giving them the easy access to a virtual 3D open house made it that much easier on everyone." – Tammy Pryor, Legacy Real Estate
Working with independent photographers around the country, VirtualTourCafe offers the ability for the photographer and real estate agent to stand-out from the competition by offering a full end-to-end solution to their customers using traditional Do-It-Yourself virtual tours, or Do-It-For-You professional photography services combined with the new 3-D tours embedded in the frame of the virtual tour theme.
"The sellers were very impressed with the 3D Walkthrough Home Tour and liked the ability of having an open house without the foot traffic in the home and having to worry about their belongings. Plus this gives out of area buyers or foreign investors a perspective they could not have had in the past without making a special trip. We will definitely be using the 3D on all our listings." – Michael Swift, Keller Williams Tri-Valley Realty
"We are excited to combine our easy to use real estate virtual tours and marketing system with the new 3-D scanning technology to offer our clients and home sellers a competitive edge." said VirtualTourCafe's President and CEO, Tim Denbo. "Once agents try the new 3-D Walkthrough Home Tours, they see first-hand how virtual reality could be a true game-changer and open houses may never be the same again.
About VirtualTourCafe.com
VirtualTourCafe, LLC is based in Pleasanton, California with clients coast to coast and in three countries. Launched at the 2010 National Association of Realtors Expo in New Orleans, VirtualTourCafe was co-founded by Tim Denbo and Hannele Rinta-Tuuri. The business is operated as a limited liability company with an advisory board made up of professionals in the real estate, technology, finance, management, and marketing fields.

Latest posts by Press Release
(see all)